News
Stay informed about the latest enterprise technology news and product updates.
Purchasing Intentions Survey: Larger SANs drive storage growth
Storage magazine's exclusive Purchasing Intentions Survey survey suggests that storage managers are moving away from many small SANs to fewer, larger SANs.
This article was originally published in the December 2005 issue of "Storage" magazine.
With shops growing by leaps and bounds, storage managers are moving away from many small SANs to fewer, larger...
Continue Reading This Article
Enjoy this article as well as all of our content, including E-Guides, news, tips and more.
SANs that power more services and connect to more places.
Storage managers are building larger, more centralized SANs, connecting to more diverse hosts and layering-in unprecedented levels of data protection. That's what the 524 storage professionals who responded to Storage's latest Purchasing Intentions Survey indicate.
Our latest survey confirms a trend that emerged a year ago: More and more shops are building larger SANs and organizing them more around director-class switches than any alternative. By limiting the number of new fabrics and concentrating on adding services within the SAN, storage managers are able to move beyond just servicing high-performance, critical applications.
Data protection is chief among those services -- disk-based backup, remote mirroring and tape archives -- that reflect a push to improve disaster recovery (DR). Those technologies also help with ordinary business continuity and emerging compliance requirements.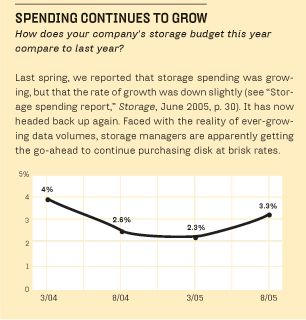 Three years ago, 67% of respondents said their main reason for buying SAN switches was to "create a SAN." In the current survey, that figure dropped to 14% vs. 46% who said they were buying switches to expand their current SANs. In the intervening three years, as SANs have gone from pilot to production, storage managers have had several scalability options open to them; until recently, most simply built SAN islands that replicated DAS stovepipes.
Caught in inter-switch link (ISL) hell (where ISLs consume new ports), overwhelmed by data growth and underwhelmed by storage management tools, users have opted for an architectural approach to controlling storage network sprawl. When asked what their main switch architecture would be, a historically low 32% of those surveyed cited islands, which for the first time was surpassed by directors at 35% (see Director switches are increasingly popular). Other alternatives (notably Brocade Communications Systems Inc.'s core/edge topology) have shown little or no growth among survey respondents. And when users projected where they'd like to be by year's end, the trend was even more evident: 40% for directors, 26% for islands and 16% for core/edge.
Alongside this decisive shift toward large switches is a desire to consolidate. In March 2005, respondents indicated they would have fewer fabrics than in 2004; in this edition of the survey, they said they've stabilized at numbers similar to those from 2004, although they would still like to reduce that number. Consolidation may be running up against the relentless pace of storage growth, but it's still a goal.
Dig Deeper on SAN technology and arrays