News
Stay informed about the latest enterprise technology news and product updates.
What are the best midrange arrays? - page 3
All in all, midrange array users are a satisfied bunch, but the winner of the Quality Award in this category might surprise some people.
Initial product quality
The initial product quality section assesses how easily a product is installed, configured and put into production....
Continue Reading This Article
Enjoy this article as well as all of our content, including E-Guides, news, tips and more.
In this section, one key statement, "This product delivers good value for the money," generated a 7.35 for StorageTek. NetApp and HDS tied for second with a 6.13. IBM, however, had a relatively low score of 5.51, which was the lowest of the group.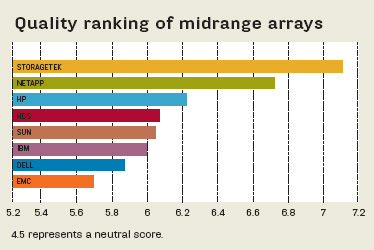 Product reliability
Although product reliability generated the fewest number of average scores of 6.0 or higher, every vendor among the finalists scored a 6.0 or higher on the statement "This product meets my service-level requirements." Interestingly, every vendor, except for IBM, had its lowest score in this section in response to the statement "Patches can be added non-disruptively." HP, which had respectable scores on most items, scored a surprisingly low 4.95. However, most vendors scored well for the statement "This product does not require unplanned patches." From these results, it's clear that users aren't unhappy with product stability; however, every vendor would be well served to improve its patch management process.
With both NetApp filers and HP EVAs in his data center, Enron's Ambrocik is pleased with both offerings. "From a reliability point of view, we run a lot of litigation data through the [NetApp] filers and we also run Exchange on the filers," said Ambrocik. "From an uptime perspective, we're very happy."
Technical support
Support is typically the area where users cite their highest levels of dissatisfaction; but overall, our survey indicates that midrange users are generally pleased with the system support they receive.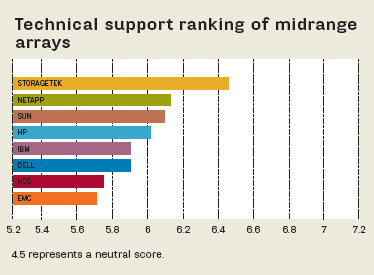 In this category, the StorageTek juggernaut continued, with an overall score of 6.45, highlighted by a score of 7.0 for the statement "Vendor supplies support as contractually specified" and a 6.9 for "Vendor takes ownership of the problem." The level of support is often a geographic issue. "Having a parts depot right here for us is great," said Maritz's McDaniel, relating his satisfaction with HP's support services. "As soon as they get that 'phone home' message, they'll dispatch somebody right away."
NetApp's support gets the thumbs up from Tom Morrier, a systems analyst with Inco Ltd., a mining company in Sudbury, Ontario. "They usually let me know about problems before I know I've got them," said Morrier. He also likes the way NetApp monitors his systems and reacts quickly to problems. "I actually had a [drive] failure in the middle of the night," he said. "When I came into the office to start my regular day, there was a drive waiting for me."
One EMC Clariion user, a storage administrator for a graphics hardware and software firm in the Northwest, says EMC's after-hours support is a big problem for his company. "I've had a number of cases where I have started with offshore support, worked through two cycles of offshore support and come back to U.S. support," he notes. He typically has to explain the problem again for EMC's U.S. support team. "I've spent all night working through Ireland and Singapore to get back to the States."
The lowest overall support score was EMC's 5.71, but four vendors all scored a 6.0 or higher—HP, NetApp, StorageTek and Sun. This is in stark contrast to the results of the enterprise array survey, where HDS' 5.76 was the top score.
But even among highly satisfied midrange users, training is an issue. "The vendor provides adequate training" was the only statement for which no vendor scored a rating of 6.0 or better—the best score was StorageTek's 5.95, while the lowest was a 5.43 for HDS.
Dig Deeper on Storage vendors