News
Stay informed about the latest enterprise technology news and product updates.
What are the best midrange arrays? - page 2
All in all, midrange array users are a satisfied bunch, but the winner of the Quality Award in this category might surprise some people.
Sales-force competence
The sales-force competence category was designed to assess a vendor's ability to sell the proper system. Inappropriate...
Continue Reading This Article
Enjoy this article as well as all of our content, including E-Guides, news, tips and more.
products will result in dissatisfied users. Doug McDaniel, IT director at St. Louis-based Maritz Inc., experienced some disappointment in dealing with EMC's sales force. "They're very aggressive in their sales approach," he said, "and some of the things they promised don't necessarily pan out after the product is on the floor." But Evans, who also has EMC Clariions in his shop, likes working with EMC and feels the firm anticipates his needs well. "I'm getting notifications of things that I'm thinking about," said Evans, "and I'm getting that information without actually calling them."
In formulating the survey, we surmised that a significant number of systems were acquired through resellers and we wanted to know if this would influence user satisfaction. Only 35% of the systems in our survey were bought through resellers, with the rest purchased directly from the manufacturers. We didn't find any trend with respect to particular resellers, and the data didn't provide any conclusive evidence that one channel or the other resulted in greater satisfaction.
StorageTek, the winner of the sales-force competence category, had a 50/50 split between sales through resellers and direct sales. No vendor had more than 50% of its sales through channels. Sun had the highest percentage of direct sales (81%).
One significant result was that the lowest top and overall scores in our survey were for sales-force competence and technical support. This is an important finding as the scores reflect the "people" aspect of the survey, whereas the other categories (product features, initial quality and reliability) are primarily "technology" issues. Vendors that wish to improve their scores should therefore focus on sales-force competence and technical support.
Product features
The product features section determined how well each product meets a user's needs based on their perception, rather than on a list of functions. Our survey inquiries focused on software functionality. StorageTek's 7.03 was not only the highest score, but was more than a half-point higher than second place NetApp.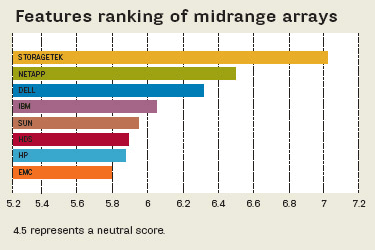 StorageTek was almost a full point higher than IBM and 1.11 points higher than Sun, even though the respective hardware is basically the same. For the statement "Overall, this product meets my needs," StorageTek's 7.24 score was more than a full point higher than for IBM (6.10) and Sun (6.17). In fact, StorageTek scored a 7.0 or higher on five of the seven evaluated items in the category; no other vendor reached the 7.0 mark on any item in this section.
Ease of use is a key consideration for any storage subsystem. "The [HP] EVA [5000] is just very easy to administer," said Bob Ambrocik, a technical consultant at Enron Corp. in Houston. "We set it up, got it going and it kind of just runs," he said. And HP's introduction of upgraded EVAs couldn't have come too soon for Ambrocik: "We've already ordered two 8000s."
Scalability appears to be less of an issue for midrange users than for users of enterprise arrays. For the statement "This product's capacity scales to meet my needs," all of the products scored a 6.0 or higher, with StorageTek topping the group at 7.15, easily beating out HDS and IBM (who notched solid scores of 6.39 and 6.38, respectively).
Click here to see who wins product quality, reliability and technical support.
Dig Deeper on Storage vendors