News
Stay informed about the latest enterprise technology news and product updates.
What are the best midrange arrays?
All in all, midrange array users are a satisfied bunch, but the winner of the Storage magazine Diogenes Labs Quality Award in this category might surprise some people.
Midrange storage arrays aren't just for smaller companies and remote offices anymore—they've earned their place in the data center right next to enterprise arrays.
In fact, the trend toward tiered storage environments has taken root to the point that Diogenes Labs estimates 70% of Global 2000 companies have a defined multi-tier storage strategy. Although the cost of midrange storage arrays is 30% to 50% less than enterprise storage on a per-terabyte basis, many organizations have enough midrange storage that they spend in absolute dollars the same amount for midrange and enterprise storage.
For midrange arrays, one key criterion for inclusion in the category was Fibre Channel (FC) support. In our survey, eight products received a sufficient number of responses to be ranked and considered for the Quality Award. They are Dell Inc.'s CX series, EMC Corp.'s Clariion CX series, Hewlett-Packard (HP) Co.'s Enterprise Virtual Array (EVA) series, Hitachi Data Systems' (HDS') Thunder 9500V series, IBM Corp.'s FAStT/DS4000/ DS6000, Network Appliance (NetApp) Inc.'s FAS200/ FAS900 series, Storage Technology (StorageTek) Corp.'s D-series and FlexLine FLA200/FLA300, and Sun Microsystems Inc.'s StorEdge 6920. (At the time the survey was released, Sun's acquisition of StorageTek had been announced, but hadn't closed yet.)
The top midrange array is …
Long recognized for its dominant market position among tape products, StorageTek doesn't necessarily come to mind when considering excellence in disk products. But that perception should change. In our survey, StorageTek not only won, it dominated the competition in achieving a No. 1 ranking in every survey category. (StorageTek's midrange disk products are manufactured by Engenio Information Technologies, as are several other vendors' products in our survey.) "StorageTek has always been kind of a trailblazer of technologies," said Dan Evans, director of technical services at Cleveland's St. Vincent Charity Hospital. "I think StorageTek has a lot of benefits to bring to Sun—it'll be interesting to see how those product lines evolve as a result."
NetApp finished a strong second, placing in that position in every category except sales-force competence (where it came in third). In fact, StorageTek and Net-App were the only vendors with products that placed in the top half in every category.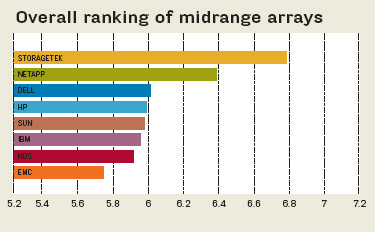 Users apparently have a much more favorable impression of midrange arrays than enterprise arrays. In our enterprise array survey, the majority of responses fell between a rating of 4.7 and 5.7 (4.5 is the neutral marker on an 8.0 scale). Average responses for the midrange survey were a point higher, falling between 5.7 and 6.7. For the first time in any of our surveys, a product achieved a category rating above 7.0: StorageTek did it twice, earning a 7.11 for initial product quality and a 7.03 for product features. As impressive as that is, all of the products received high scores, reflecting a high level of satisfaction in a competitive field.
Even EMC's Clariion, which was the only product to place in the bottom half in every category, had an overall rating of 5.75, which is substantially above the 4.5 neutral marker. Nevertheless, readers who have followed these Quality Awards will note that EMC had the lowest ranked product in both the enterprise and midrange array surveys.
The midrange survey results for HDS represented one of the biggest reversals from the enterprise survey. While HDS captured the Quality Award for enterprise arrays, it placed seventh out of the eight ranked midrange products. The biggest drags on HDS' overall score were sales-force competence and technical support. One might think this could be attributed to issues related to resellers, but 68% of respondents noted that they purchased directly from HDS.
Click here to see who wins for best sales force competence and features.
Dig Deeper on Primary storage devices