News
Stay informed about the latest enterprise technology news and product updates.
Storage salaries on the rise - page 4
Are you being paid enough? Salaries in 2005 are better than last year and there's optimism that salaries in 2006 will average a modest 3% increase.
Location, location, location
Where you live also makes a difference. The Mid-Atlantic region led with an average salary of $82,507, followed...
Continue Reading This Article
Enjoy this article as well as all of our content, including E-Guides, news, tips and more.
by the Midwest and Pacific regions ($79,531 and $79,500, respectively). The worst average salary was in the Mountain States ($66,444), although that region may have other charms, especially if you like the great outdoors.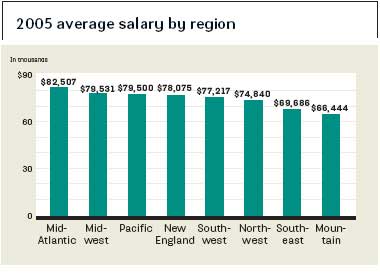 You're also better compensated if you manage more storage capacity. Those responsible for managing more than 500TB pulled down $92,542 on average, followed by those who manage 100TB to 500TB ($88,055). The principle of the more terabytes managed the more you receive generally also held true in the case of managing people, where those managing 21 to 50 people averaged $97,606.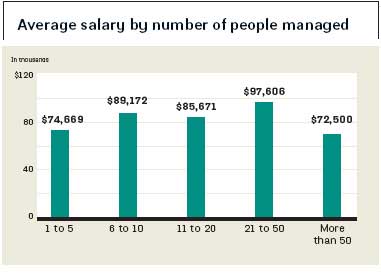 Similarly, working for larger companies generally paid better. Those working at companies with $5.1 billion to $10 billion in annual revenue did better ($87,059) than respondents working at companies with less than $50 million in revenue, which paid average salaries of $67,310.
Based on Storage's 2005 salary survey, this year can be considered a good one for storage professionals—not like the boom years that preceded the dot-com bust, but a steady, incremental advance over the previous year. With the war against terrorism still being waged, massive resources being diverted to recover from natural disasters, and gas and energy prices soaring, steady, incremental salary growth may be the most anyone should expect.
The data used in this report was gathered through an e-mail survey conducted in September 2005. The survey was sent to a sampling of Storage subscribers; there were 250 valid responses. Telephone interviews were conducted with selected respondents and others who manage storage.
Dig Deeper on Storage market research reports