News
Stay informed about the latest enterprise technology news and product updates.
Storage salaries on the rise - page 2
Are you being paid enough? Salaries in 2005 are better than last year and there's optimism that salaries in 2006 will average a modest 3% increase.
Storage skill development
The more prominent profile of the storage function hasn't resulted in any widespread increase in recognition of the value of storage skills (as measured by certifications). The majority of respondents, more than 67%, have no storage certifications.
One likely reason is the lack of a financial benefit attached to achieving certification. Passing a certification test requires significant time and effort, and entails some cost. If storage administrators aren't being rewarded for the extra effort and if the company isn't willing to pick up the tab, why bother?
"I've had EMC training, but I'm not EMC-certified," said PNM Resources' Morgese. "A certification might be nice to have, but it isn't worth the time."
Jim Smith, an operations technician responsible for backup at Bechtel Corp. in Glendale, AZ, finds himself in a similar situation. He has no certifications, although a Veritas certification might be handy as he performs his backup responsibilities for Bechtel's 15TB of storage. "It might make things simpler, but there's no more money in it and management hasn't expressed any interest in paying for it," said Smith. Instead, he's putting his efforts into earning a Master's degree.
Chad Smykay, a storage engineer at Rackspace Managed Hosting in San Antonio, has earned a Red Hat Certified Engineer (RHCE) and Legato Certified NetWorker Administrator (LCNA), but even he doesn't see much benefit in certifications for storage employees. "Maybe if you're going for a new job it might help, but in my current position there is no direct connection," he said.
Added a system engineer who's responsible for storage at a Colorado manufacturer: "Nobody here has any storage certifications. I don't even know what certifications I'd want to get. Anyway, management certainly isn't pressuring us to get any."
Chasing certifications isn't rewarding in the majority of cases. Those with two certifications clearly did best, averaging almost $83,000. However, those with one or three certifications actually did worse on average--$76,786 and $73,500, respectively--than those with no certifications ($77,307).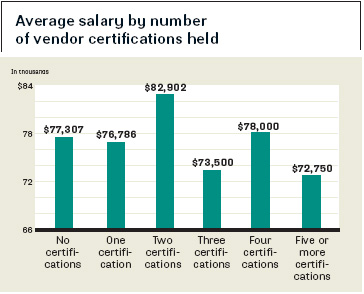 Continue to next page: Are you being paid enough?
Dig Deeper on Storage vendors