News
Stay informed about the latest enterprise technology news and product updates.
Storage salaries on the rise
Are you being paid enough? Salaries in 2005 are better than last year and there's optimism that salaries in 2006 will average a modest 3% increase.
This year should go down as a pretty good year for the IT industry as well as storage professionals. Respondents to Storage magazine's survey say that salaries, on average, have increased as they did in 2004 and in 2003 (the first year of Storage's annual survey). And respondents are already anticipating salary increases for next year.
For now, it appears the industry can expect steady, albeit modest, salary growth based on the three annual Storage salary surveys to date, in which respondents have consistently reported single-digit increases over the previous year. The more interesting story, however, may be the growing respect for storage that's implicit in the survey. If money equals attention and respect, then storage is getting both.
"With compliance, disaster recovery and business continuity, management can't help but notice," said a storage administrator who manages 100TB of storage for an Ohio financial services firm. "And the budget for storage is increasing. We just bought a new EMC Corp. DMX 3000. You think management didn't notice that chunk of money?" Storage has indeed become important, if for nothing else than the money it requires.
Gaining respect
This growing respect for the storage function is reflected in the continued gradual shift in the number of organizations with dedicated storage groups as more respondents report working on teams dedicated to storage. Almost 41% of respondents work in dedicated storage groups, up slightly from last year's survey. Roughly the same percentage of respondents (41.2%) work within a systems group, which has decreased from previous surveys.
"With SANs and NAS, the industry recognizes that storage needs specialized administration," said Larry Morgese, storage administrator at PNM Resources, a gas and electric utility in Albuquerque, NM. "Last year, our management set up storage as a separate group; before that, we were part of the Unix group."
Still, it takes a sizeable organization to set up a dedicated storage group. The storage administrator from Ohio, for instance, remains a part of the systems group although he acts as a one-man storage group. "We'd have to grow far beyond 100TB before we'd need a dedicated storage group," he said. Most respondents reporting dedicated storage groups work at organizations with $5.1 billion or more in revenue.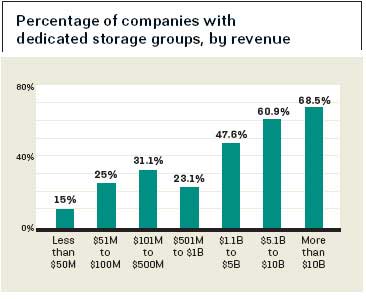 Maybe it's the increased respect storage receives when it's a dedicated organizational unit or perhaps larger organizations with more storage are more likely to set up dedicated storage groups. Whatever the reason is, those working in a dedicated storage group earned more ($82,136 on average) than those considered part of the systems group ($78,177). This year, the lowest paid respondents by organizational structure work as part of an application group, where they averaged a little more than $60,000.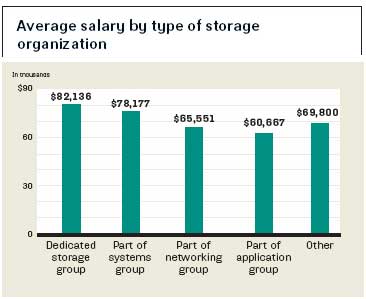 Continue to next page: Do certifications make a difference?
Dig Deeper on Storage management tools