News
Stay informed about the latest enterprise technology news and product updates.
HDS sweeps Quality Awards on arrays
Hitachi Data Systems has won the first Diogenes Labs-Storage magazine Quality Awards in the arrays category based on responses from hundreds of hands-on users.
Storage magazine and Diogenes Analytical Laboratories Inc. today announced the winner of its first Quality Awards program, voted for by hundreds of users.

Unlike other industry awards that tend to be popularity contests with users voting for products with which they are most familiar, the Diogenes Labs Storage magazine awards program gets much more specific. It measures the different levels of satisfaction that experienced users have had with different products. Thus, companies with greater market share are not necessarily at an advantage.

"EMC had the highest number of users in the survey, but this did not boost its rating," said Rich Castagna, Editor of Storage.

And the winner is:

The winner of the first enterprise-class storage array Quality Award was Hitachi Data Systems (HDS), voted for by approximately 300 users drawn from Storage magazine's subscribers. Respondents completed a survey over several months and many were also interviewed in depth.

The Quality Awards survey focused on five key attributes of storage reliability, a crucial metric for most users in any buying decision but one that is particularly hard to quantify. These attributes included sales competence, product features, product quality, product reliability and technical support.

HDS' Lightning array won hands down on all of these elements.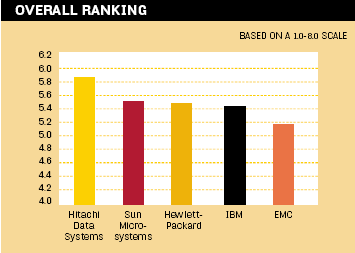 Other storage arrays included in the survey were EMC Corp.'s Symmetrix line, Hewlett-Packard (HP) Co.'s XP arrays, IBM Corp.'s ESS and DS series, and Sun Microsystems Inc.'s StorEdge 9900 series.
"Given that the second and third place vendors, Sun and HP, respectively, resell versions of Lightning in this category, it's fair to say that HDS "swept" the award," Castagna said.
On product features, which are almost identical between vendors, the survey focused on users' assessments of array management tools, remote replication software, snapshot software and mirroring software, instead of comparing feature lists.
EMC did not fare well here, which was surprising given it pioneered most of the functionality in enterprise-class arrays. "EMC storage is too proprietary for our continued use," one survey respondent said, without specifically faulting EMC's feature set.
HDS led this category with a score of 5.68, while EMC lagged the field with a 5.4. When respondents rated vendors on "This product's management features meet my needs" and "This product is interoperable with other vendor's products," EMC was the only vendor to receive ratings below 5.0 (4.99 and 4.79, respectively). That said, EMC earned a very high 5.97 for "This product's remote replication features meet my needs," while HDS scored a 5.98 for "Overall, the product's features meet my needs." Sun was the only firm to exceed a 6.0 rating for a question in this category, with a 6.14 for "This product's remote replication features meet my needs."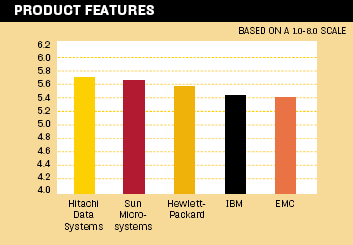 Head-to-head comparison
Seventy-three percent of the survey's respondents worked with only one vendor's products. Twenty-one percent used two different vendors' products, 5% had products from three vendors and 1% had four different vendors' products. To compare vendors directly, Storage and Diogenes Labs examined the 27% of cases in which respondents used more than one vendor. This comparison was based on the average rating assigned by the user for each vendor.
Of the 25 IBM respondents who use another vendor's product, IBM was preferred in every case. Similarly, Sun was preferred in every such case (nine respondents). HP was preferred in 23 out of 25 cases, HDS in 33 of 41 cases, and EMC in 17 of 52 cases.
"The "head-to-head" comparisons from these respondents are particularly insightful because they're truly comparative, rather than an assessment of perception," said Phil Goodwin, president of Diogenes Labs.
For more results click here. The enterprise array award is the first installment of this program; next month, Storage will report the results for backup and recovery software, and other major product categories will be addressed in the coming months.