News
Stay informed about the latest enterprise technology news and product updates.
HDS sweeps Quality Awards - page 2
Hitachi Data Systems has won the first Storage magazine and Diogenes Labs quality award for enterprise-class storage arrays.
Sales competence
In this section of the survey, respondents were asked to evaluate sales teams' knowledge of customers' businesses...
Continue Reading This Article
Enjoy this article as well as all of our content, including E-Guides, news, tips and more.
and industries, whether they keep their customers' needs foremost, and how easy or difficult it is to negotiate with a vendor's sales team.
Mike Bottger, technology consultant at National City Bank in Cleveland, noted that neither of his array vendors—HDS and IBM—oversold their products. "Whatever we agreed to, whatever we signed on for, each has delivered," Bottger said. A link between sales competence and product satisfaction was revealed. Sun netted the highest score in the sales competence category and placed second overall, while HDS placed second in the category and was the overall winner.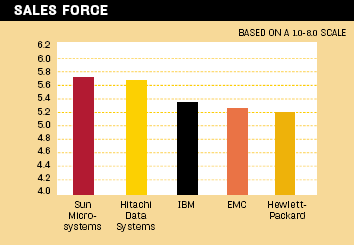 Product quality
Storage array quality was measured by asking questions relating to ease of installation, installation without defects, ease of use and the degree to which vendor intervention was required. The category had the widest scoring spread, with HDS (5.88) taking top honors and EMC placing fifth (4.46).
The key question in this category was "This product delivers good value for the money." EMC users responded with a 4.55 rating, while HDS users gave it a 6.07. HP users were also pleased with their systems' value, scoring the question at 5.73.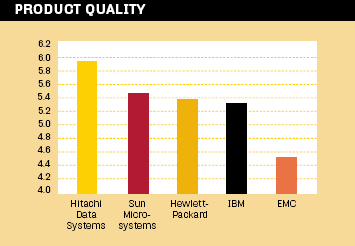 Product reliability
To assess product reliability, the survey asked respondents whether the product met service level requirements, their downtime perceptions, frequency of required patches and the level of disruption caused by product fixes.
This was the only category in which a vendor exceeded an overall score of 6.0—HDS received a 6.14. HP, IBM and EMC all scored above 5.50—a very good score. Sun had a respectable 5.41, but the surprise was that Sun didn't track with HDS and HP given the near-identical hardware. Sun's score was pulled down by a 5.0 rating for the question: "This vendor offers comprehensive upgrade guidance." Thus, inadequate upgrade guidance and resulting problems could result in missing some service level requirements that may be unrelated to the product itself.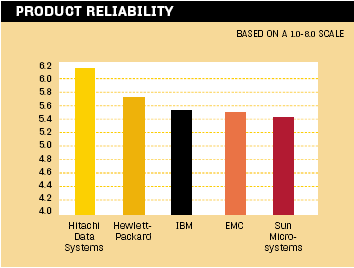 Dig Deeper on Primary storage devices