Share this item with your network: BACKGROUND IMAGE: iSTOCK/GETTY IMAGES
Managing and protecting all enterprise data

iSTOCK/GETTY IMAGES
Manage
Learn to apply best practices and optimize your operations.
Storage managers poised to tap new technologies
As budgetary constraints ease, storage shops are looking to emerging techs and cloud services to help deal with virtualized environments, data growth and performance demands.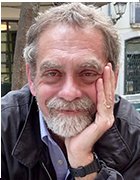 By
As budgetary constraints ease, storage shops are looking to emerging techs and cloud services to help deal with virtualized environments, data growth and performance demands.
About the Storage Purchasing Intentions survey
The Storage magazine/ SearchStorage.com Purchasing Intentions survey is fielded twice a year; this is the ninth year the survey has been conducted. Storage magazine subscribers and SearchStorage.com members are invited to participate in the survey, which gathers information related to storage managers' purchasing plans for a variety of storage product categories. This edition had 699 qualified respondents across a broad spectrum of industries, with the average company size measured as having revenue of $1.4 billion.
Budget cycles for the last couple of years have been slightly less brutal for data storage managers as business slowly nurses an ailing economy back to health. In the latest edition of the Storage magazine/SearchStorage.com Storage Purchasing Intentions survey, the data provided by the 699 survey respondents paints a picture of cautious optimism: Things are getting better, but maybe not all that quickly.
Respondents represent all industry sectors, led by computer-related businesses (13.9%), financial services (11.5%), health care/pharmaceutical (10.3%), manufacturing (8.5%) and education (7.7%). The average number of employees at the participating organizations was 19,744, but the dividing line is 1,000 employees -- half the respondents were above that mark and half were below.
The average company revenue came in at $1.4 billion, which is consistent with the results from our last four surveys over a two-year period.
Budget belt loosens just a bit
In our spring 2011 survey, respondents indicated their storage budgets would rise 1.8% higher than their 2010 budgets, which was a fairly healthy jump over the measly 0.6% reported previously. We frequently see budgets adjusted upward from their spring marks, and while that trend continues with the current survey, it does so with a very modest uptick of just 0.1 points. Larger companies are showing a stronger recovery, with a 5.1% change over 2010's budget. Midsized organizations saw a 2.1% rise, which is approximately half a point higher than a year ago; smaller companies are still struggling with basically flat budgets that grew by only 0.4%.
STORAGE BUDGET CHANGE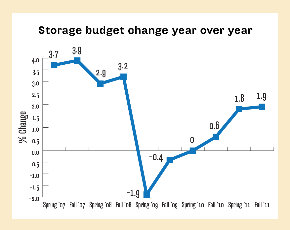 Enlarge STORAGE BUDGET CHANGE diagram.
Running the numbers:
Average storage budget: $3 million
Small and large companies' storage budgets dip to $900,000 and $8.2 million, respectively; midsized firms are steady at $2.6 million
Highest-ever recorded average storage budget was $3.4 million in 2006
Key statistic:
Biggest year-over-year budget gain: 5.2%, reported in the fall of 2006
Disk storage systems take biggest bite out of budget
Going back to our very first Storage Purchasing Intentions survey nine years ago, disks and disk subsystems have always accounted for the biggest chunk of storage budgets. This year follows form with 37% of budgets (the biggest slice by far) earmarked for storage systems. The percentage has hovered in the high 30s to low 40s despite dramatically declining disk prices largely because companies now need so much more disk (and other storage) to accommodate off-the-chart data growth. The average installed disk capacity is 269 TB, the highest number we've seen in the three years we've been asking this question. For 2011, storage managers expect to add an average of 42 TB of new disk capacity, ranging from 20 TB for small companies up to 86 TB for enterprises.
CURRENT INSTALLED CAPACITY AND CAPACITY TO BE ADDED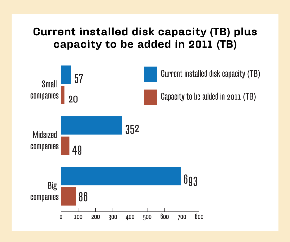 Enlarge CURRENT INSTALLED CAPACITY AND CAPACITY TO BE ADDED diagram.
Running the numbers:
NAS is the most installed storage system type, with 62% of respondents having those systems; Fibre Channel (FC) SANs are close behind at 57%, easily outdistancing block rival iSCSI (38%)
Midrange systems continue to be the most popular, with 44% of disk system budgets allocated to them
In 2006, 59% said FC arrays would be their main disk spend; on this survey 35% say they'll add drives to existing systems rather than buy new FC systems (17%), a trend that emerged in 2007
Key statistic:
33% will increase management software spending, mainly to manage more with the same staff
@pb
Solid-state storage making a mark
Solid-state storage has moved from "exotic" to "practical" in fairly short order. While its incursion into the hard disk market is still barely a blip on the storage radar, solid-state devices are finding their way into more and more organizations and in a variety of implementations. Twenty-five percent of respondents currently use solid-state storage, a healthy 10 points higher than last fall and nine points more than last spring. Another 9% said they plan to implement some solid-state storage this year, while 30% consider themselves in the evaluation phase. Among companies currently using solid-state, average installed capacity is 7.6 TB. Besides cost, wear out has been frequently cited as another shortcoming of solid-state storage, but only 12% said this endurance issue has kept them from using solid-state.
USING, PLANNING TO USE OR EVALUATING SOLID-STATE STORAGE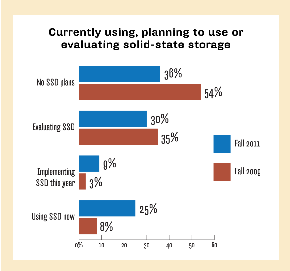 Enlarge USING, PLANNING TO USE OR EVALUATING SOLID-STATE STORAGE diagram.
Running the numbers:
Solid-state storage shows up most frequently in arrays (71%), with server-based solid-state (43%) a popular alternative
58% of those not using solid-state cite its high cost; 37% say their hard disks are doing just fine, while 35% need more solid-state education
27% report having more than 10 TB of solid-state installed
Those planning to buy more solid-state will add an average of 6.3 TB
Key statistic:
Average installed solid-state storage capacity is 7.6 TB
Cloud storage still hazy
You'd be hard-pressed to find many data storage managers who aren't giving cloud storage service offerings a serious once-over, but it may be a little tougher to find companies ready to commit to the cloud. We continue to see incremental growth and sustained interest, with approximately 21% of those surveyed using non-backup cloud storage services to some degree. Two years ago, only 14% said they were cloud users, so while the overall numbers may still be somewhat small, the growth is real. Disaster recovery (DR) is the most popular application for cloud storage, while the most likely suspect, remote offices, continues to lag. Among companies that aren't yet using any cloud storage services for primary or near-line applications, only 54% flatly rule out adding cloud services, although another 26% are uncertain if they'll add cloud to their storage mix.
CLOUD STORAGE SERVICES FOR PRIMARY OR NEAR-LINE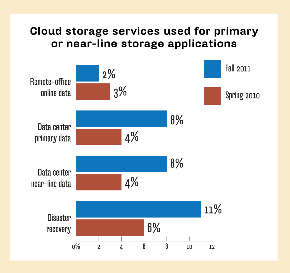 Enlarge CLOUD STORAGE SERVICES FOR PRIMARY OR NEAR-LINE diagram.
Running the numbers:
Current cloud users are bullish, with more than 90% planning to add more cloud storage services in 2011
15% of non-cloud users plan to take the plunge by using cloud storage for DR
Although there's still some confusion about what constitutes an internal cloud, 14% of respondents say they already have one and another 8% have implementations planned
While hybrid cloud configurations are getting a lot of attention, only 6% are using them now
Key statistic:
Current cloud storage users have an average of 16 TB of data parked in the clouds
@pb
Virtual servers and virtual storage
With nearly 100% penetration, few data storage shops have avoided the effects of server virtualization. Most companies (45%) still favor Fibre Channel storage for their virtual servers partly because the systems were already installed but also because of fears of inadequate performance with other types of storage in demanding virtualized server environments. Desktop virtualization doesn't have such wide implementation yet, but we found a surprising 47% of respondents have virtualized at least some of their desktops. Desktop virtualizers also prefer FC storage (45%) over iSCSI (27%) and NAS (25%). Storage virtualization, still lurking in the shadows of server virtualization, is growing at a more leisurely but steady pace. Thirty-two percent have virtualized at least some block or file storage; 23% are evaluating it. Among current storage virtualization users, 18% say all their file storage is virtualized and 14% say the same of their block storage. The preferred methods of storage virtualization are via a storage array (44%) or with an appliance (42%).
TYPE OF STORAGE BEING USED FOR VIRTUALIZED SERVERS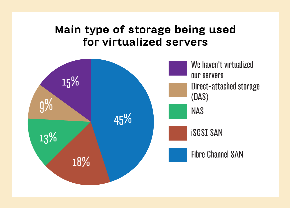 Enlarge TYPE OF STORAGE BEING USED FOR VIRTUALIZED SERVERS diagram.
Running the numbers:
63% use more storage now with virtual servers than before
36% say server virtualization has made storage management tougher
50% plan to buy new tools to better manage storage for virtual servers
Key statistic:
15% say they'll buy an appliance to virtualize their storage in 2011
Data protection's slow evolution
Take disk-based backup, deduplication, virtual servers and cloud backup, and you would probably figure data protection doesn't look anything like it did a few years ago. Well . . . yes and no. Backup tends to change very slowly. For example, the "tape is dead" dirge is on continuous play, but new tape techs continue to emerge. Yes, we're using it less -- 73% spin off some/all backups to tape vs. 85% three years ago -- and libraries are shrinking (an average 96 slots vs. 150 five years ago), but tape is still a key part of backup and archiving. And while dedupe seems like just another feature by now, not even one-third of our respondents are using it today. Virtual server backup is in the spotlight as backup app vendors tap into VMware's APIs to make the process less painful, but 35% still just load a backup client into each VM. Cloud backup adoption is slow too, with 28% using some form of cloud backup, a number that has doubled vs. three years ago. But it's been up and down the last two years, which might indicate more tinkering than commitment.
USE OF CLOUD BACKUP SERVICES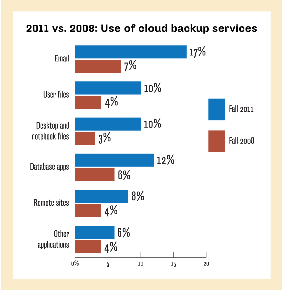 Enlarge USE OF CLOUD BACKUP SERVICES diagram.
Running the numbers:
Most popular target for disk-based backup is a NAS system (45%)
29% use data deduplication in their backup process; 34% plan to add it this year
47% will increase spending on cloud backup services vs. last year
"Not comfortable sending our company's data into a public cloud" is the top (34%) reason for not using cloud backup
18% say virtual server backup is too complicated; 18% say they back up too much
Key statistic:
46% of cloud backup users have more than 10 TB of backup data stored in the cloud; overall, users have an average of 16 TB of backup data in the cloud
@pb
Efficiency is still in vogue
One of the lasting effects of the punishing economy is a new emphasis on efficiency. Technologies like thin provisioning gained a solid foothold over the past few years, while newer techs, like primary data deduplication and compression, are stirring up plenty of interest if not a lot of product choices (yet). Data storage tiering languished when it was called information lifecycle management (ILM), but has taken on new life as an enabler for the efficient use of solid-state and spinning disk technologies. Data archivers, typically implemented for compliance and storage management, are used by 70% of respondent organizations, and 48% are looking to add new data archiving capabilities this year.
STORAGE EFFICIENCY TECHS GAIN GROUND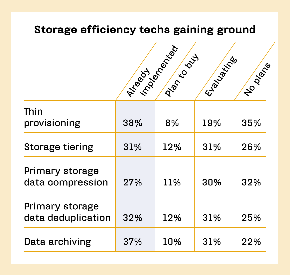 Enlarge STORAGE EFFICIENCY TECHS GAIN GROUND diagram.
Running the numbers:
Overall, 36% of those surveyed use some form of primary storage data reduction and 36% are evaluating it
27% use automated storage tiering (AST) and 32% are evaluating it
Email archiving is used by 41% of respondents; 40% use file system archivers
Key statistic:
Multiprotocol arrays are used by 36% of respondents to gain storage capacity efficiencies
BIO: Rich Castagna is editorial director of the Storage Media Group.
Dig Deeper on Data storage strategy