Share this item with your network: BACKGROUND IMAGE: iSTOCK/GETTY IMAGES
Managing and protecting all enterprise data

iSTOCK/GETTY IMAGES
Status report: Solid-state storage
Solid-state storage has carved out a niche in the storage ecosystem, establishing itself as a viable alternative for high-performance applications.
By
Phil Goodwin, Contributor
Solid-state storage has carved out a niche in the storage ecosystem, establishing itself as a viable alternative for high-performance applications.
Solid-state disk is, of course, nothing of the sort. Whereas a disk is a round, flat object, solid-state storage is really just memory chips. That may seem like a silly semantic distinction, but it's actually important to bear that in mind when architecting a data access solution. Solid-state drives (SSDs), also referred to as flash memory and flash cache, have more in common with memory -- specifically cache memory -- than with spinning hard disk drives (HDDs). Although SSDs are commonly deployed "behind the storage-area network (SAN)" and provisioned as part of the total storage pool, they behave like large repositories of cache. That's important to consider when designing solid-state storage into a storage solution.
SSD chip technologies
Three solid-state storage technologies dominate the market today: single-level cell (SLC), multi-level cell (MLC) and enterprise multi-level cell (eMLC). This may seem like an "inside baseball" discussion, but you'll need to understand the different SSD technologies (just as you do with HDD technologies) to make the appropriate deployment choice.
MLC is currently the most prevalent consumer-grade solid-state storage, whereas most enterprise-class products are built around SLC. MLC offers a significantly lower price point on a per-GB basis but also has a significantly lower useful life. Individual SLC memory cells can sustain approximately 100,000 write operations before failure, but MLC cells are only good for about 3,000 to 10,000 write operations before they fail. Cell failure can be one cause of SSD performance degradation and may be the reason a solid-state device gradually becomes unacceptable over time. Obviously, MLC devices will retain their capacity and performance only about one-tenth as long as SLC for a given write workload. It's therefore important to ask the vendor to describe the "use profile" for their product and to factor it into the cost-per-unit equation. A product that looks like an irresistible deal at half the price of other systems is no bargain if its useful life is just a small fraction of the higher priced product.
Enterprise MLC is a newer technology gaining traction in the industry. With an estimated life of 20,000 to 30,000 write cycles, eMLC reaches a middle ground both in price and life span between SLC and MLC. Nimbus Data Systems Inc. has committed to eMLC technology, using it in all its data storage products while other vendors are still using SLC. To avoid write-related lifespan and degradation issues, Nimbus's controller software has "wear-leveling" capabilities and aligns write blocks with flash cells. Nimbus also offers a five-year warranty for those concerned with product longevity.
Server-based solid-state storage
Another emerging technology trend is toward host-based solid-state storage delivered as PCI Express (PCIe) cards for insertion directly into the host. Fusion-io Inc., LSI Corp., Texas Memory Systems Inc. and Viking Modular Solutions all offer PCIe solid-state products. Although provisioned like storage, host-based solutions behave very much like cache. Being "in front" of the SAN has the advantage of avoiding network latency for read operations, yet data can be pre-positioned using automated storage tiering (AST) technologies, depending upon the array vendor's capabilities. On the flipside, it's subject to host failure so storage managers should ensure the PCIe solid-state storage is properly data protected through RAID, mirroring or clustering.
EMC Corp. is joining the fray and has announced its "Project Lightning," which is its first PCIe host-based storage product (scheduled for availability later in 2011). This product will be fully accessible using EMC's Fully Automated Storage Tiering (FAST) software so that it works seamlessly with EMC's arrays across the SAN. The initial product will be based on SLC technology to maximize the longevity, performance and reliability of the device.
SOLID-STATE DEFINED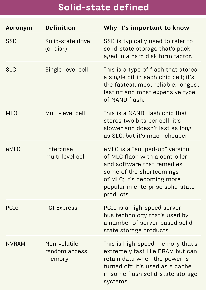 Enlarge SOLID-STATE DEFINED diagram.
@pb
Software is key to performance, longevity
Most solid-state storage vendors would agree that software is critical to the performance of their storage devices. LSI offers its MegaRAID CacheCade 2.0 software, designed to optimize both reads and writes by managing writes to specific blocks. CacheCade complements LSI's MegaRAID SSD controller cards for use with SSD devices or arrays.
Hewlett-Packard (HP) Co. similarly points to its data location algorithm for optimizing solid-state performance in its 3PAR arrays. The company touts this optimization algorithm for its ability to avoid the gradual performance degradation that may occur otherwise. Other vendors, such as Avere Systems Inc. and NetApp Inc. use non-volatile random access memory (NVRAM) to buffer and manage write operations, all of which is managed by their own proprietary software to find the appropriate write path.
IO Turbine Inc., which was recently acquired by Fusion-io, developed Accelio software that allows SSDs to be provisioned across VMware virtual machines (VMs). The VMs can use Accelio to share SSD or other flash storage. Accelio can be used with virtually any SSD/flash product and supports VMware vMotion functionality.
Use cases for solid-state storage
Database performance enhancement. Most storage managers recognize that SSD offers blazingly fast read operations, making it ideal for database environments with read-intensive applications. In this scenario, the database indexes are typically loaded into SSD or flash storage for quick lookups followed by accessing the HDDs to fetch the actual data. However, with the increasing size and affordability of solid-state storage devices, some organizations are finding it possible to load an entire database into the SSD, which significantly speeds up all database functions.
Jackson Rancheria Casino & Hotel in Jackson, Calif., has been testing database performance with a combination of Dell EqualLogic arrays, Fusion-io PCIe-based solid-state storage and IO Turbine's Accelio software. (Jackson Rancheria is a beta test site for Accelio.) The casino has a 300 GB Microsoft SQL Server database supporting its gaming operations, which is a read-intensive app. Approximately 80% of the servers are virtualized using VMware ESX.
Shane Liptrap, senior systems engineer at Jackson Rancheria Casino & Hotel, reports excellent test results. "Initial setup of the Accelio software only took about an hour and was similar to creating VMware resource pools," he said. "We saw a definite improvement in performance. Using Accelio with a 150 GB Fusion-io SSD, our read latency dropped 60%. Using a 320 GB Fusion-io flash card, it dropped 90%." This configuration took the load off the SAN and Liptrap expects to see better reliability and failover in addition to better response time as the configuration is moved into production.
Cache tier. Several vendors are increasingly adding solid-state storage to their arrays as a "cache tier." Although this is also referred to as tier 0, the lines between a distinct storage tier and cache are increasingly blurred. NetApp, in particular, is taking this approach, with the added twist of applying data deduplication to its Flash Cache. NetApp claims deduplication can improve capacity utilization by up to 10-to-1. VM images in Flash Cache can be improved by 3-to-1 or 4-to-1. Adding deduplication instantly improves the economics of adding Flash Cache to a configuration.
@pb
HP's 3PAR arrays use adaptive optimization to seamlessly blend the SSD and Fibre Channel (FC) HDD tiers in the array. Datapipe Inc., a managed services vendor in Jersey City, NJ, uses 3PAR arrays to handle the requirements of a diverse set of customers. Datapipe offers SSD as a value-added option to customers who need additional I/O performance. "SSD isn't cheap, so you really need to get a bang for the buck," said Sanford Coker, Datapipe's director of storage administration. He recommends host-based flash memory when possible. In many cases, Coker will deploy SSD for database applications to support a wide variety of industries, from financial and pharmaceutical to new media and cloud. SSD is indispensible to him when a guaranteed I/O level is required.
Dataram Corp., a 44-year-old firm best known for RAM products, is one of the companies promoting cache tiering with its XcelaSAN appliance. One use case for this cache tiering device is adding I/O capacity to existing configurations. By adding a small amount of SSD, Dataram believes customers can avoid more costly upgrades to tier 1 and tier 2 arrays. Moreover, they claim to be able to deliver the same aggregate I/O and capacity of FC storage with a cheaper combination of SSD and SATA devices.
Boot storms. An excellent app for networked storage is virtual desktop infrastructure (VDI) support. VDI causes "boot storms" during periods of high user system start up, and because that activity is a purely read application, it's ideal for the extreme I/O performance of SSD. Deduplication, as in the case of NetApp, reduces the cost of solving this problem.
Data location and hybrid cloud. Solid-state technology can also be used to position data closer to the user to reduce data access latency caused by distance. This will usually involve an SSD appliance rather than a PCIe card or just another tier. The Demand-Driven Storage architecture on Avere Systems' FXT SSD arrays is an example of such an implementation. FXT arrays can be used with a centralized data center setting, private cloud or hybrid cloud. These arrays can be clustered to provide high availability with Avere's tiered file system to ensure data consistency.
Automated tiering software can automatically move data between tiers, even over a wide-area network (WAN), so the most frequently accessed data is moved to the location or locations where it's in high demand.
One application that fits well into this use case is on-demand video streaming. Datapipe supports these types of applications for some of its customers. "When a new video comes out, it gets a lot of hits. By elevating these videos to a solid-state tier, we can handle a lot more data requests in a shorter time span resulting in better user experiences," Datapipe's Coker said.
All solid-state storage. Not many people consider an all-solid-state infrastructure, assuming the cost would be prohibitive. Nimbus Data Systems hopes to change that perception. Nimbus designs its own eMLC flash memory units and offers them with the aforementioned five-year warranty. However, to make an all-solid-state product comparable to those offered by more established array vendors, you need the accompanying software to support the platform. Nimbus includes the storage operating system, RAID, deduplication, snapshots, thin provisioning, replication and mirroring. Nimbus claims its systems require up to 80% less power, cooling and rack space compared to a 15K rpm HDD system. An all-solid-state storage infrastructure may not replace high-capacity HDDs for near-line or archive storage, but it may be the right choice for I/O-intensive applications.
SOLID-STATE STORAGE USE CASES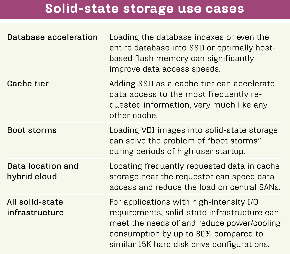 Enlarge SOLID-STATE STORAGE USE CASES diagram.
@pb
Hard drives struggle to keep pace
Hard drive technology over the past several years has seen significant advances in areal density, continuing the ever-falling per-GB cost curve. But hard disk drive I/O throughput hasn't kept up with the much faster servers and networks over the same period of time. Applications are becoming increasingly I/O bound as the demand for data access increases. In some cases, storage managers must deploy extra, unneeded capacity to get the aggregate I/O throughput required to meet the application's demands. This unused capacity dramatically alters the economics of high-capacity drives.
Nevertheless, solid-state is no panacea. "Solid-state offers a lot of advantages, but it's not always the solution," Datapipe's Coker advises. "There's still no substitute for good system design. Application owners need to be prepared to work with their storage provider to properly tune and provision the right combination of SSD and HDD. Moreover, we've found that SSDs tend to get slower over time. You can work to manage them and reformat them, but at some point you have to be prepared to just replace them. It's different from managing HDDs."
Solid-state storage, though more expensive than HDDs on a per-GB basis, may be substantially cheaper on a per-I/O basis. IT managers should consider the cost per I/O in their economic analysis. Add this to the lower power and cooling requirements, and the TCO will likely make sense for application acceleration. IT managers shouldn't expect SSD to follow the HDD cost curve. It's fundamentally a memory product, so it will follow the memory cost curve. As eMLC advances technologically, it may make solid-state even more attractive and broaden its applicability in the data center and cloud.
BIO: Phil Goodwin is a storage consultant and freelance writer.
Dig Deeper on Solid-state storage