Share this item with your network: BACKGROUND IMAGE: iSTOCK/GETTY IMAGES
Managing and protecting all enterprise data

iSTOCK/GETTY IMAGES
Quality Awards V: EMC and IBM top NAS field
Record-breaking scores highlight EMC's big win in the enterprise NAS group and IBM's stunning performance among midrange NAS systems.
Record-breaking scores highlight EMC's sweep of the enterprise NAS group and IBM's stunning performance among midrange NAS systems.
Over the years, we've seen fairly high satisfaction levels reported by users on the Storage magazine/SearchStorage.com Quality Awards for network-attached storage (NAS) systems. But the latest Quality Awards survey -- our fifth for this product class -- suggests that NAS vendors haven't been sitting on their laurels, as scores were higher than ever. In fact, overall average scores and category scores for both the midrange and enterprise NAS groups were all record highs. And given the unchecked growth of file storage at most companies, it's a good thing respondents are so pleased with their choices for file storage.
In five rounds of Quality Awards surveying, we've had five different winners in the enterprise group, with first-time victor EMC Corp. at the head of the class this time. EMC's previous best showing was a second-place finish, but the current survey results put the firm atop an abbreviated but strong field with an impressive overall average of 6.80 -- the highest enterprise NAS score to date (albeit by a mere 0.04 points over BlueArc Corp.'s score from a few years ago). Only two other vendors made the final cut and both registered commendable scores: NetApp Inc. with an overall 6.66, followed by Dell Inc. at 6.41.
About the survey
The Storage magazine/SearchStorage.com Quality Awards are designed to identify and recognize products that have proven their quality and reliability in actual use. The results are derived from a survey of qualified Storage/SearchStorage.com readers who assessed products in five main categories: sales-force competence, product features, initial product quality, product reliability and technical support. Products are rated on a 1.00-8.00 scale, where 8.00 is the most favorable score. This is the fifth edition of the Quality Award for NAS systems; there were 254 responses to the survey with ratings of 453 products/ product lines.
The midrange NAS group also had a first-time winner, as IBM users poured on the praise to give Big Blue a resounding 7.15 overall score. That's the highest overall score we've ever recorded for either midrange or enterprise NAS systems, and the second highest across all product categories and five rounds of surveying. Noted one IBM user: "IBM is great."
IBM emerged from a particularly strong (and high scoring) field of midrange NAS vendors. In our last survey, Hewlett-Packard (HP) Co. broke NetApp's string of three straight wins in the midrange group but dropped back in the field this time. EMC (6.70) bolstered its enterprise win with a solid second-place showing in the midrange group, followed by NetApp (6.63), HP (6.42) and Dell (6.09).
Products in the survey
Thirty midrange and enterprise NAS vendors/product lines were included in the Quality Awards V for NAS survey. The total number of responses for each finalist is included in parentheses after the product names.
Enterprise NAS
Avere Systems Inc. FXT Series*
BlueArc Corp. Titan 3000 series*
DataDirect Networks Inc. GRIDScaler/EXAScaler/xSTREAMScaler*
Dell Inc. PowerVault NS-480 (22)
EMC Corp. Celerra NS-480/NS-960 or VG8 (67)
Hewlett-Packard (HP) Co. StorageWorks EFS Clustered Gateway or StorageWorks X5000/X9000 Storage Systems*
Hitachi Data Systems Essential NAS Platform 1000 Series*
IBM N6000/N7000 or IBM Scale Out Network Attached Storage (SONAS)*
Isilon Systems Inc. Isilon IQ X-Series*
LSI Corp. (formerly ONStor) Cougar 6000 NAS Gateway*
NetApp Inc. FAS3000/FAS3100/FAS6000 (all with NAS interface) (65)
Oracle Corp. Sun Storage 74xx Unified Storage System (with NAS)*
Panasas Inc. ActiveStor 9 Series or HC Series*
Pillar Data Systems Axiom NAS*
Xiotech Corp. ISE NAS Enterprise*
Midrange NAS
BlueArc Titan Mercury 50/100*
Compellent Technologies Inc. zNAS or Storage Center with NAS*
Dell PowerVault NS-120 or NX200/NX300/NX3000/NX4 (40)
EMC Celerra NX4 or NS-120 or VG2 (57)
HP StorageWorks X300/X500 Data Vault or X1000/X3000 Network Storage Systems (29)
Hitachi Data Systems Lightning Blade or TagmaStore Blade or AMS1000/500/200 or WMS100 with NAS Option or NAS Platform 3000 Series*
IBM N3000/N5000 (28)
Isilon Isilon IQ S-Series*
LSI (formerly ONStor) Cougar 3000 NAS Gateway*
NetApp FAS2000 (with NAS interface) (46)
Overland Storage Inc. (formerly Adaptec) Snap Server 410/620/650/N2000*
Panasas ActiveStor 7 Series or 8 Series*
SGI InfiniteStorage File Serving*
Oracle Sun Storage 71xx/72xx/73xx Unified Storage System (with NAS)*
Xiotech ISE NAS Standard*
*Too few responses to be included in final tabulations; at least 13 complete sets of responses are required
The NAS buying experience
When Billy Joel sang "Get it right the first time, that's the main thing" it's unlikely he was shopping for a NAS system, but for system vendors Joel's line could be an anthem. Getting off on the right foot -- which for users means working with a knowledgeable and prepared sales team -- will often set the tone for the user's experience with the product. Judging by the improving scores in the sales-force competence rating category, vendors continue to improve their sales support efforts.
In the enterprise group, EMC launched its sweep of all categories with an overall 6.67 score for sales-force competence. EMC's highest scores were for the statements "My sales rep is knowledgeable about my industry" (6.78) and "The vendor's sales support team is knowledgeable" (6.73), but its scoring was very consistent for all statements in the category. NetApp's 6.48 placed it second, followed by Dell (6.33); both of those firms received their top marks for the knowledgeable sales support team item.
Among midrange systems, IBM made a clean sweep of the rating categories, matching EMC's enterprise-winning 6.67 score in the sales-force competence category. IBM's performance was highlighted by the only 7.00-plus score for sales-force competence statements, snagging a 7.08 for its knowledgeable sales support team. EMC's midrange entry finished just behind IBM with a 6.63 average tally; NetApp (6.29), HP (6.21) and Dell (5.76) filled out the field.
Lasting impressions
The sales effort may be the first step in the NAS deployment process, but the most lasting impression may be formed when the system is uncrated and cranked up for the first time. The initial product quality rating category endeavors to capture those impressions.
EMC topped off its excellent initial product quality ratings in the enterprise group with a 7.02 for "I am satisfied with the level of professional services this product requires" and came within a hair of the 7.00 mark with a 6.98 for "This product was installed without any defects." NetApp and Dell also showed strength in this category, scoring 6.70 and 6.64, respectively. NetApp's top mark (6.89) was for the statement about installing without defects; Dell's 6.82 for "This product was easy to get up and running" was second to only EMC's 6.90, which seems appropriate as Dell resells many EMC NAS models.
Among midrange systems, IBM obviously made some good first impressions as it scored over 7.00 for all statements in the initial product quality category for a record-breaking average of 7.32. IBM's best statement rating was a staggering 7.52 for "This product was installed without any defects." Kudos to IBM and all the vendors represented here, as the average category scores were all very good, ranging from Dell's 6.41 to NetApp's 6.71.
QUALITY AWARDS V ENTERPRISE NAS STANDINGS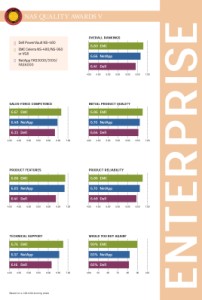 Enlarge QUALITY AWARDS V ENTERPRISE NAS STANDINGS diagram.
Specs, speeds and feeds
Once past first impressions, the bottom line for any storage system is whether it does what you need it to do. In the product features category, we ask users to consider the functionality of their systems and whether the features meet their needs.
EMC's win in the enterprise group was by the slimmest of margins: 6.86 vs. NetApp's 6.85 -- essentially a dead heat. Both vendors notched 7.00-plus statement scores: EMC (7.05) for "This product's capacity scales to meet my needs" and NetApp (7.03) for "This product's snapshot features meet my needs" (a traditional NetApp strength). "The technology is very feature-rich and impressive," commented one NetApp user.
In the feature battle of these behemoths, it might be easy to overlook Dell, but the company fared quite well in this category with a noteworthy overall average of 6.41.
Among midrange NAS products, IBM was once again a formidable force with statement scores ranging from a "low" of 7.14 up to 7.36. It all added up to a stunning 7.25 features category average and a relatively easy win over EMC (6.84) and NetApp (6.59) with scores that would have ranked first in previous Quality Awards iterations. EMC's score received a boost from a 7.11 for the "This product's capacity scales to meet my needs."
QUALITY AWARDS V MIDRANGE NAS STANDINGS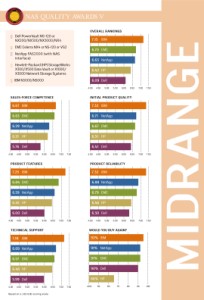 Enlarge QUALITY AWARDS V MIDRANGE NAS STANDINGS diagram.
Old reliable
Whether it's measured by four-nines, five-nines or some other yardstick, there's one thing a storage shop expects its NAS system to do: run and run. The product reliability rating section collects responses on just how satisfied users are with the reliability of their NAS boxes -- and they seem to be quite satisfied indeed.
EMC led a trio of solid enterprise NAS scores with a 6.86 for the product reliability category, highlighted by its two 7.00 statement scores for "The product meets my service-level requirement" and "This product requires very few unplanned patches." One survey respondent whose company has "several dozen" EMC boxes installed noted he was "extremely pleased and always [has] been regarding the reliability and scalability of EMC systems."
NetApp, with its 6.70 category average, posted statement ratings mostly in the mid- to high 6.00 range, while Dell was nearly as good, averaging 6.49.
IBM continued its mastery of the midrange with another solid performance across the board and a category score of 7.32. NetApp was well behind but with an outstanding 6.88, which would have been enough to cop top honors for reliability in any of our previous NAS Quality Awards. EMC wasn't far behind NetApp with a very sturdy 6.79.
When help is needed
Crossed fingers, a rabbit's foot or a four-leaf clover might help deter the downtime demons, but a dependable support team is usually a better bet. Inadequate technical support can turn an otherwise good product experience bad in no time, but this crop of NAS vendors seems intent on delivering good products backed by good support.
EMC's enterprise-leading technical support category score of 6.76 was also the highest we've ever seen for enterprise NAS. EMC pulled itself up by its bootstraps in this category, improving on its past middle-of-the-pack finishes in tech support ratings. A user needs to know what to expect, and EMC is apparently doing a good job of delivering on expectations, with a 7.08 for "Vendor supplies support as contractually specified." Once again, NetApp notched an impressive average score of 6.57 for the category; Dell also did well, posting a 6.16.
The big news in the midrange NAS group is that IBM didn't score more than 7.00 on every statement, although its two sub-7.00 scores were hardly bumps on its road to a 7.18 technical support score. That's another record for IBM, as it's the highest support score ever achieved by a NAS vendor (midrange or enterprise). NetApp was next with a 6.69, which would have been good enough to lead most of the previous midrange NAS packs, while EMC copped another third-place finish with an excellent 6.57.
Repeat performance?
As usual, we followed up our category statements with a basic question: All things considered, would you buy this product again? The results don't always match up with other scores, but they're still good indicators of loyalty and satisfaction.
Nine out of 10 of our enterprise NAS evaluators who have EMC systems would go the same route again; not surprising considering how happy they appear to be with the products. On the midrange side, IBM backed up its impressive category scores with a 93% "buy again" response.
Over the course of five NAS Quality Awards surveys, we've seen user satisfaction -- as reflected by their product ratings -- rise. With so much focus on file storage growth, it'll be interesting to see how well the vendors can respond to new and more demanding needs.
BIO: Rich Castagna (rcastagna@storagemagazine.com) is editorial director of the Storage Media Group.
Dig Deeper on NAS devices