Share this item with your network: BACKGROUND IMAGE: iSTOCK/GETTY IMAGES
Managing and protecting all enterprise data

iSTOCK/GETTY IMAGES
Oracle NAS comes up big -- twice
Quality Awards for NAS: With a lineage that goes back to Sun and StorageTek, Oracle's network-attached storage (NAS) boxes are meeting, and maybe exceeding, expectations.
By
Rich Castagna, Editorial Director
Quality Awards for NAS: With a lineage that goes back to Sun and StorageTek, Oracle's network-attached storage (NAS) boxes are meeting, and maybe exceeding, expectations.
About the survey
The Storage magazine/ SearchStorage.com Quality Awards are designed to identify and recognize products that have proven their quality and reliability in actual use. The results are derived from a survey of qualified Storage/ SearchStorage.com readers who assessed products in five main categories: sales-force competence, product features, initial product quality, product reliability and technical support. Products are rated on a 1.00-8.00 scale, where 8.00 is the most favorable score. This is the sixth edition of the Quality Awards for NAS systems; there were 206 responses to the survey with ratings of 389 products/product lines.
File storage is front-page news in the data storage world these days, with talk of "big data" and the relentless growth of end-user information forcing us to focus our attention -- and storage infrastructure efforts -- on storage systems for file data. The good news is that storage vendors appear to be up to the task, with users generally expressing high satisfaction with their products on the sixth Storage magazine Quality Awards for network-attached storage (NAS).
Oracle Corp. storage users are apparently the most satisfied among the legions of NAS users. Their high marks across the spectrum of service and reliability propelled Oracle to the highest ratings among both enterprise and midrange NAS systems.
Over our six NAS Quality Awards surveys, we've seen six vendors garner top honors in the enterprise group and three winners among midrange NAS systems since NetApp Inc.'s earlier dominance when it won the first three Quality Awards. In this year's survey, average ratings for both groups set records with new highs in every category except two.
Below, is a listing of the products that were included in the Storage magazine/ SearchStorage.com Quality Awards for NAS survey. The number of responses for each finalist is shown in parentheses after the product name.
Quality Awards for NAS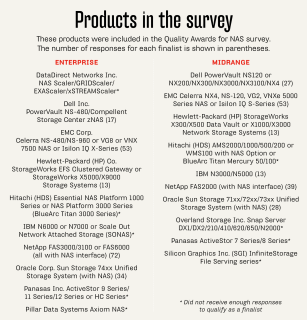 Enlarge "Products in the survey" diagram.
@pb
OVERALL RATINGS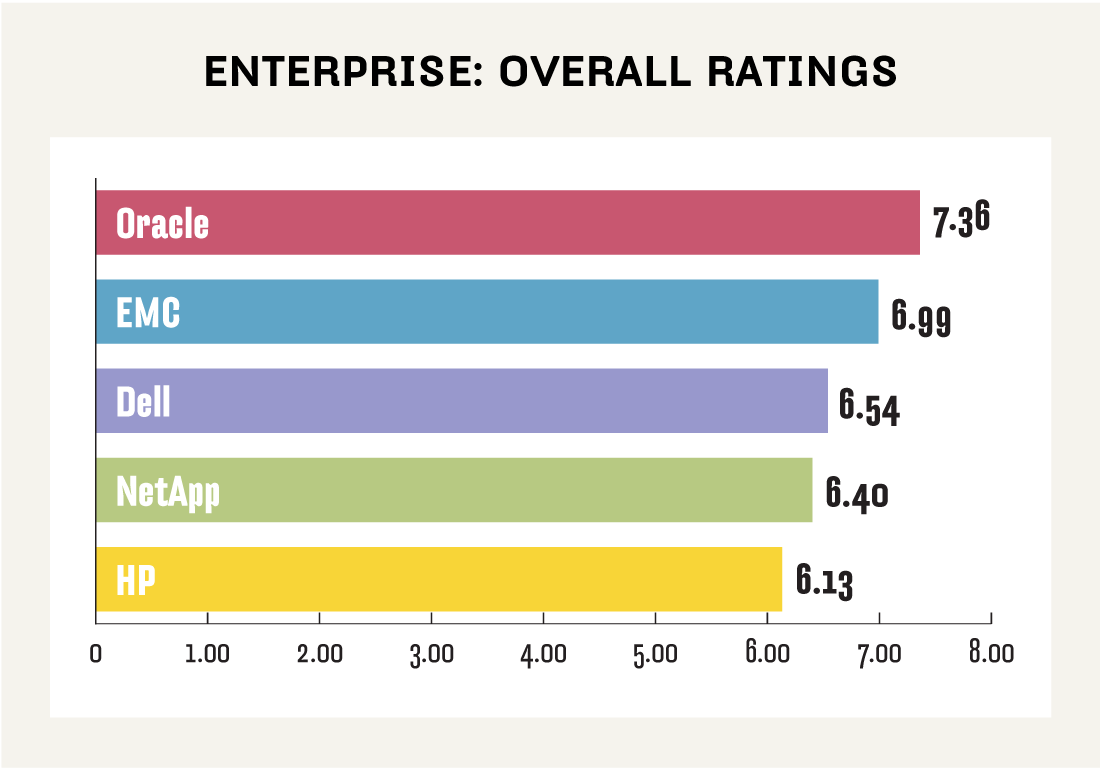 Enterprise NAS: Overall
Enterprise. Oracle's 7.36 is the highest overall score we've seen in all the NAS Quality Awards surveys. EMC Corp. set the record in the previous survey, but Oracle bested that mark by more than half a point. Oracle set the record by earning the highest marks in all five ratings categories, with an unprecedented score of more than 7.00 in each category. EMC's showing was nearly as impressive, finishing with a 6.99 overall score, which would have easily won any previous NAS survey.
Oracle's ratings were strong across all categories, with its highest marks coming for its sales efforts, product feature sets, and relatively quick and painless deployments. EMC was also a strong challenger in all five categories, posting sterling scores that included two 7.00-plus ratings, with the other three coming in at 6.92 to 6.98. The other vendors also fared well, with Dell Inc. posting a very respectable 6.54 to finish third, followed by NetApp (6.40) and Hewlett-Packard Co. (6.13).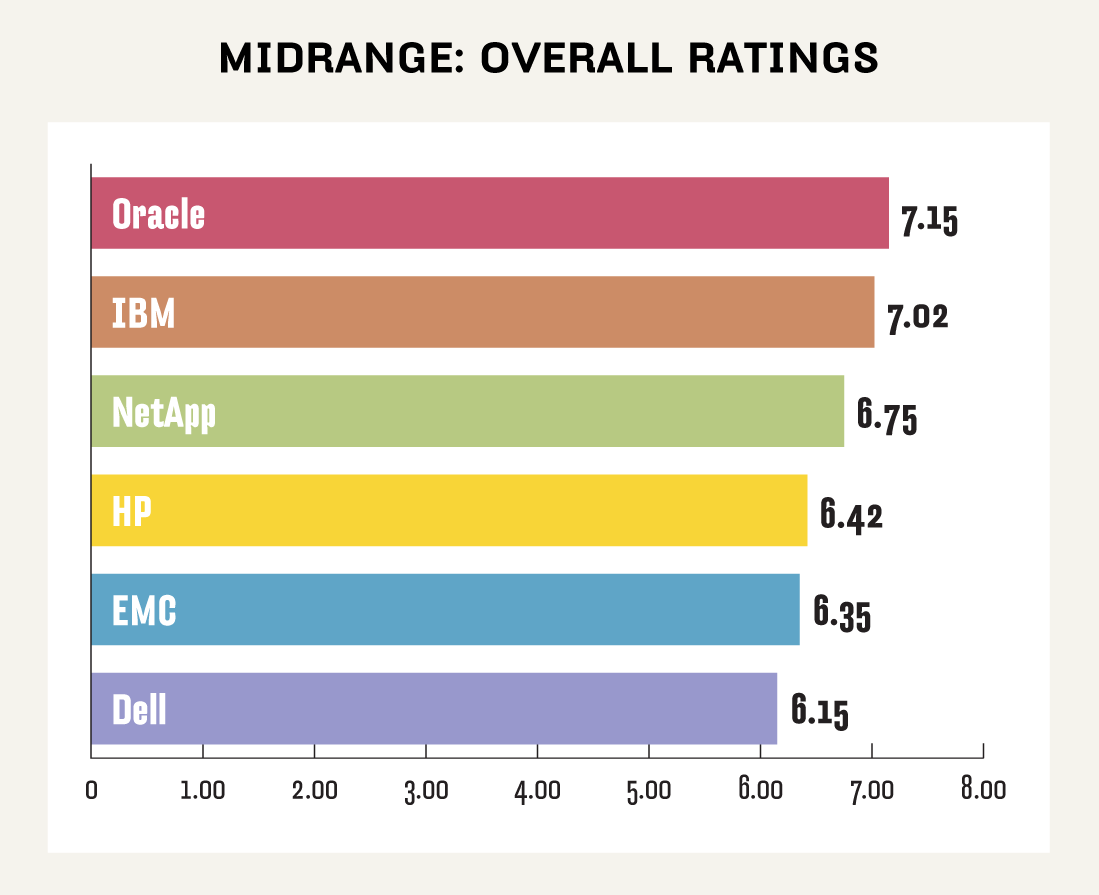 Midrange NAS: Overall
Midrange. In winning the midrange group, Oracle didn't set a new overall score record, but it did manage to tie the best overall mark, a 7.15 set by IBM on the last survey. IBM couldn't quite repeat its record-setting performance, but it earned a 7.02 to finish second -- only the third 7.00-plus overall score ever among midrange NAS.
Oracle and IBM battled through the five rating categories, with Oracle prevailing on four and IBM finishing first for sales-force competence. IBM came in second for three categories and third in the final one. NetApp's solid 6.75 was good for an overall third place, followed by HP (6.42), EMC (6.35) and Dell (6.15).
@pb
SALES-FORCE COMPETENCE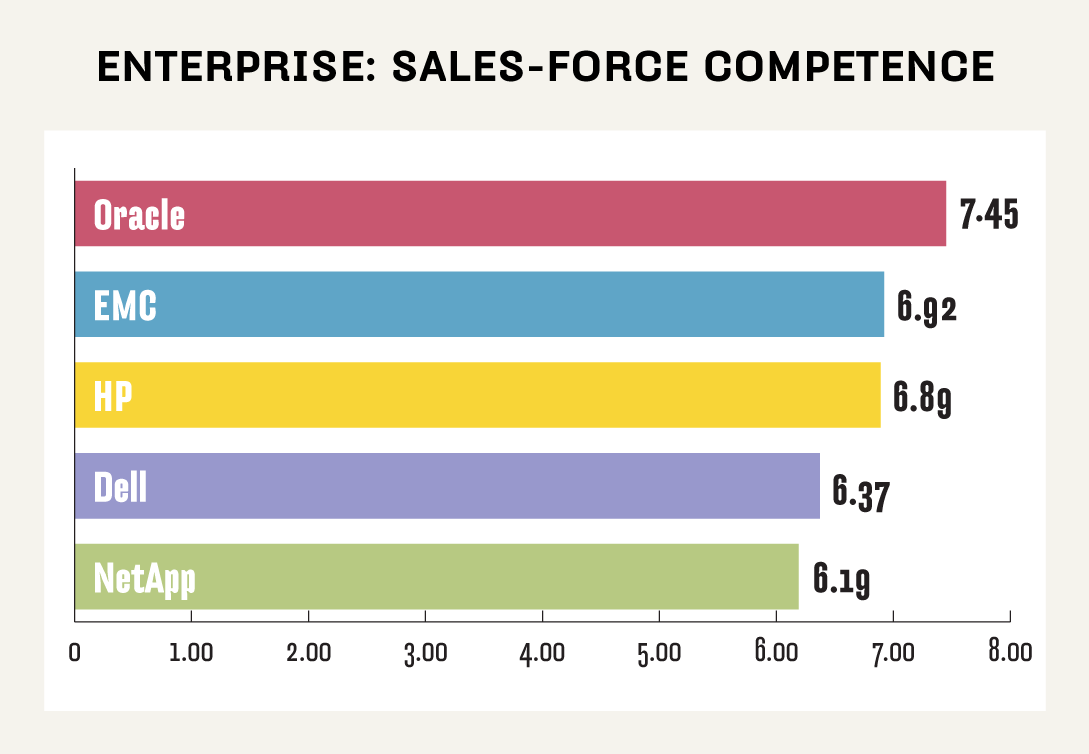 Enterprise: Sales-force competence
Enterprise. Across all the NAS Quality Awards surveys, no vendor had ever cracked the 7.00 mark for the sales-force competence rating category, but this time Oracle plowed right through that barrier and didn't stop until it reached 7.45. That astounding score was earned based on statement scores ranging from 7.32 to 7.56, with Oracle's highest ratings coming for keeping its customers' interests foremost, being knowledgeable about its customers' industries and being flexible. EMC's 6.92 in the category put it comfortably in second, just ahead of HP (6.89).
Breaking down the numbers
Enterprise NAS vendors provide solid backup for their sales teams, as evidenced by the overall average of 7.08 for the statement "The vendor's sales support team is knowledgeable."
Before Oracle's achievement, no NAS vendor/product had ever received 7.00-plus scores for every statement in the sales-force competence category.
EMC had three 7.00 scores, highlighted by a 7.25 for having a knowledgeable sales team; HP had the other two 7.00-plus statement scores in the category.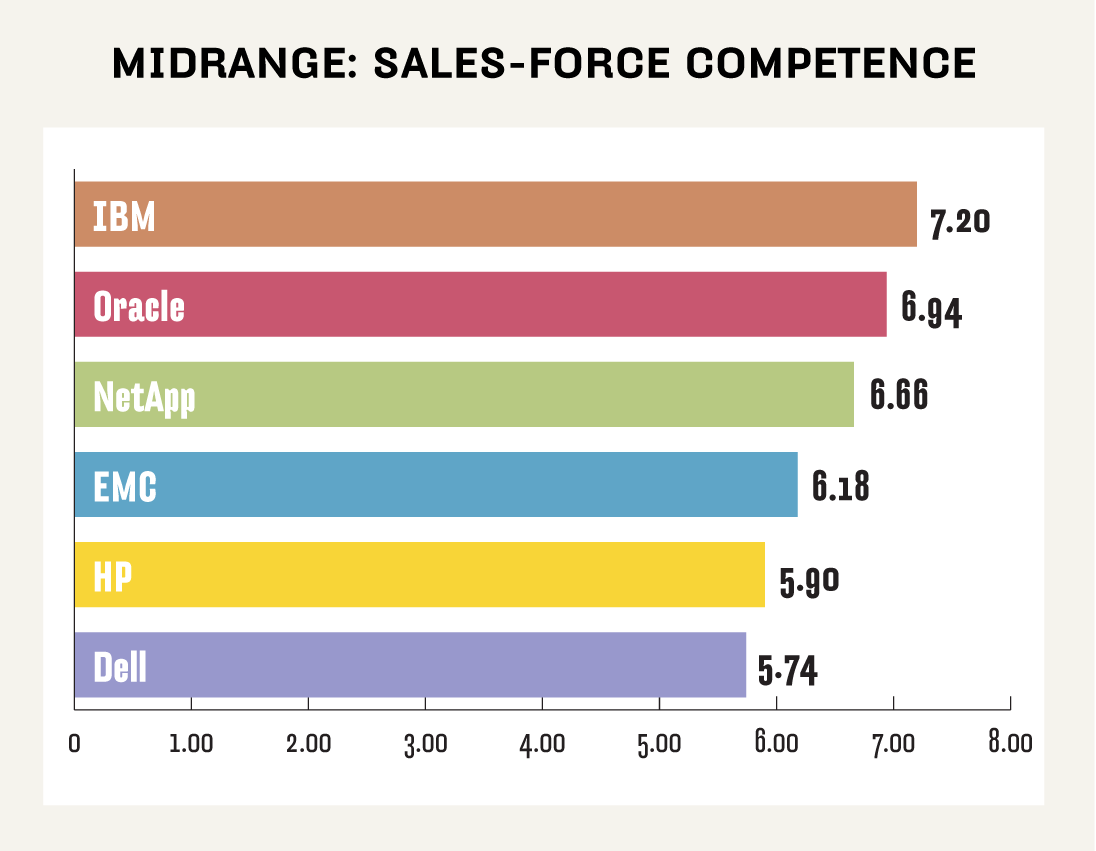 Midrange: Sales-force competence
Midrange. IBM scored approximately 7.00 for all sales-force competence statements to finish with a winning 7.20 average, which was high enough to put it well ahead of second-place finisher Oracle (6.94).
NetApp posted very consistent scores, ranging from 6.38 to 6.89, across the six category statements for a laudable third-place average of 6.66.
Breaking down the numbers
IBM had the highest scores for all six statements in the sales-force competence category.
IBM's highest marks were for having flexible sales reps and knowledgeable sales support teams.
Oracle netted two over-7.00 scores: a 7.28 for knowledgeable support teams and a 7.04 for "My sales rep keeps my interests foremost."
NetApp's strengths came from its sales support teams (6.89) and being knowledgeable about its customers' industries (6.87).
@pb
INITIAL PRODUCT QUALITY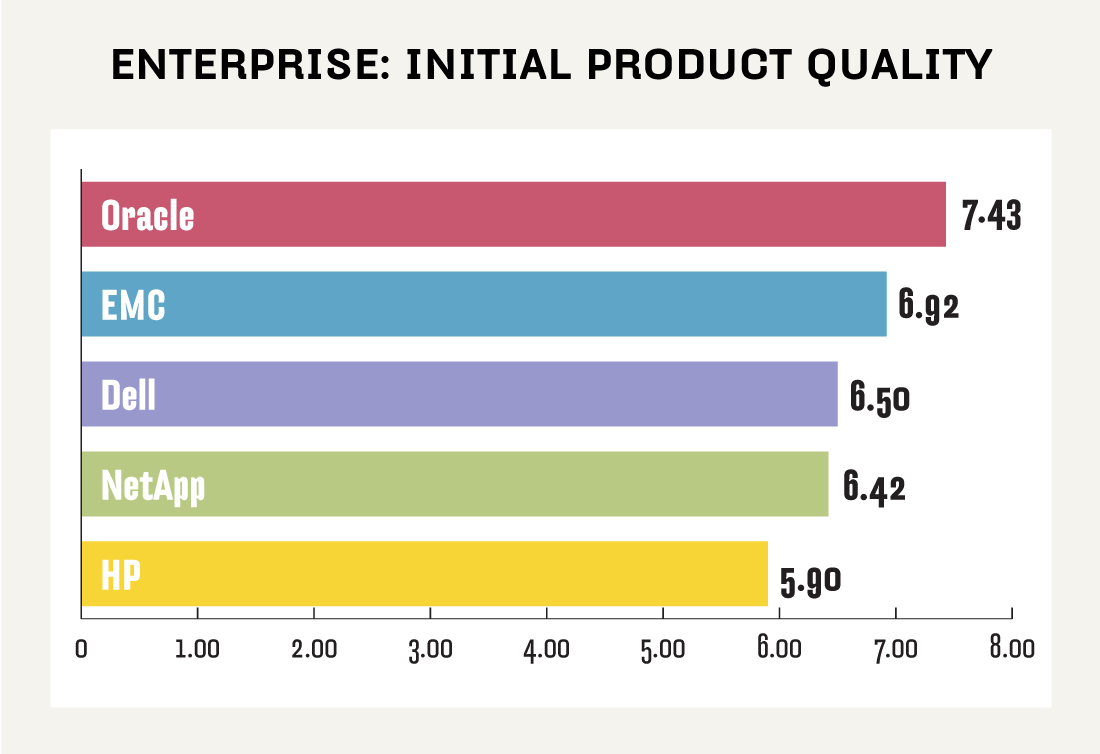 Enterprise: Quality
Enterprise. Oracle posted one of its top category averages (7.43) to take initial product quality honors. In doing so, Oracle showed remarkable consistency, with scores ranging from 7.38 to 7.44 on the six statements in this category, including four 7.44 ratings. EMC didn't threaten Oracle's dominance, but its second-place category average of 6.92 is the second highest ever recorded. Dell was a distant third with a still-strong 6.50 score.
Breaking down the numbers
Oracle's 7.44 statement scores were earned for products that need little vendor intervention, requiring a reasonable amount of professional services, ease of use and good value.
The "good value for the money" statement is a key indicator in this category, and all vendors scored well: Oracle (7.44), EMC (6.79), Dell (6.47), NetApp (6.07) and HP (6.00).
EMC had the only other two 7.00-plus statement scores: a 7.12 for installing without defects and a 7.06 for not needing too much in the way of professional services.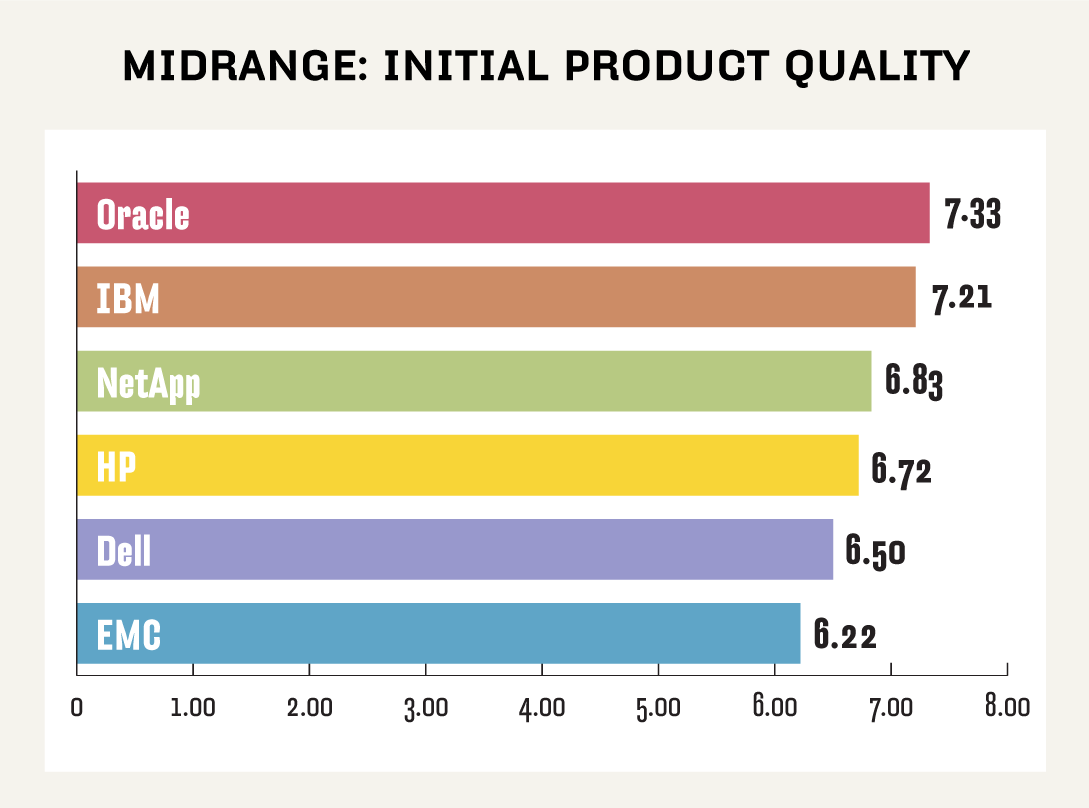 Midrange: Quality
Midrange. IBM gave Oracle a run for its money in the midrange initial product quality category, ultimately finishing second with a notable 7.21 to Oracle's 7.33. IBM topped Oracle on three of the six statements, but was somewhat undone by the "good value for the money" statement when it scored a 6.69 to Oracle's 7.39. NetApp had two above-7.00 statement scores for an overall 6.83 for third, while HP had a single 7.00 on its way to a category average of 6.72.
Breaking down the numbers
Midrange NAS vendors are getting it right the first time: The across-the-board average for "This product was installed without any defects" was an impressive 6.92.
This is the first time that two vendors -- Oracle and IBM -- had averages of more than 7.00 for the initial product quality category.
Oracle's 7.39 for the key "good value for the money" statement easily led the field, but the others also scored well to yield a group average of 6.64 for this statement.
@pb
PRODUCT FEATURES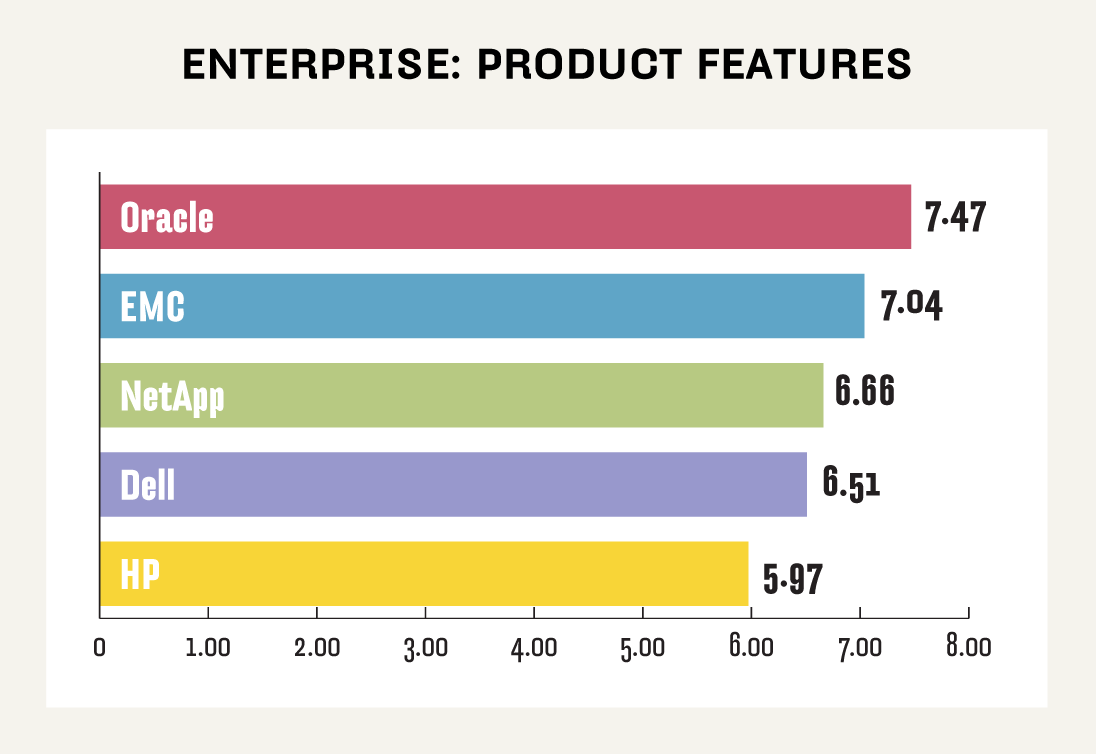 Enterprise: Features
Enterprise. Even after a good sales experience and a problem-free implementation, it still comes down to what the system can do. Apparently, Oracle users are happy enough with their systems' capabilities to help earn the vendor a 7.47 score for features. That's the highest-ever score for enterprise NAS, and it helped build an overall group average for the product features category that was also a record breaker. EMC finished second with a 7.04, the second-best score ever and enough to have prevailed in previous surveys.
Breaking down the numbers
Oracle's top scores were a 7.56 for management features and a 7.50 for mirroring features.
EMC was the only other vendor getting 7.00-plus scores: a 7.08 for mirroring features, 7.15 for management features and 7.30 for capacity scaling.
NetApp was again the model of consistency, finishing third with a 6.66 average built on scores ranging from 6.35 to 6.93 on the category's seven statements.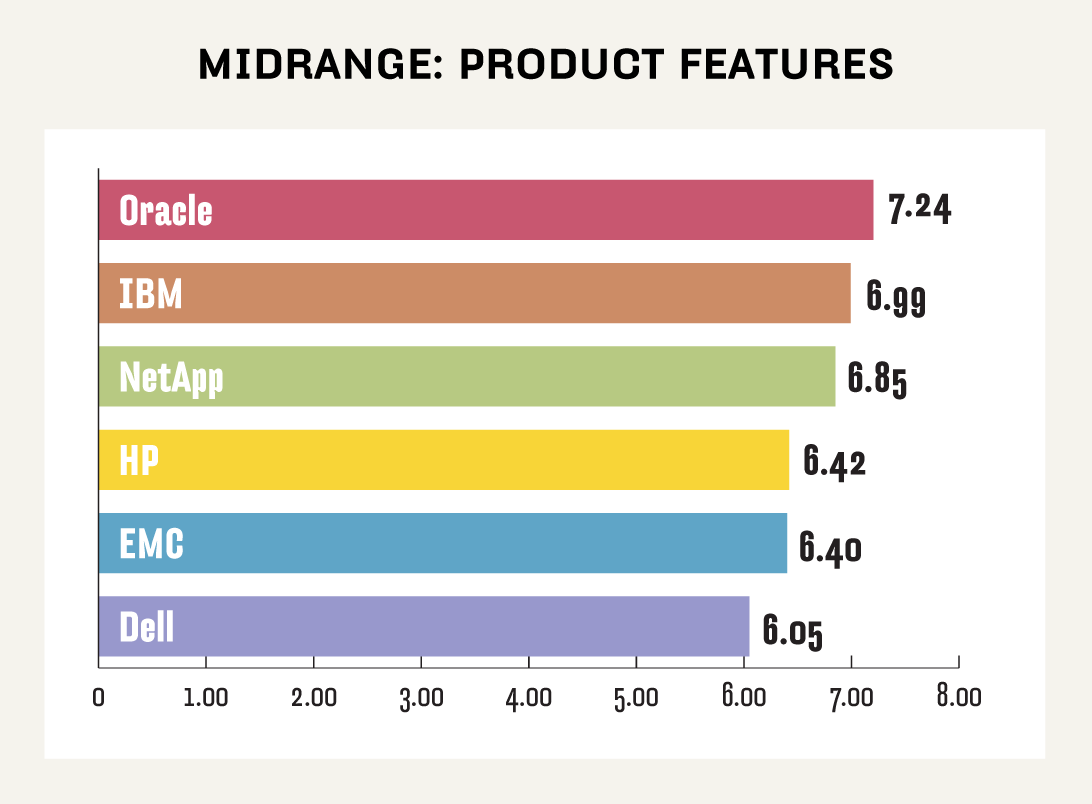 Midrange: Features
Midrange. IBM racked up three statement scores of more than 7.00 to earn a category average of 6.99, but couldn't overtake Oracle's six 7.00-plus tallies and 7.24 category score. System capabilities don't seem to be a concern among midrange NAS products, as all vendors fared well in this category.
The overall category average was 6.66, enough to edge out the last survey's average.
Breaking down the numbers
Oracle's highest marks were posted for mirroring (7.39) and management (7.34); its lowest score was a still-lofty 6.93 for "This product is interoperable with other vendors' products."
IBM's three above-7.00 scores included a 7.33 for mirroring, 7.23 for remote replication and 7.15 for snapshots.
NetApp's sturdy third-place 6.85 featured a 6.94 for snapshotting and a 6.94 for remote replication.
@pb
PRODUCT RELIABILITY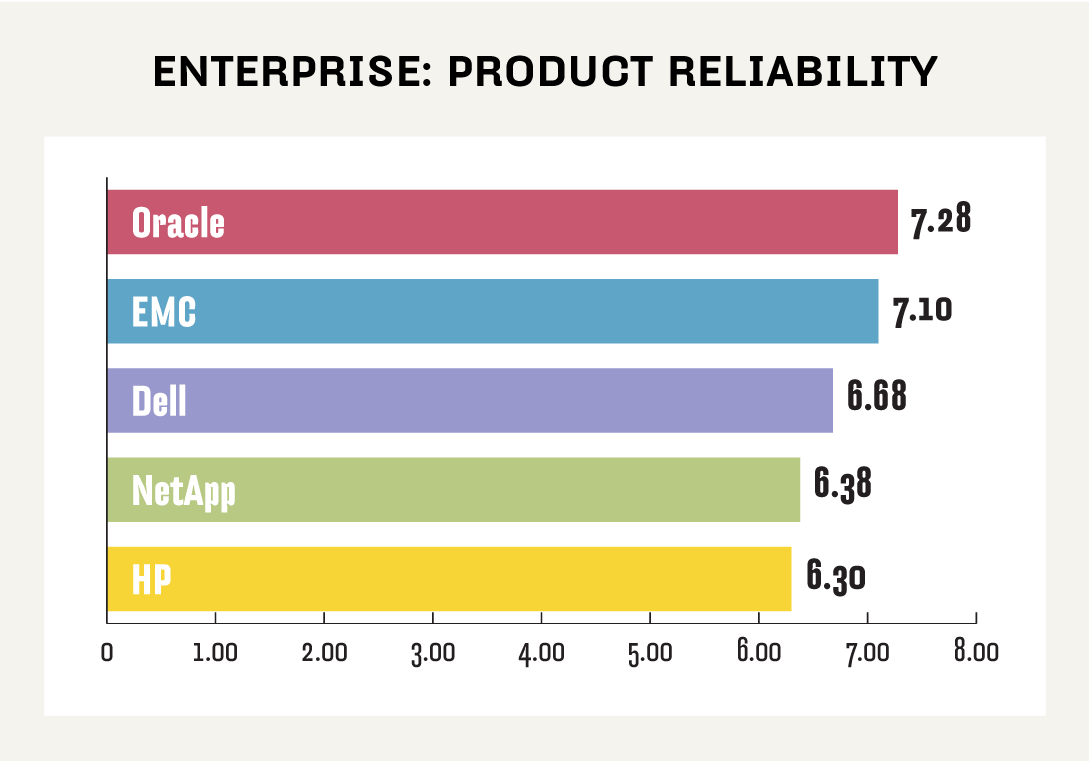 Enterprise: Reliability
Enterprise. This was a closely contested category, but Oracle triumphed once again with five 7.00-plus scores to four for EMC for an overall edge of 7.28 to 7.10, respectively. Product reliability is typically one of the strongest categories for enterprise NAS products, and all finalist vendors performed well this time; Dell showed its enterprise muscle with good scores on patching issues to come in third with a 6.68, followed by NetApp (6.38) and HP (6.30).
Breaking down the numbers
Oracle had the top single statement score with a 7.44 for "The product meets my service-level requirement."
EMC registered the second-highest statement score, a 7.37 for the key statement "This product experiences very little downtime."
You can apparently count on enterprise NAS, as scores for the downtime statement were solid across the board for an aggregate 6.91 average.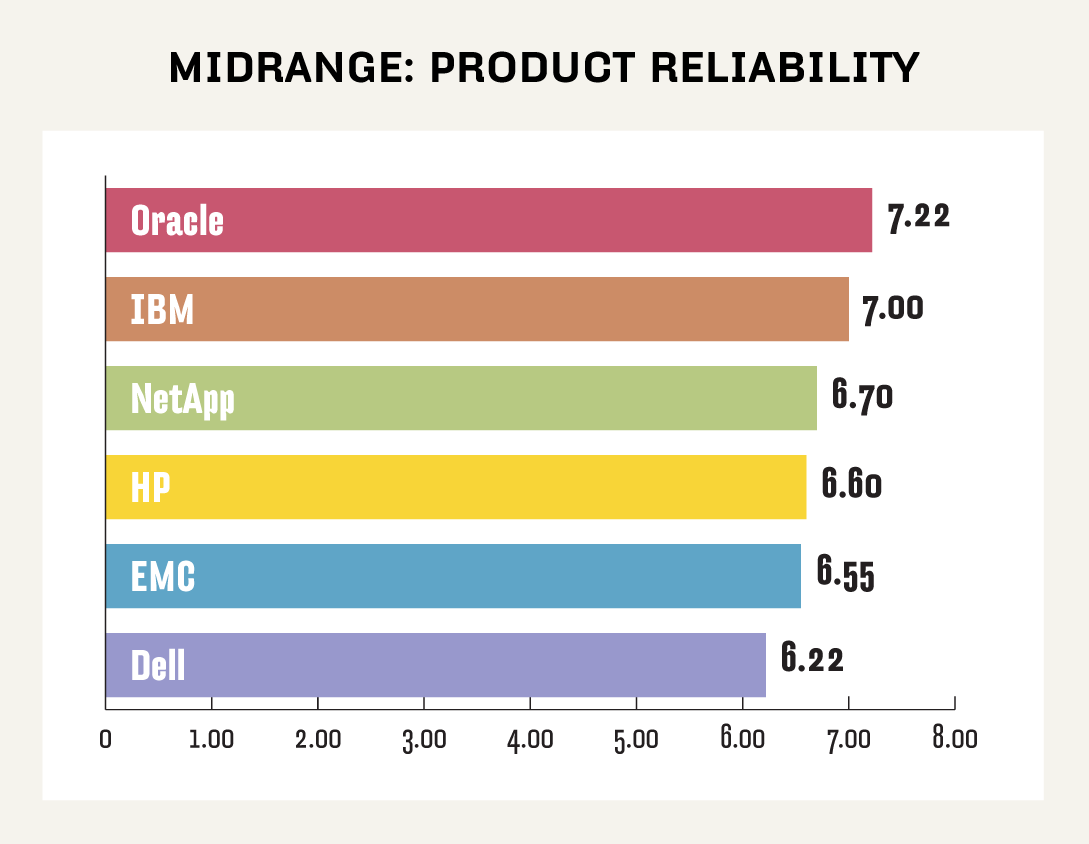 Midrange: Reliability
Midrange. Oracle was pressured by IBM for midrange NAS reliability honors but ultimately outpaced its rival, 7.22 to 7.00. Of the five statements in this category, Oracle had only one sub-7.00 score, while IBM had two.
Third-place finisher NetApp (6.70) had the only other above-7.00 statement score in the group for systems that experienced little downtime.
Breaking down the numbers
Three vendors scored more than 7.00 for the statement "This product experiences very little downtime": Oracle (7.46), IBM (7.15) and NetApp (7.05).
IBM's 7.17 for "Patches can be applied nondisruptively" was the best in the group.
Vendors might want to revisit their upgrading procedures: "Vendor provides comprehensive upgrade guidance" netted the lowest averages among all vendors.
@pb
TECHNICAL SUPPORT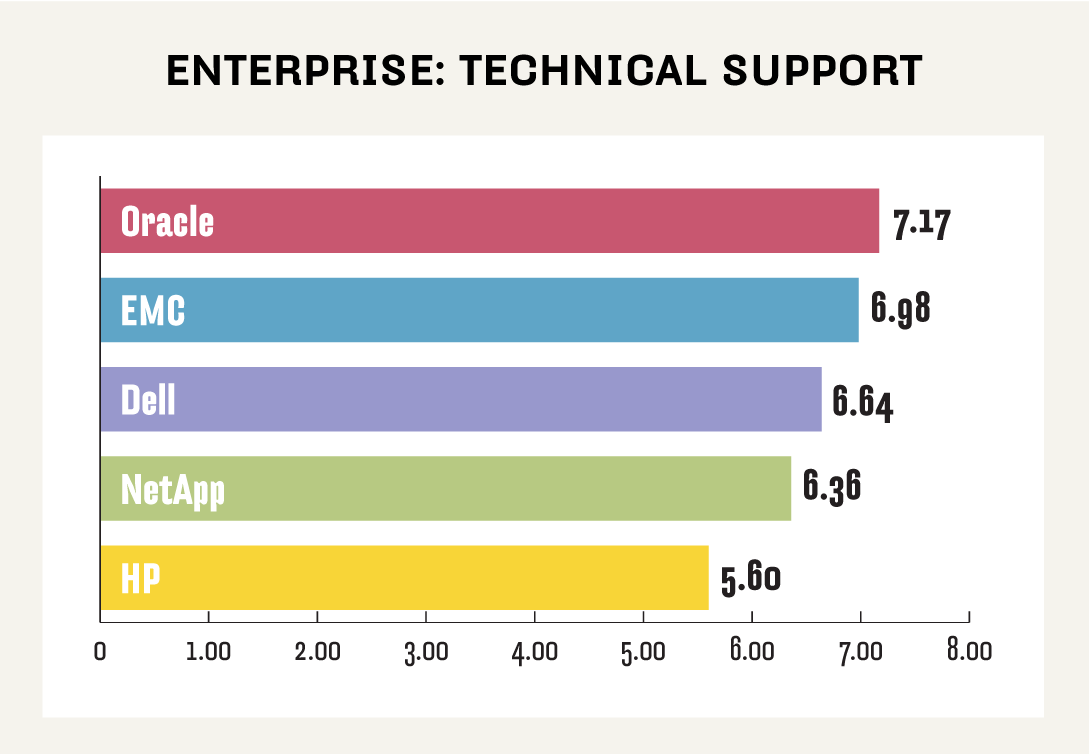 Enterprise: Tech support
Enterprise. We've said many times that a solid support system can help a vendor get back into a user's good graces with timely fixes and tech advice. This group of enterprise NAS vendors, led by Oracle's 7.17 category average, posted the best overall average support score to date.
Oracle snared 7.00-plus scores for seven of the eight category statements, but EMC put up three sevens en route to a 6.98. Dell (6.64) registered its third third-place showing.
Breaking down the numbers
Oracle's highest mark was for taking ownership of customer problems (7.33); it scored nearly as well for timely problem resolution (7.30) and documentation (7.29).
EMC meets expectations: EMC picked up the highest statement score in the category with a 7.43 for "Vendor supplies support as contractually specified."
Do vendors need better buddies? The lowest average among all vendors was a 6.29 for "Vendor's third-party partners are knowledgeable."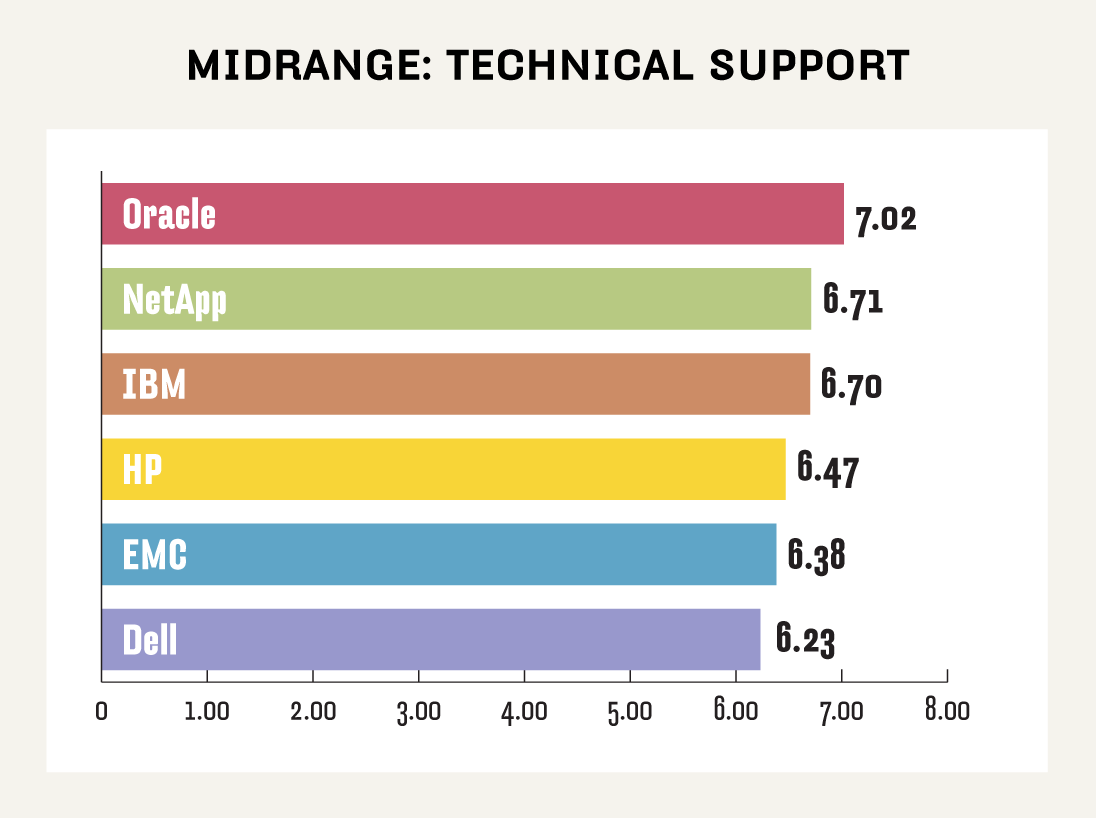 Midrange: Tech support
Midrange. Oracle had five scores of 7.00 or better on its way to a category-leading average of 7.02.
IBM (6.70) had the only other two 7.00-plus ratings, but it wasn't enough to prevent Big Blue from being nudged out by the ever-steady NetApp, which built its second-place 6.71 on another narrow range of scores running from 6.59 to 6.97.
Breaking down the numbers
The highest single statement score was Oracle's 7.22 for providing adequate training; the second highest was IBM's 7.18 for supplying support as contractually specified.
Four of the six vendors received their lowest ratings for "The vendor provides adequate training."
Oracle had ratings of 7.11 for three statements: timely problem resolution, taking ownership of problems and documentation.
@pb
TOPS IN TB AND 'DO IT AGAIN?'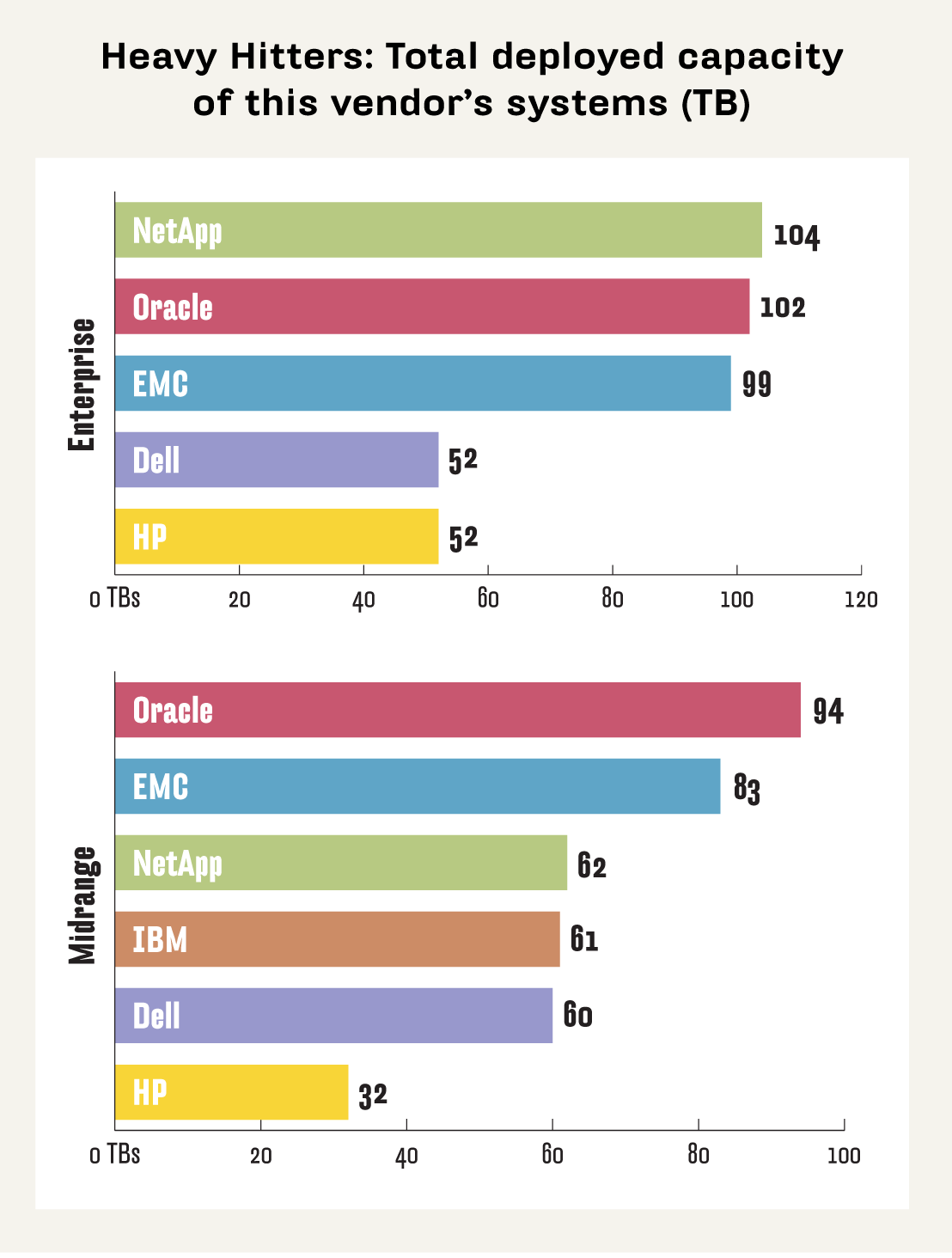 Tops in TBs
It doesn't have any bearing on the Quality Awards survey rankings, but we ask how much of a commitment respondents have made to each vendor's products in terms of installed capacity. When it comes to its users' average installed capacity, NetApp edged Oracle with 104 TB to Oracle's 102 TB. Enterprise stalwart EMC wasn't far off with 99 TB.
Oracle's midrange NAS users reported an average installed capacity of 94 TB, well ahead of EMC's 83 TB, followed by NetApp (62 TB), IBM (61 TB) and Dell (60 TB).
We also asked if respondents would make the same purchase again given what they know now. Fairly often we don't see a direct correlation between ratings winners and "buy again" favorites, which may just be a case of growing comfortable with a product over time. For enterprise NAS, the buy-again numbers track the rankings fairly closely, with 97% of Oracle users ready to sign on the dotted line again. Oracle also topped the charts among midrange vendors, although less impressively, with 89% saying they'd come back for more.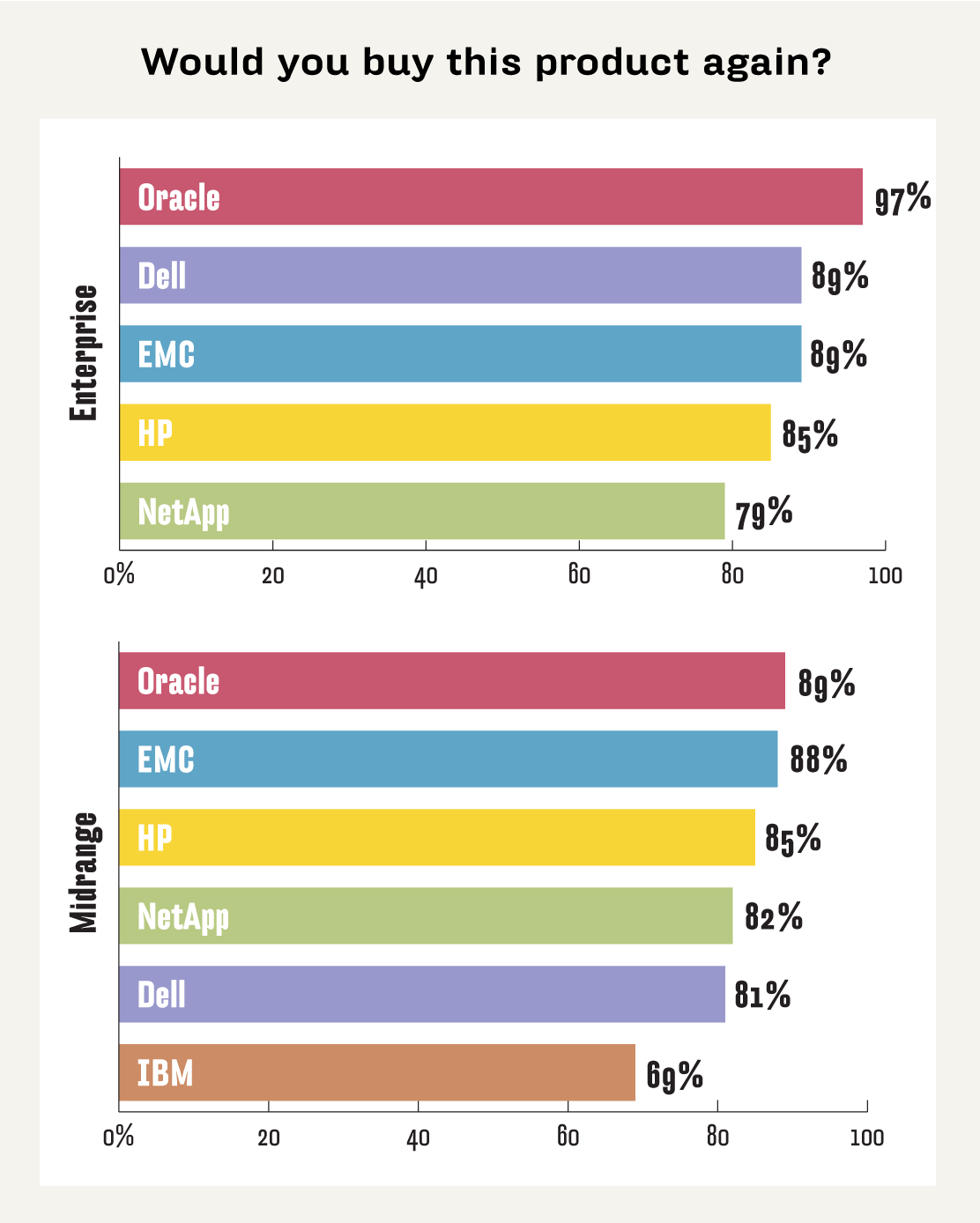 Buy same NAS product again?
BIO: Rich Castagna is editorial director of the Storage Media Group.
Dig Deeper on NAS devices