Share this item with your network: BACKGROUND IMAGE: iSTOCK/GETTY IMAGES
Managing and protecting all enterprise data

iSTOCK/GETTY IMAGES
How virtual servers, desktops and storage can make DR a breeze
You can take a lot of the drudgery out of disaster recovery by using virtualization technologies for your company's servers, storage and desktops.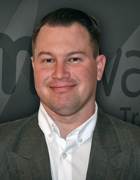 By
You can take a lot of the drudgery out of disaster recovery by using virtualization technologies for your company's servers, storage and desktops.
Saying disaster recovery (DR) can be a "breeze" might be going a little overboard, but thanks to virtualization, the entire DR planning and execution process can be tremendously improved across all fronts. Before we look at how virtualization technologies can make DR easier, let's see why disaster recovery so desperately needs virtualization.
DR without virtualization
With physical servers, storage and desktops, DR planning is usually an overwhelming and complex project.
Typically, physical servers require a physical server (a 1:1 mapping) at the recovery site that will take over in the event of a disaster. At both ends, OSes should be in sync when it comes to versions, patch levels and management apps. The tier-one application running on the server must be at the same version and patch level on the recovery server. In many cases, a DR plan calls for copying application data from backup tapes to each recovery server, redirecting DNS entries and then using the backup servers.
Of course, all the servers and applications need physical storage, including SAN arrays and tape backup (or disk-to-disk backup arrays). In the event of a disaster, the storage data and server apps have to be brought back up as quickly as possible. The data may be recovered from tape, from disk-based backup, or via real-time replication using software or storage snapshots.
Often, IT organizations are only prepared for disaster in the data center, leaving business continuity planning (how the entire business will function in the event of a disaster) to someone else. In many cases, because the logistics and planning required to supply end-user devices to hundreds or thousands of users is so complex, the final "plan" is often to just provide a few laptops to key employees while the remaining users fend for themselves. But companies don't run with just a handful of key people at the helm, so to ensure business continuity in the event of a disaster, you must arrange a way for all employees to do their jobs. That means access to all the same business apps and files they use on a daily basis. Supporting that need with hundreds of physical desktops or laptops, and keeping the OSes and apps updated can be overwhelming.
Consider the work involved with having redundant servers, storage and desktop/laptop devices, and then attempting to keep those devices updated with the most recent data.
How server virtualization eases DR
Planning for a redundant physical server at a DR site is difficult. Not only does the server need to be hot and ready, but it typically needs to be the same brand, model, configuration (CPU and RAM), firmware version, operating system version and patch level.
Hypervisors like Citrix XenServer, Microsoft Hyper-V and VMware vSphere take a single physical server, replace the operating system and allow you to run multiple servers on top. The virtual machines (VMs) running on the host server are hardware independent and portable. In the event of a disaster, you can simply restore them to any other physical server at a DR site running the same hypervisor, recover your VM and power it on. It's that easy.
In a pinch, those hardware-independent and portable VMs could even be restored inside a laptop or desktop PC to get a few users access to an application or to export data.
Portability means VMs don't have to be restored to a host similar to the one they ran on in production. So you can have much higher consolidation ratios at the DR site if you choose, or even restore just your most critical VMs from across all your production hosts to a single ESXi host at the DR site, for example.
You could even upload those VMs to a public cloud and run the virtual machines (with your business-critical apps) at a service provider with no changes to the guest OS, applications or data.
The ability to run virtualized VMs in a public cloud has been packaged and named disaster recovery as a service (DRaaS). With services like those available from Hosting.com and Doyenz.com, VMs from vSphere are replicated to the cloud on an ongoing basis; if there's a disaster, the standby VMs can be powered on to restore business-critical applications to service. End users can access those VMs via the Web, a VPN or they can connect to another company site via a site-to-site VPN.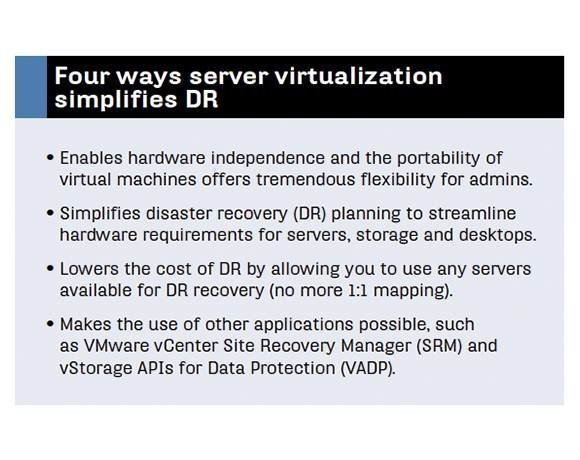 Virtualization can also help prevent disasters from happening. Virtualization can't stop a hurricane or a flood, but it can make it easy to move VMs (and critical applications) to another server before the event occurs. For example, if you have a pre-failure warning that a server was going to fail, you could use a feature like VMware's vMotion or Microsoft Hyper-V's Live Migration to move running VMs from one host to another, ensuring no downtime or data loss. Similarly, if a SAN needed maintenance or a LUN needed to be restriped, you can use a feature like VMware's Storage vMotion to move a running virtual machine's virtual disk from one SAN to another.
Similarly, if you knew your data center was going to suffer a power outage due to a hurricane, you could power down VMs, copy them to another site and bring them back up at the secondary site.
One of the great things about virtualization is that it provides capabilities to all operating systems and applications that you'd otherwise have to pay for. Many companies can't afford high availability (HA) or timely disaster recovery for all their servers. However, with virtualization, HA and DR features apply to all virtual machines, universally, regardless of their operating system or apps. Thus, features like Microsoft's failover clusters or VMware's vSphere High Availability will bring up all VMs from a failed host onto another host, whether they're running DOS, Windows or Linux, and essentially any application. For the most critical applications, VMware Fault Tolerance (FT) will provide real-time mirroring of virtual machines from one host to another, so users won't see any downtime if a host fails.
For large site-wide disasters, applications like VMware vCenter Site Recovery Manager (SRM) create automated recovery plans for entire virtual infrastructures to get VMs and critical applications running at the recovery site at the push of a button. SRM works for any operating system and application, and is usually affordable enough to use to protect every VM in the infrastructure (as opposed to protecting just a few of your most critical VMs with dedicated physical server replication applications).
Storage virtualization makes DR easier
When you implement server virtualization, the virtual disk for every server is contained in a file. With vSphere, it's a VMDK file; for Hyper-V the file is called a VHD (or VHDX with Hyper-V 3.0). This is one form of storage virtualization and part of what makes these VMs so portable. It also offers many benefits that make DR easy. Some of the ways VM virtual storage makes DR easier include:
Features like VMware's Storage vMotion can move running virtual machine disk files from one datastore to another to prevent localized disasters.
Virtual machine disk files can be easily backed up and restored to another host.
Changed blocks of virtual machine disks can be easily tracked so that backup and restore times can be drastically shortened.
Similarly, those changed blocks can be easily tracked and then replicated to an off-site repository, both for off-site backup and for quick restore to DR servers.
As with server virtualization, identical SAN storage is no longer required at the DR site as the VM disk files can be stored on whatever shared storage is available.
Many advanced third-party storage virtualization tools take advantage of the storage virtualization tools built into the hypervisor. For example, third-party products can use the VMware API for Data Protection to access only the changed blocks of a VM disk file, and back up or replicate those blocks to an off-site location.
In most cases these virtual machine disk files are stored on a local virtualization host or shared storage. While virtualizing storage is a huge benefit, there are other storage virtualization offerings you can choose that offer other benefits for DR.
For example, the vSphere Storage Appliance (VSA) is an affordable NAS that uses extra local storage on ESXi hosts to store VMs but can still offer high availability and certified virtual storage for virtual machines.
The StarWind Software iSCSI SAN runs on top of the Windows OS and offers high availability and data replication to another virtual SAN at the backup site. The StarWind virtual SAN is a great product for storing Hyper-V and vSphere VMs, offers advanced features and helps you avoid having to buy an expensive shared storage array. FalconStor's Network Storage Server is a similar product that offers DR benefits for virtual infrastructures. Both companies offer free trial versions.
VDI aids DR
Users will want to get back to work quickly after a disruption. Initial recovery efforts typically focus on getting servers and storage up and running again, but what about those hundreds or thousands of desktop and laptops PCs? To get the business back to normal (or near normal) operations, it isn't enough to just get the servers back online.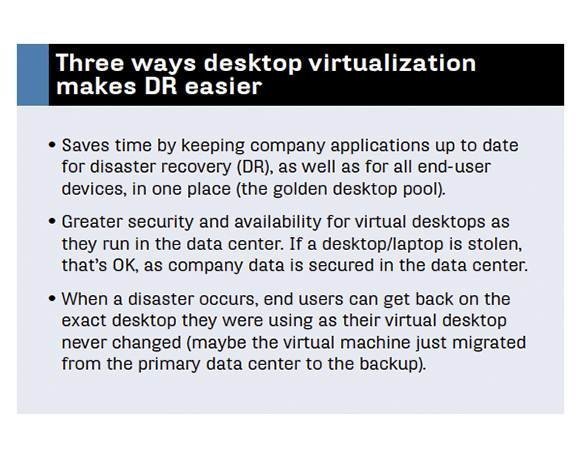 Virtual desktop infrastructure (VDI) can get end users working again quickly. By virtualizing desktops with products like Citrix XenDesktop or VMware View, you can offer a consistent, reliable, scalable, secure and easily maintained desktop pool for end users to access from nearly any device they have when there's a disaster. Better yet, why wait for a disaster? Reap the benefits of desktop virtualization now and be ready if disaster strikes by converting your company's physical desktops/laptops to virtualized desktops.
About the author:
David Davis has been awarded the VMware vExpert award three times. He has spoken at major conferences and authored hundreds of articles. You can follow David on Twitter @davidmdavis or connect with David on LinkedIn.
Dig Deeper on Data center storage