Dedupe performance is effective if not remarkable
Approximately 60% of our survey respondents are using data deduplication in backup. Find out the data reduction rates they're getting and what non-dedupers say about the technology
Approximately 60% of our survey respondents are using data deduplication in backup. Find out the data reduction...
Continue Reading This Article
Enjoy this article as well as all of our content, including E-Guides, news, tips and more.
rates they're getting and what non-dedupers say about the technology.
Contrary to recent reports, data deduplication isn't the only big news in storage these days. But its dramatic effects are still being felt and appreciated in many organizations. Slightly more than 60% of respondents use dedupe in backup. A few years ago almost all dedupers used an appliance, but this group is split fairly evenly among the prevailing methods: appliances lead with 20%, but deduping with backup software (19%) and virtual tape libraries (15%) aren't far behind. Yet dedupe is still a relatively new technology, as evidenced by the two-thirds of users who have been deduping for less than two years. Nearly 75% are seeing dedupe ratios of 20:1 or less, with the average hovering around 23:1. One of the few knocks against dedupe is that restoring data isn't so easy, but 73% say it's easier or the same as restoring non-deduplicated data. And how about those non-dedupers? Fifty-seven percent expect to succumb to dedupe within the next two years.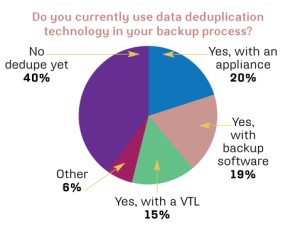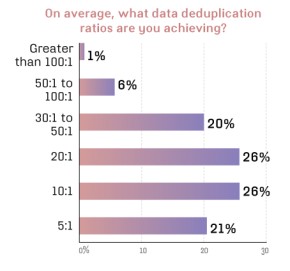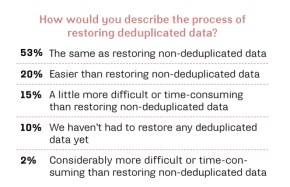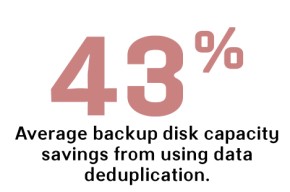 "Data duplication not only allows us to take extra backups and hold them for longer, but the replication between our dedupe appliances . . . requires much less bandwidth than if all data needed to be transferred." --Survey respondent
BIO: Rich Castagna is editorial director of the Storage Media Group.
Dig Deeper on Storage market research reports