Share this item with your network: BACKGROUND IMAGE: iSTOCK/GETTY IMAGES
Managing and protecting all enterprise data

iSTOCK/GETTY IMAGES
Capacity and the law drive email archiving
In our most recent Snapshot survey, we asked respondents why they were archiving: 28% say they're doing it for legal issues, while 26% use it for capacity management.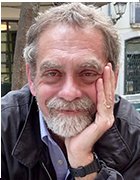 By
More than half of the respondents to our most recent survey are archiving their companies' email, approximately the same number as when we asked about it nearly two years ago. But nearly 33% of non-archivers say tucking away old email is on their to-do list. The toughest part of email archiving, say 64%, is managing the volume of archived mail. More than 75% are trying to cope with mail volume by imposing mailbox quotas, with an average upper limit of a little more than 1.5 GB, about 20% less generous than in our 2009 survey. Forty-six percent let users do their own archiving using .PST files, while 10% use Exchange Server 2010's "better-than-PST" archive mailbox feature. In any event, email admins are letting messages mellow longer before archiving: only 37% say mail is archived after 90 days vs. 47% in 2009. Why bother with email archiving at all? Twenty-eight percent claim it's for legal issues, while 26% use it for capacity management.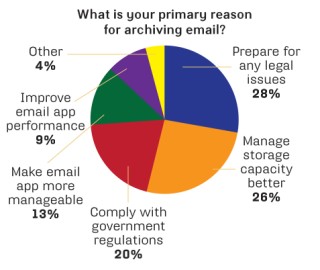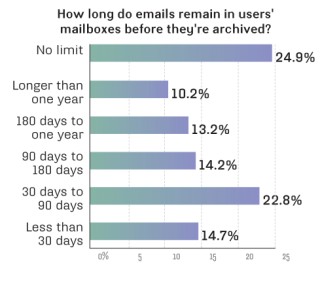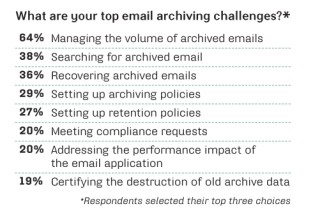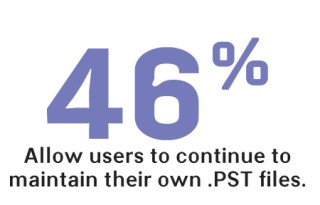 "We're focusing on our legal and regulatory requirements, and giving direction on what to keep and what to pitch in order to reduce the volume of stored information." --Survey respondent
Dig Deeper on Data storage compliance and regulations