They say speed kills. But in today's business environment, it is lack of speed that is the far bigger threat. Users—whether employees, customers or partners—have new expectations for how quickly products, services and applications should be available based on their experiences with technology in their personal lives. Pundits refer to this phenomenon as "IT consumerization," and it is making speed to market one of the most important competitive differentiators across all industries.
For IT leaders, this means deploying infrastructure technologies that put their organizations in the best possible position to accelerate product development and improve quality assurance. Hyper-converged infrastructure (HCI) and cloud-based technologies are at the top of the list. In fact, HCI and hybrid cloud were ranked as the top two technologies in the TechTarget Research Momentum Index™ released in July 2016 as part of the Data Center Market Landscape Study.
The research is based on interviews with 576 organizations representing more than $4 billion in annual data center spending. The index stack ranks eight data center technologies by using momentum to define a high concentration of planned net adoption by the peer network of pre-screened decision-makers.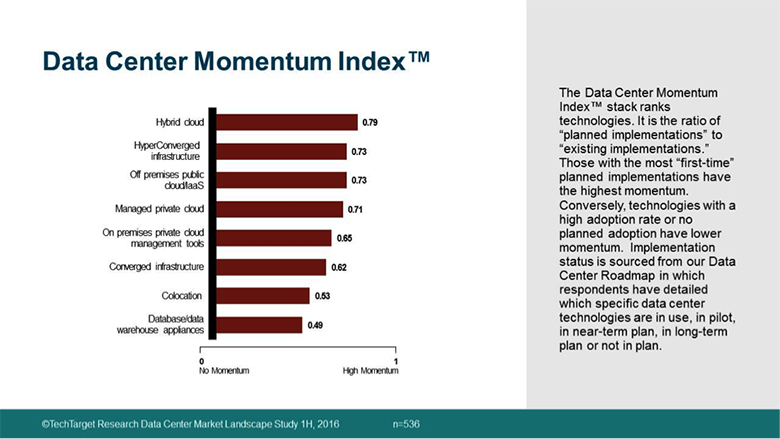 The accelerating momentum of hyper-convergence
The momentum of HCI should come as no surprise, given the benefits the technology can deliver to organizations. HCI brings the operational simplicity and scale-out flexibility of the cloud to on-premise infrastructure, while still allowing IT to maintain control over data security and privacy.
HCI provides a modern data center model that uses server virtualization and software-defined architectures built on industry-standard servers. As such, HCI is extremely cost-efficient, providing IT with an easily scalable platform that can be deployed quickly in support of development teams and new projects.
HCI future-proofs the IT investment and makes it easy to adopt new application, hardware or cloud paradigms down the road. Because of these advantages, forward-looking IT leaders are using HCI solutions in a variety of ways to accelerate speed to market and provide an enhanced experience for employees, customers and partners. Here are just a few examples.
CenturyLink is a global leader in cloud infrastructure and hosted IT solutions, serving more than 30% of the Fortune 1000. As a provider of hybrid cloud services, CenturyLink needed to not only accelerate its own development processes, but also provide the platform for its customers to achieve similar results.
One of its biggest challenges was overcoming the limitations of its legacy SAN storage environment. "We had about 30,000 VMs on just about every storage platform that has been sold," says Pete Peterson, senior systems engineer. "It was a maintenance nightmare. Traditional SAN was just eating our budgets alive."
CenturyLink leverages VMware vCloud Air to support its cloud customers, so when it came time to address its own storage problems, it turned to VMware. With vSAN as its foundation for primary storage, the company consolidated storage into an integrated VMware platform, simplifying management and speeding up storage provisioning for faster time to market.
With vSAN, CenturyLink could also leverage the responsiveness of all-flash storage at an efficient price, which allowed it to provide end users with excellent performance at a competitive storage price point. And with the consolidation and space savings provided by vSAN, CenturyLink lowered its data center footprint and reduced real estate costs.
GAMO, a leading supplier of IT services in the Slovak market for 25 years, faced a speed-to-market challenge that could have been a nightmare if it hadn't been for HCI. The company recognized an opportunity to get into the cloud market and decided to build its own data center to provide customers with private and hybrid cloud solutions.
Building a full-fledged, modern and secure data center on a greenfield site was a big challenge—not only in terms of cost, but also speed to market. GAMO's ambition was to complete the project in just two months and take advantage of technologies that none of its competitors was offering.
"You can succeed in the IT market only if you identify emerging trends and employ them in your own solutions," says Ivan Luby, chief technology officer for systems and architecture. "The IT environment, as well as customers' requirements, is changing incredibly fast. In order to keep ahead of the competition, we use the best technologies available on the market."
GAMO leveraged a variety of VMware solutions, including vCloud Air, vSAN, NSX and others, to rapidly accelerate the deployment of its data centers. The entire implementation, from initial design to full operation, took only two months. GAMO has been able to achieve significant cost savings versus traditional data center models. And the availability of cloud services has enabled its customers to leverage unprecedented flexibility and operational cost savings. "Customers obtain a higher variability of services at significantly lower costs," says Luby.
iGov Technologies is a leading systems integrator for the military. The company builds mobile, ruggedized communications, networking and computing solutions for rapid deployment and reliable operations in austere environments. When its end users asked for an even more portable version of its product—one that was lighter and more compact and able to run far longer on less power—iGov was faced with a difficult challenge.
HCI, however, opened up new possibilities that traditional compute and storage silos could not achieve, thereby accelerating speed to market and providing iGov with a dramatically improved product. The solution involved eliminating a separate storage array and replacing it with a compact, modular hyper-converged system powered by VMware vSAN.
As a result, iGov was able to deliver "infrastructure in a backpack," a system that military personnel could easily transport, assemble and operate in rugged militarized environments. The product weight was reduced by more than 75%; IOPS performance increased by 10 times; battery life was extended from 18 minutes to two hours; and the storage build process was reduced from nine hours to 23 minutes. In addition, the high degree of automation provided by the vSAN software made the system easy to operate for a generalist military engineer.
Conclusion
The IT leaders at these three companies recognized the value they could bring to their organizations and to their customers by accelerating speed to market. They were able to take advantage of technology advances such as HCI to achieve goals that would not have seemed conceivable just a few years ago. How can speed to market impact your business? HCI can help you find out.