Share this item with your network:
Managing and protecting all enterprise data

Fotolia
Problem solve
Get help with specific problems with your technologies, process and projects.
When buying more primary data storage, applications matter
Faster storage -- and more of it -- is important, but that wouldn't matter if new SANs didn't boost application performance and efficiency in the process.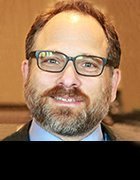 By
Storage managers need more storage, and they need it fast. Why? Well, to increase primary data storage capacity is the first thing that comes to mind, of course. But another equally important reason is to better support the applications that are the lifeblood of organizations.
Forty-two percent of those surveyed are looking to purchase a new SAN within the next year. And once the decision has been made to buy an array, their timeframe to get it done is six months on average. Overall, most respondents intend to complete the primary data storage purchase either very quickly, within three months (35%), or a little bit further down the road, in nine to 12 months' time (39%). Interestingly, of those surveyed, far fewer (27%) are looking to buy in the six months in-between, within three to nine months.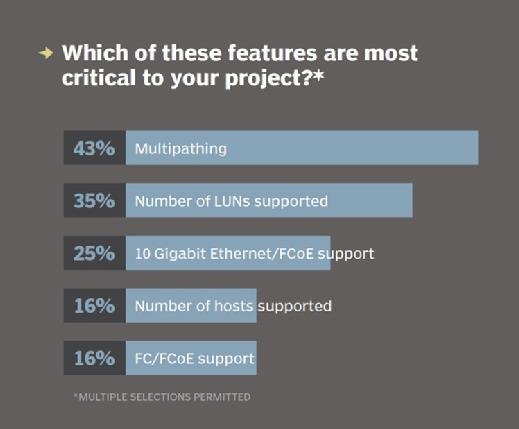 Of course, the leading reason cited for buying more primary data storage came down to the usual suspect, to grow general capacity (at 80%), followed logically by the need to replace existing storage hardware near end-of-life -- albeit by a distant 37%. What really caught the eye, however, is bronze medalist "to improve the performance of existing applications," which crossed the finish line a mere step or two away from snagging silver, at 35%. Virtually any new array purchase will provide a performance punch, as most come with at least enough flash to act as performance-enhancing cache or are all-flash equipped so that every app sees significant performance gains.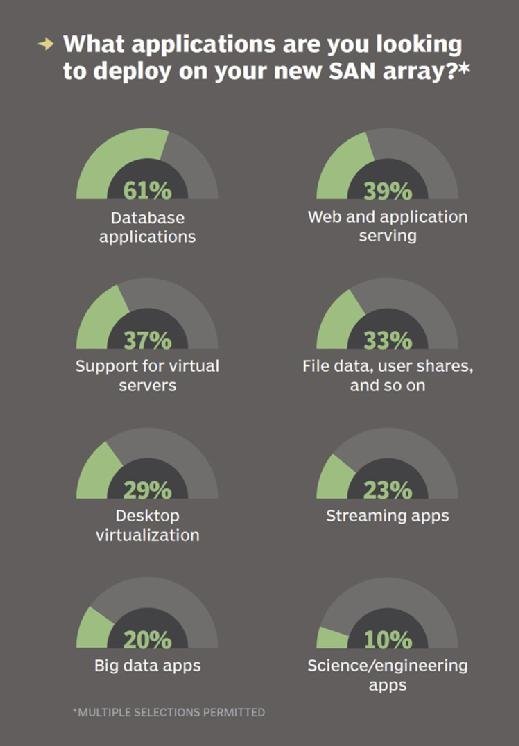 This is important to highlight as it reinforces primary data storage's role as not just a data den, but also as the means for serving up the applications that make business possible. Naturally, then, a solid majority (61%) cite running databases -- how most of our data is organized -- as the leading reason to purchase a new SAN. After databases, you've got web and application serving; support for virtual servers; file data, user shares and so on; desktop virtualization; streaming apps; and big data apps bunched fairly close together.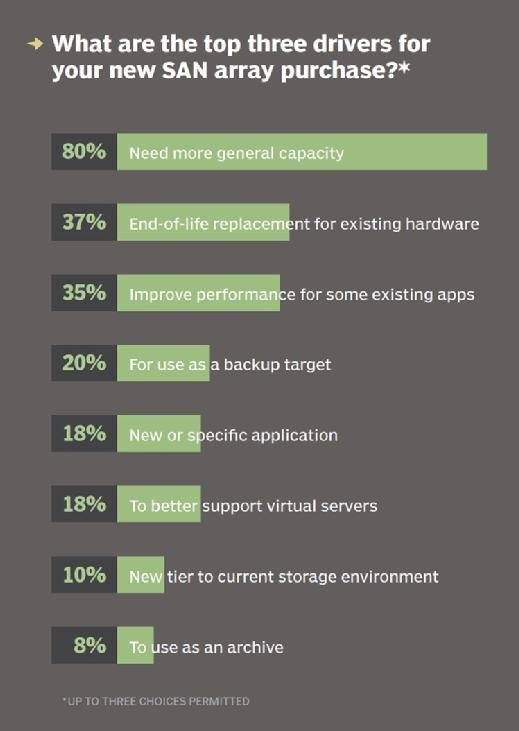 The top five features enterprises look at when shopping for a SAN are also telling. Forty-three percent require multipathing for failover and load balancing purposes, while 35% want to know how many LUNs are supported -- particularly important in today's virtualized environments -- and 10 Gigabit Ethernet and FCoE support (at 25%) for moving all those bits and bytes stored on disk, flash or hybrid arrays around the network.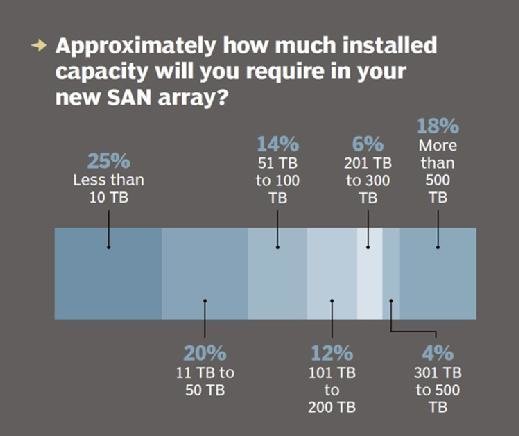 Dig Deeper on SAN technology and arrays