VMware vSAN 6.2
VMware's vSAN 6.2 upgrade -- featuring dedupe/compression, QoS and erasure coding -- wins 2016 Storage Products of the Year gold in the server-based storage category.
Gold winner in the Storage magazine/SearchStorage.com 2016 Products of the Year Server-Based Storage category.
Major new features such as data deduplication and compression helped vault VMware vSAN 6.2 upgrade to the gold award in the server-based storage category.
VMware's vSAN hyper-converged infrastructure software -- formerly known as VMware Virtual SAN -- was among the category leaders in judging in ease of integration and ease of use and manageability. It also scored well for innovation and functionality.
"Lots of work has gone into vSAN," one judge wrote.
Another judge noted, "The features in 6.2 really eliminated a lot of the perceived weaknesses."
The addition of inline data deduplication and compression was considered essential for VMware to compete in the hyper-converged market space. The data reduction technology can help users reduce their storage footprint by up to seven times on flash-based server nodes, according to VMware. VMware vSAN 6.2 does not support inline dedupe and compression on vSAN hybrid nodes, which combine flash and HDDs.
Erasure coding is another new VMware vSAN 6.2 feature that can help customers conserve all-flash storage capacity. With RAID-5 erasure coding, vSAN can withstand one host failure with four hosts deployed. RAID-6 erasure coding requires a minimum of six hosts and can tolerate two host failures.
The VMware vSAN 6.2 update also added support for quality of service to manage and monitor the IOPS consumed by each VM and curb "noisy neighbor" problems that can have a negative impact on performance. The new version also features usability and management enhancements and supports business applications such as Microsoft SQL Server, MySQL, Oracle Database and SAP ERP.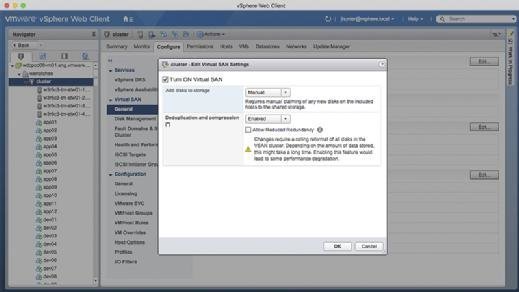 VMware's vSAN runs in the hypervisor and offers integration with the complete VMware software stack. Users can manage vSAN through the vSphere Web Client and apply storage policies on a per-VM basis to automate provisioning and balance resources. The product scales up to 64 nodes per cluster, and the maximum raw capacity exceeds 8 PB (petabytes).
List pricing for VMware vSAN 6.2 starts at $2,495 per CPU. The cost for vSAN for Desktop begins at $50 per user. VMware introduced vSAN, then known as Virtual SAN 5.5, in 2014. The 6.2 version of vSAN is the fourth edition of the product.