Share this item with your network: BACKGROUND IMAGE: iSTOCK/GETTY IMAGES
Managing and protecting all enterprise data

iSTOCK/GETTY IMAGES
Get started
Bring yourself up to speed with our introductory content.
Tools to manage virtual server storage
Virtual server storage threw a monkey wrench into the works of supervising storage, but a well-assembled toolkit can restore comprehensive management.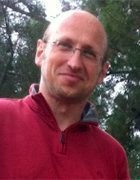 By
Virtual server storage threw a monkey wrench into the works of supervising data storage, but a well-assembled toolkit can help restore comprehensive management.
Configuring and maintaining storage at its most efficient level isn't an easy task, and it becomes an even bigger challenge in virtual server environments. With storage arrays attached to physical servers (hosts), and hypervisors virtualizing and orchestrating the allocation of physical resources to virtual machines (VM), the ability to correlate virtualized storage resources used by VMs to physical storage components has become more complex.
While it's a relatively simple task to troubleshoot and identify the root cause of a storage performance problem for a specific application running on a physical machine with directly attached storage without using special tools, that's simply not the case in virtualized environments. It takes the help of effective management tools to resolve a comparable challenge in an application running within a VM on a host with other VMs that access the same storage pool on a SAN that's likely shared with other similar servers hosting even more hypervisors. The main culprit of VM storage management complexity is a combination of a large number of virtualized servers and applications accessing abstracted and shared physical resources, as well as other numerous moving parts, from multi-pathing that provides several paths to the attached storage to dynamic storage tiering where blocks of data are shuffled between different storage tiers on the fly.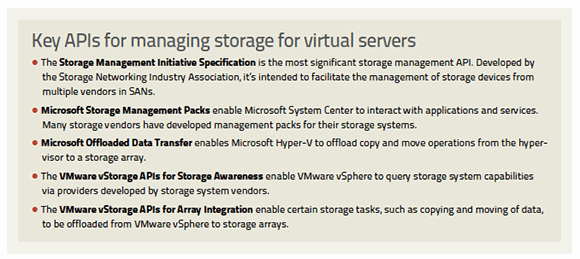 VM storage management toolkit
Effective management tools that provide insight into and monitor storage from virtual machine to spindle, and that also enable system administrators to overcome this intertwined complexity are a critical component of virtualized server environments.
Varying in capabilities and management granularity, VM storage management can be accomplished with the help of three categories of tools:
Management tools provided by the hypervisor
Element managers and tools provided by storage system vendors
Third-party storage management tools and applications
Hypervisor APIs that enable interaction with storage systems and storage APIs, such the Storage Networking Industry Association's Storage Management Initiative Specification (SMI-S) that describes how tools and applications can interact with storage systems, are blurring the boundaries between these three categories and making it more challenging to compare capabilities and features of the numerous storage management options and products available. For instance, the degree to which a storage array vendor supports SMI-S directly impacts the abilities of a third-party management tool that relies on SMI-S to manage storage resources. Likewise, the level of support of hypervisor APIs by a storage array determines the level and granularity at which VM storage can be managed. In other words, managing virtual server storage requires analyzing the combination of hypervisor, storage system and management tool, and it's very specific to and dependent on a given environment.
Hypervisor storage management tools
Even without the added integration with a storage array, hypervisors are able to perform storage management tasks to some degree. Once a volume or LUN is provisioned to the hypervisor, it takes over managing the assigned datastore, such as provisioning storage from the datastore to virtual machines. Without further integration between the underlying storage array and the hypervisor, the ability to correlate virtualized resources to the physical storage array is at the assigned datastore level. If multiple VMs reside in the datastore, it's not easy to correlate storage used by VMs to physical storage components, such as disks and controllers. One way around this limitation has been to provision many small LUNs or volumes, but this spawns a new set of challenges. Besides burdening the storage team, hypervisor features, especially from VMware, promote large storage pools that are shared by VMs and multiple VMware hosts. The VMware Virtual Machine File System (VMware's clustered file system) to store virtual machine disk files and snapshots, Storage vMotion to migrate VMs from one datastore to another without incurring downtime, and Storage Distributed Resource Scheduler to load balance storage resources, all live up to their full potential in configurations with large datastores that hold many virtual machines and are shared by multiple vSphere hosts.
To overcome this disconnect between hypervisors and the physical storage, hypervisor vendors have contrived APIs that allow for the interaction of the hypervisor and physical storage. To start, the VMware vStorage APIs for Array Integration (VAAI) enable certain storage tasks, such as copying and moving of data and thin provisioning, to be offloaded from the VMware hypervisor to the storage array. VMware vStorage APIs for Storage Awareness (VASA) permit storage arrays to integrate with VMware vCenter for management functionality, giving vSphere administrators insight into storage capabilities via plug-ins (called providers) through which vCenter can receive information about capabilities, health status, configuration and capacity from the underlying array and display it in the vCenter user interface.
Similar to VMware VAAI, Microsoft introduced Offloaded Data Transfer in Windows Server 2012 to enable the offloading of copy and move operations to storage arrays. To enable management and deep integration of third-party storage, the new Windows Storage Management API in Windows Server 2012 and System Center Virtual Machine Manager (SCVMM) 2012 now support both SMI-S and Storage Management Packs (SMP). As a result, SCVMM 2012 can now manage both SMP- and SMI-S-compliant arrays and SAN storage. Microsoft's espousal of SMI-S not only elevates a standard whose support has progressed somewhat slowly, but makes the large number of storage systems that support SMI-S manageable from within SCVMM 2012, without requiring storage system vendors to support yet another proprietary API as is the case with all the VMware APIs.
Element managers and tools from storage system vendors
All storage system vendors offer element managers and other management tools to manage configurations, capacity and performance. Their management tools address all configuration aspects of a storage system, and even if some configuration tasks such as provisioning are delegated to a third-party storage management tool or hypervisor management console, element managers are usually required for very specific and less frequently performed tasks such as configuring system parameters, compression, deduplication and thin provisioning, as well as management tasks that aren't exposed via integration APIs such as SMI-S. In general, element managers and other tools that come with storage arrays are the most versatile configuration tools, but they're designed for a specific storage system and are usually intended to be used by storage specialists.
To overcome these limitations and extend certain storage management tasks to hypervisor consoles and third-party management tools that provide additional capabilities and heterogeneous storage system support, storage vendors offer plug-ins and providers for their arrays to support the various APIs, such as SMI-S, SMP, VAAI and VASA. Although all storage vendors realize the importance of tight integration with VMware and increasingly with Hyper-V as well, they differ in what storage management capabilities their providers expose and what hypervisors they support.
EMC provides a range of integration and automation options for VMware environments and offers SMI-S providers to integrate with SCVMM 2012 for tasks such as storage discovery. NetApp, with its Virtual Storage Console for VMware and the OnCommand plug-in for Microsoft to integrate with System Center 2012, extends storage management tasks such as provisioning, cloning, resizing and monitoring to virtual server administrators. With the HP Insight Control Storage Module for vCenter plug-in, Hewlett-Packard enables VMware administrators to manage and monitor the physical/virtual relationship between VMs, VMware ESX Servers and HP storage, and like everyone else, HP's integration with SCVMM 2012 is accomplished via an SMI-S provider. IBM doesn't yet have a VASA plug-in that enables managing its storage systems from within vCenter; however, "a VASA plug-in will be available in near-time to provision storage and monitor performance and capacity within vCenter," said Justin Youngblood, IBM's director of storage development. Dell supports both VAAI and VASA, although its VASA provider currently lacks automation support, and provides integration into SCVMM via SMP.
Third-party storage management tools
To some extent, third-party storage management tools and storage resource management (SRM) applications compete with hypervisor management tools, but they also have much in common:
Both are able to manage heterogeneous storage resources
They depend on APIs and integration with storage systems
Both work toward a single-pane-of-glass management paradigm
"Our biggest competitors are Microsoft System Center Virtual Machine Manager and VMware vCenter," said Sanjay Castelino, vice president at IT management software provider SolarWinds. One of the big differentiators is the target audience. While hypervisor management tools are targeted toward the IT group that manages servers, SRM tools target storage administrators. Furthermore, while storage management capabilities in hypervisor management tools are usually limited to tasks relevant to VMs of a specific hypervisor, SRM tools manage storage of virtualized and physical servers; they also provide a richer and more complete storage management feature set.
Without a doubt, server virtualization has complicated storage management tasks, but by now most SRM tools are able to correlate storage tasks within VMs to physical storage resources. For instance, HP Storage Essentials is able to discover VMware hypervisors, VMs and VM storage dependencies without the need for agents; it also enables users to see VM storage topology maps, manage and report capacity of hypervisors/VMs, and provision storage to hypervisors. Similar integration and capabilities can be found in IBM Tivoli Storage Productivity Center and other contemporary SRM tools.
Some clarity for complex environments
Server virtualization has contributed to the complexity of storage management and had an impact on how storage is managed. On one hand, the ability to manage storage within hypervisors has become more relevant, and many companies simply opt for a combination of hypervisor-based storage management and element managers. But SRM tools still have their place in heterogeneous environments with a mix of storage systems and physical and virtual servers; furthermore, those SRM tools usually provide added features and capabilities that aren't yet available with hypervisor-based storage management.
About the author:
Jacob N. Gsoedl is a freelance writer and a corporate director for business systems. He can be reached at jacobslab@live.com.
Dig Deeper on Storage for virtual environments