Share this item with your network: BACKGROUND IMAGE: iSTOCK/GETTY IMAGES
Managing and protecting all enterprise data

Manage
Learn to apply best practices and optimize your operations.
Storage managers seek storage answers with a storage purchase
Capacity and bandwidth are key reasons for new storage purchases, with SAN arrays that offer flash storage, data reduction and storage virtualization popular among buyers.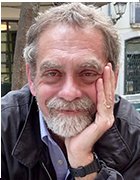 By
With the inexorable march of more and more data into storage shops, storage managers are perpetually on the prowl for a storage purchase that includes new arrays to park that data. And, with big data analysis reaching a fever pitch and the internet of things threatening to channel billions of additional bits onto storage systems, there's little relief in sight for weary storage pros.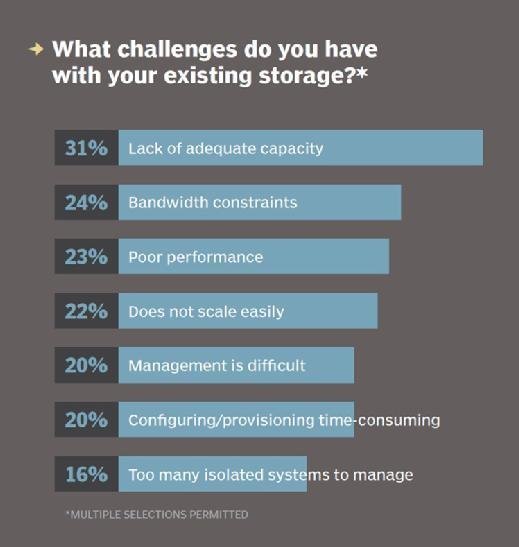 Although we're told that file -- or unstructured -- storage is the fastest growing type of data, our most recent survey results indicate that storage shoppers are leaning more heavily toward augmenting their storage environments with new SAN systems, as 72% of respondents planning to buy a new system said they'd buy block. Forty-six percent have NAS arrays on their shopping lists, while 36% are looking for the best of both worlds with unified storage.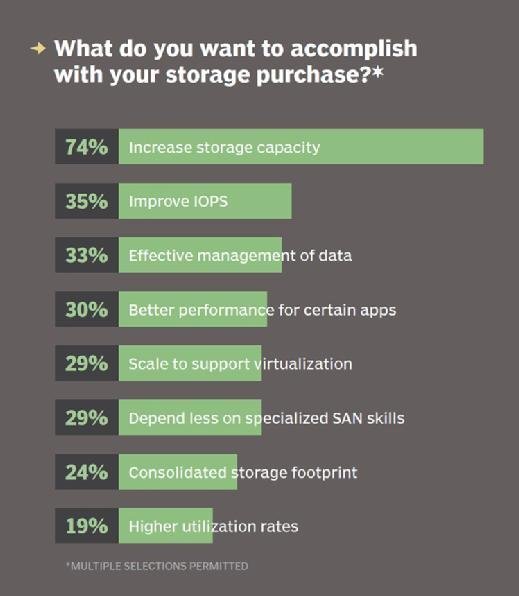 Hands-down, capacity is the chief reason for seeking some new storage iron with a storage purchase. Thirty-one percent cited inadequate capacity as their chief motivation for a storage purchase. Moving data around is also an issue, as 24% noted that bandwidth was a concern in their current environments and 23% cited general poor performance as a current trouble spot.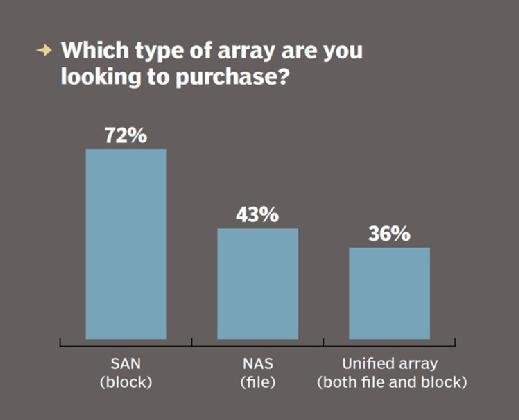 Storage managers are trying to actively counter these shortcomings with a variety of tools: 27% say they're using thin provisioning, 17% have employed automated tiering and 23% are archiving to provide some relief to their primary storage systems. Despite these efforts, there's still a need for additional arrays for many companies. And while our survey respondents reported an average of 476 TB of installed capacity, 22% of that group said they have more than a petabyte of storage capacity to manage. That's a lot of data, so it's no surprise they are looking to expand their storage estates with their next storage purchase.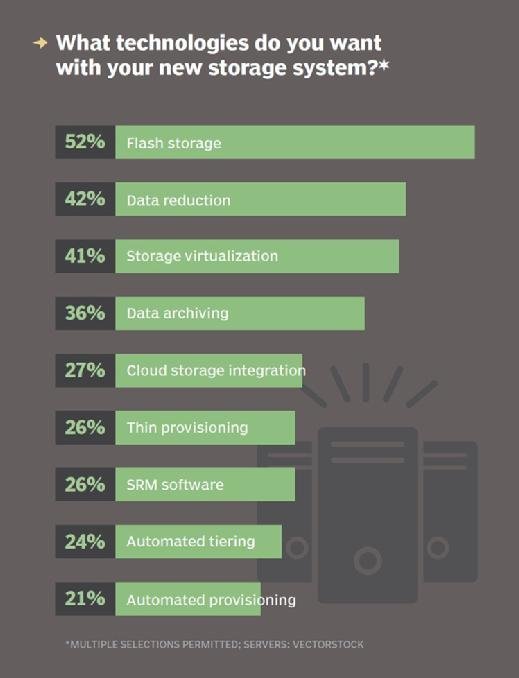 When storage managers do load up their storage purchase shopping carts with shiny new storage systems, they plan to include some bells and whistles to help ease performance and capacity constraints. Fifty-two percent will include flash storage in their new arrays, while 42% will try to make the most of their newly acquired storage space with data reduction techs like compression and data deduplication. More than a third (36%) are already thinking ahead by planning to equip their new storage systems with some form of data archiving to help preserve that precious new space.
Dig Deeper on SAN technology and arrays