Manage
Learn to apply best practices and optimize your operations.
Storage management software finalists 2007
Find out who the finalists are in the storage management software category of the 2007 Products of the Year competition conducted by SearchStorage.com and Storage magazine.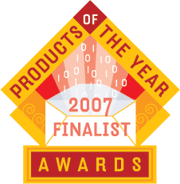 Here are the 11 finalists in the storage management software category for the 2007 Products of the Year competition. They are listed alphabetically by vendor.
Akorri
Akorri BalancePoint 1.7.1
BalancePoint, Akorri's agentless management software, helps companies ensure that server and storage systems deliver the best application performance possible. The software's analytics collect data from both physical and virtual layers of servers, storage and infrastructure software, helping managers understand how well these resources are performing, even across the complexities of server and storage virtualization. The software provides cross-domain support for VMware VM guests, ESX server hosts and their data paths into SANs.
Brocade
Brocade StorageX version 6.0
StorageX file management software aggregates distributed file data across heterogeneous storage environments and across CIFS- and NFS-based file systems while giving administrators policies to automate data management tasks such as data migration and consolidation, disaster recovery, remote site data management, storage optimization and file data discovery and reporting. The software can provide policy-driven management of the Microsoft DFS global namespace, which unifies and virtualizes heterogeneous file data by pooling multiple file systems into a single, logical file system. This transparency of the storage architecture makes the physical location of data irrelevant to users.
Clearwell Systems Inc.
Clearwell Intelligence Platform 2.5
Archive vendors provide the ability to store and retrieve large volumes of emails and documents, but teams still often spend days manually analyzing this data for legal e-discovery, corporate investigations and regulatory inquiries. Clearwell's e-discovery software integrates with archiving solutions, so organizations can analyze all this information. Just as BI products enable executives to extract intelligence from information captured in databases, Clearwell does the same for unstructured data stored in archives and file shares. Clearwell enables legal and compliance teams to conduct analysis withouth require IT assistance, eliminating the ping-pong effect between groups. The Clearwell Intelligence Platform is a 2U, rack-mountable appliance that is fully operational in 30 minutes.
EMC Corp.
EMC ControlCenter 6.0
ControlCenter 6.0 provides storage resource management (SRM) for virtual server, physical server and mixed environments, so users can monitor, report, visualize and isolate faults on any server. Complementing VMware VirtualCenter, the software supports VMware Infrastructure 3 so that users can view physical and logical relationships to storage and can discover VMware virtual machines easily. A wizard helps users narrow down selection of storage elements such as LUNs and ports.
Finisar Corp.
NetWisdom Enterprise
As SANs become more complex, SAN administrators must monitor data so they can identify the source of slowdowns and downtime. Until now, admins have not been able to differentiate between errors caused by the SAN or those caused by external infrastructure factors, such as an errant application. When performance issues arose, the SAN was faulted and SAN admins could not refute these claims. The NetWisdom Enterprise family of SAN monitoring and analysis services eliminate what the company calls "fabric blindness" -- the inability to look deeply into the SAN to diagnose and analyze problems.
Index Engines
Enterprise eDiscovery Platform, version 2.0
Storage administrators now need to know details about data buried on offline tape archives. So far, the onl.y way to do this has been the time-consuming and expensive task of restoring the tape contents. The Enterprise eDiscovery Platform can index offline tape content and make it fully searchable without having to restore the tapes. The software understands common tape formats such as NetBackup, TSM and ArcServe, and indexes unstructured files and email as far back as 10 years. Once this data is indexed, it is immediately searchable.
Moonwalk
Moonwalk 6.0
Moonwalk 6.0 data management software relocates files to and from storage locations, based on that data's value. Moonwalk manages the migration of unstructured data from Windows servers and NTFS volumes to additional tiers in the storage infrastructure. Windows-captive files can be released for storage on Linux, Unix, NFS or Netware, without affecting users and applications. New features in 6.0 include rules-based policy management, better handling of read-only files and directories; more efficient file migration; and improved stub repair.
Onaro
Application Insight 2.0
Application Insight helps administrators align storage resources with application service level requirements by analyzing storage tier assignments; load-balancing the application portfolio across the storage infrastructure; and uncovering issues that affect app performance. The software uses the path information uncovered with SANscreen Service Insight to establish path visibility. Application Insight then collects performance information from all the switch ports in the SAN, lays this information down on top of the path data, and constructs a real-time load distribution model of the storage infrastructure.
Quantum Corp.
StorNext v3.0
Quantum's StorNext 3.0 data management software is aimed at high-performance workflow operations and multi-tier archives. StorNext uses a heterogeneous shared file system to allow data sharing by SAN- and LAN-based hosts, independent of OSes. StorNext enables systems to share a high-speed pool of images, media content, analytical data and other digital assets so files can be processed and distributed faster. Version 3.0 leverages Quantum's iMover technology to move and copy data between performance disk, value disk, tape libraries and network attached resources. This enables users to archive files for and make copies of files for automated data protection. Version 3.0 also includes Quantum's Data Reduction Storage, a specialized tier of disk that uses data deduplication.
Symantec
Veritas CommandCentral Storage 5.0
CommandCentral Storage 5.0 integrates SRM, customizable policy management, storage provisioning, SAN management and business reporting in both the physical and virtual data center. The software helps administrators understand what storage is being consumed b the applications running in virtual machines. New features in 5.0 include storage and server virtualization reporting, SMI-S 1.1 support and replication reporting.
WysDM Software Inc.
WysDM for Backups 4
Backup administrators today face issues that have little to do with the backup application itself; minor changes in servers, networks and storage are often the real cause of backup failures. Regulatory burdens further add to the task of ensuring successful backups. WysDM for Backups obtains data from all components of the backup environment (tape drives, network interfaces, operating systems, backup software, etc.) and provides reports on the entire backup operation, from device throughput to backup scheduling. The software ensures that data is backed up as early as possible in the required window, providing a chance to fix issues and rerun backups within the designated window. The new version features advances in compliance and risk mitigation, security and capacity planning.
Dig Deeper on Storage vendors