Share this item with your network: BACKGROUND IMAGE: iSTOCK/GETTY IMAGES
Managing and protecting all enterprise data

Evaluate
Weigh the pros and cons of technologies, products and projects you are considering.
Storage magazine salary survey 2014 finds compensation flat, but still high
Our twelfth annual salary storage survey shows that in a changing IT landscape, storage expertise is still valued.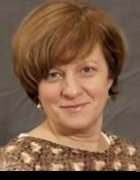 By
Paychecks for data storage professionals are holding steady, according to the results of our twelfth annual Storage magazine Salary Survey, which also revealed that storage pros are spending an increasing amount of time in the application and networking space, taking control of projects that span several IT disciplines.
Our 2014 respondents displayed a combination of aptitude and attitude -- a roll-up-your-sleeves type of technical grit -- that keeps them at the center of the action. "At the moment, we are implementing VDI … and are in the middle of scaling to 1,000 users," explained one participant. "We are halfway through, and the issues we have encountered have been both fascinating and frustrating."
More than 23% of those surveyed said the lines dividing IT teams at their companies had "blurred significantly," and another 22% reported working more closely with other IT teams than they ever have before.
Storage pros who completed our survey also expressed a relentless enthusiasm for new technology, and the ability to create real change within their respective verticals. "We get to actually bring in and test out new technology that is promising … and may improve our processes," said one respondent. Others cited the power of some of the newest technologies, saying it has changed how they do their jobs. "Flash is changing how we work," wrote another. "If you're not on the train, then we're leaving you at the station."
Base salary, bonuses and expectations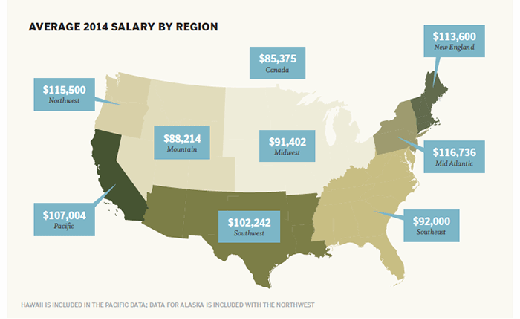 Our 2014 group reported an average annual salary of $97,788; that's $240 dollars less than the average salary reported by our 2013 respondents. But this year's respondents did enjoy a decent jump in pay -- 6.2% -- when they compared their 2014 salaries with the year prior.
Viewed regionally, Mid-Atlantic storage professionals reported the highest average annual salary: $116,736. That number put the Mid-Atlantic region back on top, after it fell from first in 2012 to fourth last year.
At a low of $85,375, Canadians trailed their counterparts in all U.S. regions. But respondents from Canada expect the biggest boost in 2015 -- an 11% salary bump vs. the Mid-Atlantic's modest 4.3% increase and New England's 3%.
Big picture: Storage pros in the Midwest region predict the largest average annual bonus -- a generous $12,775.
Spotlight: Nearly 36% of respondents said the location of an employer was the most important factor in choosing a job.
Fine line: Last year's top salary winner, the Pacific region, had an average salary approximately $5,000 higher than this year's Mid-Atlantic winner.
What does a high-paid storage professional look like?
We compiled data from our twelfth annual Storage magazine Salary Survey to get a clear picture of what it would take to be the highest paid storage pro around:
From the Mid-Atlantic states
Works in wholesale/retail
Manages 500+ TB
Manages between 21 and 50 people
Manages a budget of $5.1 million to $10 million
Saw 50% storage growth last year
Holds more than five professional certifications
Holds a Ph.D.
Has more than 10 years of dedicated storage experience
Company revenue exceeds $500 million
Capacity surges boost pay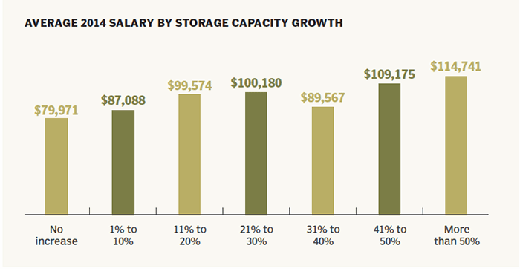 Just 7% of our respondents were able to avoid demands for greater storage capacity in the past year. Twenty-seven percent saw their storage capacities grow between 11% and 20%, while one-fifth of respondents experienced more than 40% capacity growth last year.
At the same time that data storage demands intensified for nearly all our survey takers, data storage budgets were cited again and again as chief reasons for dissatisfaction on the job. "[We are] understaffed and there is resistance to increasing budget for disaster recovery," wrote one respondent. Limited budgets, inflexible budgets and mysterious budgets were all cited as reasons data storage pros were frustrated with their jobs.
In general, as terabytes were added to storage environments, salaries for storage managers grew as well. Storage pros who saw a greater than 50% storage growth last year averaged the highest salaries at $114,741. But there was an upset in the trend; storage pros who experienced between 31% and 40% storage growth saw their salaries dip instead compared to last year.
Big picture: Twenty-five percent of our survey takers manage more than 500 TB of storage.
Spotlight: Nearly 42% said their company's storage budget was less than $500,000.
Fine line: Fifteen percent of respondents said they didn't know how much their company allocates to storage.
Company revenue and industry verticals matter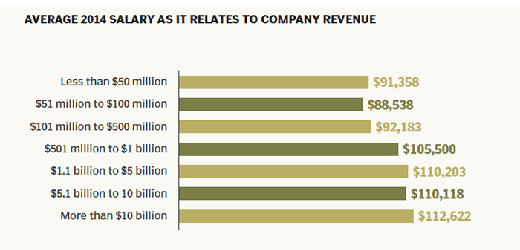 Our salary survey respondents are employed at more than a dozen industry verticals, including financial services, education and healthcare. But it was the wholesale/retail industry that beat out all the others, with those working in storage at those companies topping the charts with an average salary of $128,500.
No matter the vertical, data storage pros interviewing for new jobs might be wise to investigate company revenue. Our survey showed that paychecks tend to swell with corporate revenue -- once revenue reaches the pivotal $501 million mark. Before that, company revenue apparently has little impact on salary.
That $501 million mark also served as a turning point when looking at dedicated storage teams. Once that mark was reached, the chances of having a team dedicated to managing the company's storage grew pretty steadily, peaking at companies with revenue between $5.1 billion and $10 billion, where 76% had dedicated storage teams. For companies of various sizes that hadn't reached the $501 million mark, approximately 20% had a dedicated storage team.
Big picture: Thirty-two percent of respondents said they are part of a dedicated storage team.
Spotlight: More than one-third (39%) said they're part of a systems group at their companies.
Fine line: Nineteen percent of salary survey participants reported that their companies increased their use of consultants and/or outsourced personnel last year.
Degrees, pedigrees and personal plans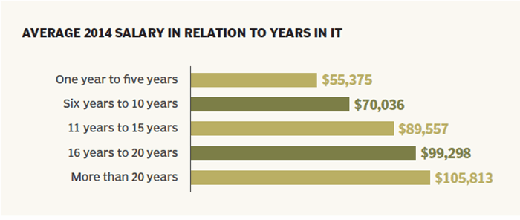 How much does college count toward earning? When looking at survey respondents who were dedicated solely to storage for more than a decade, a master's or a doctorate degree did carry the most weight, bringing in an annual salary of $117,796 -- those who listed "junior college" fared almost as well, with an average salary of $114,667. Those candidates with a decade of experience and no college experience at all averaged the lowest salaries in the group ($79,250).
This year's survey won't help settle the long-running debate about whether certifications translate into raises. While the highest salaries were awarded to those with the most certifications (five or more), the rest of the data didn't show that a professional with three certifications would earn any more than a peer who had none. Still, 34% said they felt certifications had "definitely" helped their career.
Big picture: Sixty-one percent said they'll leverage their time spent managing storage to take their careers in another direction.
Spotlight: Twenty-two percent of our respondents hold a master's degree or Ph.D.
Fine line: In for the long haul: 52% have more than 20 years of IT experience on their resumes.
Benefits, perks and privileges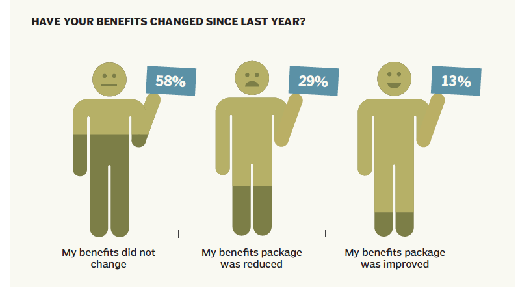 Nearly 30% of respondents said their benefits package was reduced last year, while 58% said their offerings remained the same. Thirteen percent said their benefits were beefed up compared to last year.
When rating their existing benefits, satisfaction in all areas -- health, dental, flex time -- was high. When considering health benefits, for example, 74% of respondents rated their benefits as good (28%), very good (23%) or excellent (23%).
When it came to flex time, 31% of respondents rated that benefit as excellent. Working at home was rated less well. Thirteen percent said the perk was not offered by their employer, while another 14% rated this benefit as "poor" at their company.
Big picture: For 89%, stock options weren't part of their compensation package.
Spotlight: The number of respondents whose benefit packages were cut grew approximately 7% vs. 2013.
Fine line: Job responsibility and career advancement placed ahead of salary as chief factors in job choice.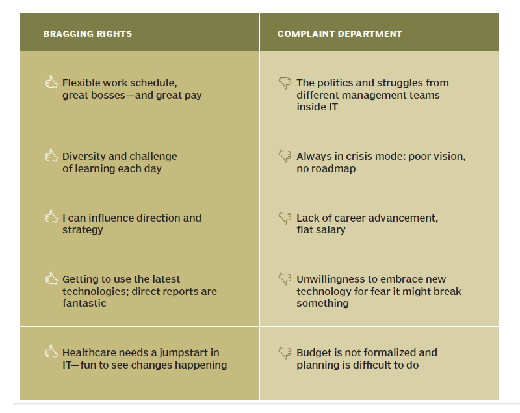 About the author:
Ellen O'Brien is the Associate Editorial Director of TechTarget's Storage Media Group.
Dig Deeper on Storage market research reports