Share this item with your network: BACKGROUND IMAGE: iSTOCK/GETTY IMAGES
Managing and protecting all enterprise data

iSTOCK/GETTY IMAGES
News
Stay informed about the latest enterprise technology news and product updates.
Storage budget plans still coping with capacity and performance
Non-stop data growth and the need for speed are still the driving forces behind storage budget plans for 2014.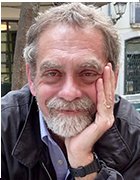 By
Non-stop data growth and the need for speed are still the driving forces behind storage budget plans for 2014. Rich Castagna analyzes the results of our twelfth annual survey.
About the survey
This is the twelfth year we've fielded the Storage magazine/SearchStorage.com Purchasing Intentions survey. Storage magazine subscribers and SearchStorage.com members are invited to participate in the survey, which gathers information related to storage managers' purchasing plans for a variety of storage product categories. This year's survey had 563 qualified respondents across a broad spectrum of industries, with the average company size measured as having revenue of $1.1 billion.
It's been said that the only sure bets in life are death and taxes, but for a storage professional, unrelenting capacity demands and ever-shrinking backup windows might seem just as inevitable … and unwelcome.
For the twelfth year in a row, we've persuaded some of those storage pros to take a few minutes out of their hectic schedules and complete our annual Storage Purchasing Intentions survey. Their responses told us how they're fighting the storage war today and how they plan to bolster their defenses over the next year or so. Given recent developments in the data storage industry, there are more alternatives than ever for housing, managing and protecting corporate data. And as our survey reveals, these newer tools are being adopted by more IT shops to deal with modern storage challenges.
Our 563 survey respondents told us their companies are holding onto -- and managing -- an average of 1.5 petabytes of data tucked away on all forms of storage media. That's approximately the same amount reported on last year's survey, which may be an indication of some leveling off. Of course, not all that data is used so frequently that it requires constant care, but enough of it does require attention with creative approaches and the use of new tools.
Storage budgets grow modestly and at a slower rate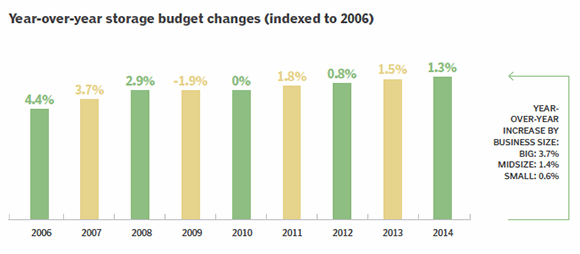 The average company participating in our survey has annual revenue of $1.1 billion, which is slightly less than last year's $1.2 billion. The slice of pie that storage managers get to call their annual budget averaged $2.3 million. We've seen a steady decline in the sheer dollar amount allotted to storage, so storage managers are clearly redoubling their efforts to squeeze as much efficiency as possible out of their installed gear. Larger companies have an average of $7.7 million to spend on storage, which tends to tip the overall average upward a bit. But small companies, with an average storage budget of $1 million, have a little more to spend than they did last year—surely a relief for those companies that have struggled more than their larger cousins in coming back from the recession. Overall, storage budgets grew by 1.3% on a year-over-year basis. That's about the same as last year's increase, and one small step in the arduous climb back from 2009 when budgets dipped or stayed flat. So while storage managers may have more to spend in 2014, it's not enough to foot the bill for anything remotely resembling a spending spree. Again, company size matters: larger businesses reported a 3.7% increase in their storage budgets, while small and midsize companies noted more modest increases.
Deeper dive
The average company in our survey has more than 11,000 employees.
Fifty-five percent of surveyed companies had revenue of less than $100 million (small), 28% had $100 million to $1 billion (midsize) and 17% had more than $1 billion in revenue (large).
Our surveyed companies reported an average of 23 remote or branch offices.
Key stat
8% of respondents have a storage budget of $5 million or more.
Capacity requirements continue to drive purchases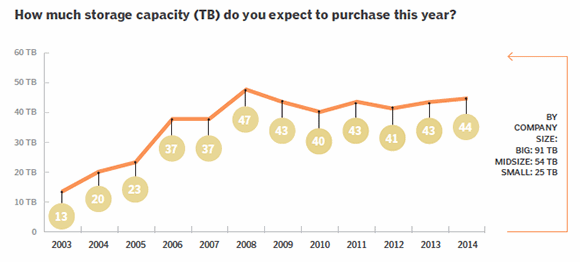 Surveyed companies have an average of 311 TB of disk (or solid-state) storage installed, and the average rate of growth of installed capacity is 26% compared to the previous year. In 2013 we saw a growth rate of 23%, so while the rate isn't accelerating all that fast, capacity continues to increase. Overall, companies plan to add approximately 44 TB of capacity, with larger companies estimating 91 TB of new capacity; midsize firms expect to add 54 TB, while small companies foresee an increase of 25 TB. Sixty-five percent of surveyed shops have network-attached storage (NAS) systems installed. iSCSI, which has slowly crept up on Fibre Channel (FC), now outpaces it as far as current installations, 50% to 45%. Thirty-one percent of FC users run it at 8 Gbps, while 7% crank their FC storage at 16 Gbps. The most popular speeds for IP-based arrays are 10 Gbps (36%) and 1 Gbps (31%), and 6% are zipping along with 40 Gbps Ethernet. Storage managers plan to spend the biggest chunk of their storage system budgets on additional drives for existing systems (31%). Seven years ago we detected a trend where adding disks to installed systems became the most popular option for disk spending. This year's figure has tailed off from last year's 38%, so we might be seeing the beginnings of a shift back to buying new systems as overdue tech refreshes and new technologies drive system purchases.
Deeper dive
Basic file servers with DAS are still the most popular purchase option (26%) for file storage.
The most important factor in choosing a storage system vendor is the features and functions of the products offered (35%); price was a distant second (17%).
Overall, Dell (27%) was the leader among respondent companies that have bought or plan to buy storage systems in 2014; EMC was a close second at 26%.
Key stat
Object-based storage systems are installed at 11% of the companies we surveyed.
Solid-state becoming pervasive, but in small doses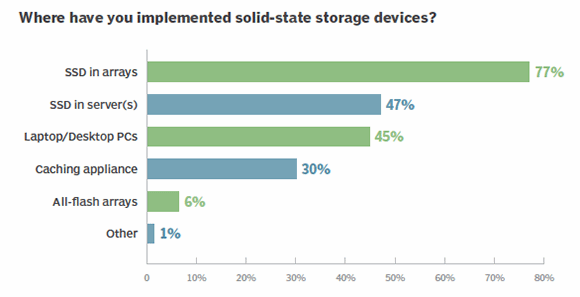 Not long ago, solid-state storage was considered storage for the rich and famous, with prices that put it out of the reach of most companies. Today, nearly every storage vendor offers some form of flash storage -- either server-based solid-state, in hybrid arrays or in all-flash arrays. And prices have dropped dramatically as lower cost multi-level cell flash memory has been tweaked to perform to enterprise standards. So it's not surprising that 35% of our respondents currently use some solid-state storage in their environments. Another 10% plan to add flash this year, and 30% are evaluating the technology and products. Only a quarter of respondents said they had no plans for flash in 2014 vs. nearly half a mere four years ago. Flash users in our survey indicated they currently have an average of 9.7 TB of solid-state storage installed. That's more than a 6% hike over last year's 9.1 TB. The most popular place to implement flash is in a storage array in a hybrid hard-disk-drive-plus-flash arrangement (77%). Nearly half (47%) have installed solid-state storage in their servers where its performance can be exploited best. Caching appliances that give a performance boost to traditional storage arrays are used by 30% of flash-equipped shops. All-flash arrays -- the latest rage -- show up at 6% of surveyed firms.
Deeper dive
Very flashy: 19% of respondent companies have more than 20 TB of solid-state storage installed.
Price (49%) and performance (49%) are the most frequently cited reasons why non-solid-state users haven't taken the plunge.
45% have pumped up laptop/desktop performance with flash storage.
Key stat
6.4 TB: The average amount of solid-state storage users plan to add in 2014 (among those who said they were adding at least some).
Storage friendlier to VMs, but few are virtualizing it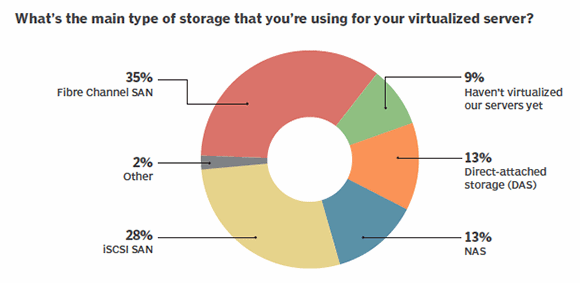 Virtualizing servers was a snap compared to setting up the storage for those virtual servers. When server virtualization started to make its imprint in data centers, storage managers were often challenged by the new paradigm. Initially, most grabbed the highest-performing storage they had to use with virtual machines (VMs): FC-based block storage. But now there are more alternatives. While FC is still the leading choice (35%), its lead over iSCSI (28%) has dwindled considerably -- just four years ago, FC led by more than a 2:1 margin. Users have also gotten over some of the hurdles related to configuring storage for VMs. Three years ago a third said server virtualization made managing storage tougher; in this survey, only 22% said it's harder. Most users have discovered that server virtualization has translated into more storage capacity; 58% said they're using more storage with their VMs, down a bit from the 65% recorded last year. Storage virtualization still hasn't caught on nearly as well as server virtualization. Only 25% have virtualized at least some of their storage, and 24% said they'll evaluate it. For companies that have done some storage virtualization, a relatively small portion have gone "all the way": 24% have virtualized all their file storage and 25% have virtualized all their block.
Deeper dive
The most popular way to virtualize storage is by tapping into a storage array's virtualization features (43%).
Fibre Channel (17%), iSCSI (17%) and NAS (16%) are in a statistical tie for most popular storage choice for virtual desktop infrastructure (VDI) implementations.
53% of respondents use some kind of solid-state storage to support their VDI infrastructure.
Key stat
48% expect to buy management tools in 2014 to better manage storage for virtual servers.
Cloud storage for primary, near-line and archive data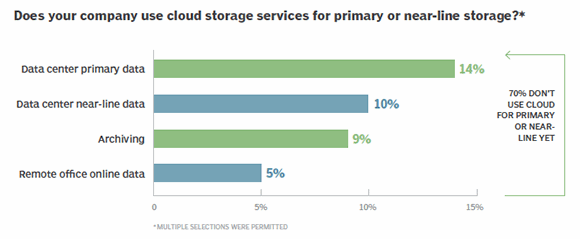 With prices as low as pennies per gigabyte and the luxury of having someone else manage your storage, cloud storage has certainly captured the attention of storage managers. Today, 30% of the companies we surveyed use some form of cloud storage for non-backup applications and, perhaps surprisingly, the use of cloud services to store primary data is the leading application (14%). When we first asked about non-backup cloud storage usage four years ago, only 14% used it. Among non-cloud storage users, 52% said they still have no interest, and 34% didn't know at this time if cloud was in their company's future. But for those with more definite plans, storing primary and near-line data, and archiving were the top choices for a first foray into cloud. Current users seem to be quite satisfied. Only 6% said they wouldn't expand their use of cloud storage this year, and another 20% are still on the fence. Again, storage for primary and near-line data, and archiving were the top applications for additional cloud capacity. There's also been nearly as much buzz about companies creating their own internal clouds. Twenty-one percent of our survey respondents told us their companies had private storage clouds. And while many experts think that a hybrid approach linking private and public clouds may be the best tactic for cloud storage, only 8% had hybrid clouds in service.
Deeper dive
10% said their companies use commercial file sync-and-share services; 13% have implemented private sync-and-share systems.
20% of cloud storage users have more than 20 TB of data stored in the cloud …
… but 67% had less than 10 TB of their data in the cloud.
Key stat
13 TB: The average amount of data kept in cloud storage services (not including backup or disaster recovery data).
Tape fades as disk-based backup is firmly entrenched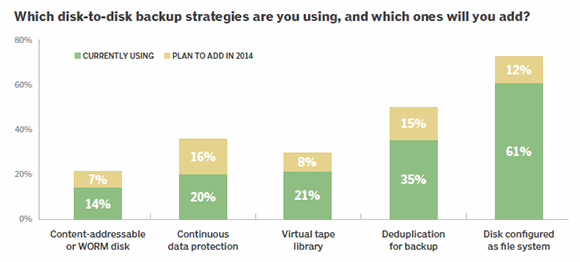 While we don't buy the "tape is dead" litany, it's clear that for backup it's not that far from being on life support. When asked how their use of tape for backup will change compared to last year, only 11% said it would increase, which is the lowest figure we've seen in 12 years of surveying. Thirty-eight percent said they plan to cut spending, while 48% intend to keep tape spending at last year's level. Perhaps even more daunting for tape vendors, only 48% of respondents said they will spin off some or all of their backup data from disk systems to tape. For most companies, backup is strictly a disk-based affair these days. Sixty-one percent use file systems as a disk target for the backup apps, the most popular disk-backup implementation by far. Despite celebrating its 10-year anniversary last year and seemingly ubiquitous, deduplication for backup is still only used by 35% of the companies surveyed, which is similar to the results of the past couple of years. Virtual tape libraries are used by 21%, up from the numbers in the teens that we've seen the last couple of years. Users plan to increase spending for most disk-to-disk (D2D) backup techs: 31% plan to increase dedupe spending, 21% expect to spend more on continuous data protection apps and 34% plan to spend more on D2D products in general.
Deeper dive
Who's doing mobile backup? Practically no one: 68% don't back up tablets and 69% don't back up smartphones.
Tape libraries are getting a bit bigger, at least for those actually buying them. The average number of slots is 97, up from last year's 84.
Dell (13%) and IBM (13%) tied for top spot among the tape vendors users said they bought from or plan to buy from in 2014.
Key stat
27% of those surveyed plan to increase their spending on backup and recovery software in 2014.
Cloud changing how backup gets done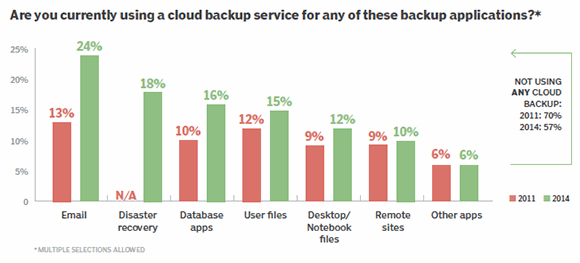 Cloud backup is one of the oldest cloud storage services around, and it continues to be the most popular cloud application. Today, 43% of companies use cloud backup services to handle at least some of their backup chores. Email backup (24%) is the most mature and leading application for cloud backup. Cloud data protection services are also ideal for disaster recovery (DR). If a company tucks its data away in a cloud service and also arranges to spin up cloud-based virtual servers in the event of an emergency, it could realize extremely quick and comprehensive recoveries. And best yet, it's far cheaper than most traditional DR alternatives. Among our respondents, 18% of companies use cloud storage services for DR, which makes it second only to email backup. Twenty-four percent of all survey respondents said they'll increase spending for cloud-based data protection services. Slightly fewer -- 22% -- said the same for cloud-based DR services. The main reason for not using cloud backup/DR services is basic distrust: 30% aren't comfortable shipping their data into the cloud. Twenty-two percent plan to evaluate cloud backup; in fact, 20% of non-users said they expect to start using a cloud storage service for data protection this year.
Deeper dive
Cloud-based DR is especially attractive to smaller companies: 24% said cloud DR will be their primary DR spend this year.
Not one respondent cited concerns about cloud services going belly up.
22% of cloud backup users have more than 20 TB of backup data in the cloud.
Key stat
13 TB: The average amount of backup/DR data stored in the cloud.
Managers still looking to use storage more efficiently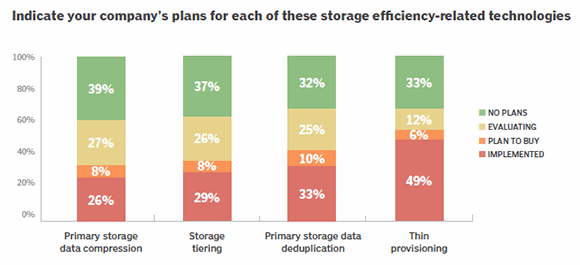 The tough slog through the recession convinced many storage managers that they had to find ways to squeeze every last drop of capacity, performance and efficiency out of their installed or new systems. Archiving was seen as an effective way of grooming primary storage while preserving seldom-accessed data. Today, 62% of the companies in our survey use at least one archiving app. Email archivers were among the earliest archiving apps to appear and are still the most used at 40%. Thirty-four percent archive at the file system level, which can help stem the tide of file growth, and 25% archive database data. Among both current archive users and non-users, 35% plan to buy additional archive products this year. Of course, there are efficiency measures beyond archiving. Now a feature on just about every storage system sold, thin provisioning is used by 49%, with 6% planning to add it in 2014 and another 12% evaluating the technology. Primary storage dedupe and compression -- long promised and finally showing up in greater numbers -- are used by 33% and 26%, respectively. Interest in both is strong; 35% plan to either buy or evaluate each of those techs in 2014.
Deeper dive
Storage tiering is used by 29% of respondents to make better use of primary storage.
Change management software helps admins keep tabs on storage; 29% have either implemented it or plan to this year.
Data classification can help ensure that storage is used efficiently, but it hasn't caught on: 61% said it isn't in their plans.
Key stat
Of those who plan to buy storage management software, 33% want to manage more storage with the same staff.
About the author:
Rich Castagna is editorial director of TechTarget's Storage Media Group.
Dig Deeper on Data storage management