SolidFire SF9605
The high-capacity SolidFire SF9605 uses SolidFire's Element OS 8 (Oxygen) to deliver new enterprise features such as synchronous replication and snapshot automation.
Gold winner in the Storage magazine/SearchStorage.com 2015 Products of the Year Storage Systems: All-Flash Systems...
Continue Reading This Article
Enjoy this article as well as all of our content, including E-Guides, news, tips and more.
category
SolidFire only does all-flash storage, beginning in 2011 during the early days of all-flash in the enterprise. The startup's main innovation comes from its operating system software that delivers features such as the quality of service (QoS) which helped SolidFire distinguish its products' value early on.
In 2015, SolidFire, which has since been acquired by NetApp, rolled out version eight of its Element OS, a version known as Oxygen. The vendor also launched the SolidFire SF9605 storage node in 2015. The SolidFire SF9605 scales to 44.5 TB of effective capacity and 50,000 predictable input/output operations per second.
Features added to Element over the years have helped SolidFire transition from a vendor selling exclusively to service providers to one with customers split between providers and large enterprises. Advanced data protection functionality and expanded multi-tenant security were key focuses of Oxygen.
New features include synchronous replication, and snapshot replication and scheduling. Synchronous replication writes data coming into the system to primary and secondary sites at the same time, and is an important feature for enterprises.
SolidFire already supported asynchronous replication, which writes data to primary storage first and then copies it to the secondary array. SolidFire's snapshot replication allows customers to copy snapshots to a second site. Administrators can use the scheduler to determine the number of recurring snapshots and how long they stay on the array.
SolidFire expanded its VLAN tagging to 256 VLANs that allows for 256 secure, logically isolated per-tenant storage networks on one platform. It also added LDAP Authentication support for security. Oxygen also enables support for 256 secure, logically isolated per-tenant storage networks on one platform.
These features combine with functionality in previous Element versions to provide non-disruptive, linear scale-out storage, guaranteed predictable performance and automated management.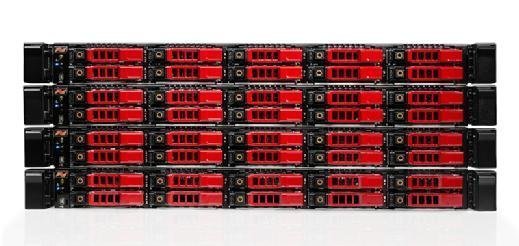 SolidFire allows its feature set to be delivered as a service, inside its arrays or as software-only for industry-standard flash hardware.
The SolidFire SF9605 scored highest among our judges in innovation among all-flash finalists. The SolidFire SF9605 also won solid marks for ease of use and functionality.
"Highly innovative for multi-tenant, shared infrastructure or managed service providers, especially with guaranteed QoS," one judge commented of the SolidFire SF9605. "Its new feature functions expanded on that while bringing it up to par on enterprise-required features."