Manage
Learn to apply best practices and optimize your operations.
Skills gap grips India's budding storage market
India is the second fastest growth market for storage technology in Asia Pacific after China, according to IDC, but a skills shortage could hamper growth, experts say.
Housing Development Finance Corp. Ltd. (HDFC Bank), one of India's largest banks, is adding two new branches weekly to its 680 offices in 228 cities across India. To support this growth, the firm's IT infrastructure and notably its storage requirements are booming.
"We're up to 300 terabytes (TB) from 100 (TB) a year ago … Our biggest challenge now is how to manage this large infrastructure and to find the people," according to Harish Shetty, vice president at HDFC Bank.
The firm just deployed a 1,488-port 4 Gbps Fibre Channel storage area network (SAN) from Brocade Communications Systems Inc., doubling its available SAN ports while at the same time consolidating the number of devices on its network. And instead of buying from four storage suppliers, IBM, Sun Microsystems Inc., Hitachi Data Systems Inc. (HDS) and Hewlett-Packard Co. (HP), it's consolidated around two –HDS and IBM. "Integration becomes a lot easier this way," and also reduces the bank's requirement for specialist skills, Shetty said.
Finding qualified people that have more than a rudimentary knowledge of storage is an issue for companies in India as they are growing at a clip and need more long term, strategic planning to make better IT decisions and get more out of their investments.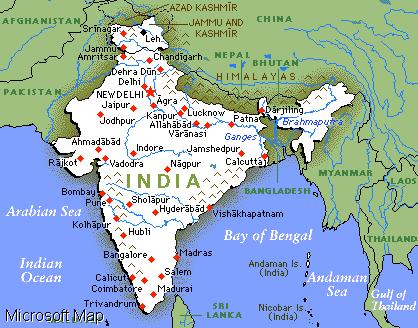 Overall, the "storage IQ in the country is pretty low," according to Manish Goel, vice president and general manager of data protection solutions at Network Appliance Inc. (NetApp) "There needs to be a fair bit of hand-holding to deploy and optimize large environments."

Soumiatra Agarwal, general manager of NetApp's operations in India, agreed that finding people and training them is one of the company's biggest challenges.

The main reason for the skills shortage in India is not a lack of available talent -- the country produced 400,000 engineers last year -- it's keeping hold of this talent that's the problem. India's brain drain has been going on for decades and continues today as countries, including the U.S., Australia and the U.K., offer more opportunities and a better lifestyle. This is gradually changing as the growth in the Indian economy improves the standard of living in the region. A second drain on resources are company's like Tata Consulting Services Ltd., India's largest software company, that plans to add 30,000 people to its current workforce of 72,000. Tata, InfoSys Ltd., Wipro Ltd. and others steal the lion's share of engineers that stay in India, attracting them with high salaries and benefits that match any U.S. firm. This leaves the rest of the market in India struggling to find people.

This summer, EMC Corp. committed to double its existing investments in India from $250 million, announced in February 2005, to over $500 million by 2010. The company recently launched EMC Academy Program (EAP), the industry's first program aimed at developing a resource pool of skilled storage professionals in the region. EAP has partnered with 26 educational institutes across India so far.

Terabyte growth soars

Predictably, India's growth in terabytes shipped is greater than the growth in end-user revenue, according to Graham Penn, associate vice president for Asia Pacific storage research at IDC Corp. Total storage revenue forecast for 2006 is $256.9 million, compared with $198.6 million in 2005. Meanwhile terabytes shipped jumped from 17.6 million in 2005 to 27.2 million in 2006 and is forecast to hit 206.4 million TB in 2010, a compound annual growth rate of 63.5%.

To put this in perspective, the total disk storage systems market worldwide grew to $5.9 billion in the second quarter of 2006, up 6% from the prior year's quarter. And total disk storage systems capacity shipped worldwide was 704 petabytes (PB), a growth rate of 51.5% from the same quarter a year ago.

India, therefore, is still a small percentage of these overall numbers, but it has tremendous room to grow, according to Penn. He has noticed significant growth in external storage as users in India make the transition from storage internal to a server, (mostly x86 servers) and embrace networked storage. Fibre Channel SAN revenue for 2006 is forecast to hit $122.7 million, while network attached storage (NAS) will bring in $48.3 million, and iSCSI SAN, $8.6 million, according to IDC.

Overall, India is the second fastest growth market in the Asia Pacific region, after China, and it is now the fourth largest market in Asia Pacific (excluding Japan) after China, Australia and Korea, Penn said.

Many of the internal inhibitors to India's growth are being addressed, including inconsistent and ever-changing government policies, inconsistent sales tax structures in different states, difficult logistics and transit times, relatively high interest rates, and customs duties on capital goods are now confined to certain pockets.

Variable power supplies adding to capital equipment and operating costs can still be an issue. And border security concerns also have the potential to divert attention from infrastructural investments, analysts noted. But overall, there are strong indications that India's investment in storage is growing and paying off.

Historically, India has preferred one-stop-shopping for IT equipment. Being so far away from the major technology suppliers, most companies chose a single vendor and a single throat to choke for all service, maintenance and support issues. This favored the systems companies, notably HP, which has a huge presence in India. Analysts said that trend is changing as the market matures and organizations are looking to upgrade their environments. For storage specialists, like NetApp and EMC, the picture looks bright.

"India is one of our fastest growing markets," NetApp's Goel said. The company has about 300 customers in the region, buying a mix of SAN and NAS products. Since India opened its market to the outside world in 1992, multinationals have poured into the country in a bid to tap the subcontinent's growth and its abundant supply of low-cost, highly skilled workers. Often these organizations simply carried over their architectures from the U.S. "Texas Instruments Inc., Oracle, Morgan Stanley, General Electric Co. … If they bought NAS from us in the U.S., that's what they've installed in India," Goel said. Meanwhile, the Indian-based verticals – financial services, telecom and government-run industries including oil and gas – are not constrained by the "old way of doing things," he said, and therefore tend to purchase more leading-edge technologies.

The gap between what's being deployed in the U.S. vs. India is closing, according Shyam Gopal, country manager for India, at Brocade. Releases are available in India at the same time as the U.S. "as business is global and people have to compete," he said. While most companies are behind the curve for high-end software functionality like data lifecycle management or continuous data protection products, they are beginning to ask questions about it, vendors say.

On a related note, most major storage vendors are building a direct presence in the area and are working with local integrators. This is broadening access of the latest storage hardware and software products to more customers. "The big cities have become saturated because of the high growth," said Manoj Suvarna, country manager for HP StorageWorks in India. HP is pushing into Tier-2 cities, including Hyderabad, Pune and Chandigarh, to find new business. Some states have created special economic zones and are offering tax rebates for businesses that set up in these cities. HP is following this development.

More challenges

Remote connectivity is patchy in India, so where a hub and spoke architecture is common in the U.S., there are more distributed data centers and storage islands in India. "Connectivity is less reliable," NetApp's Goel said.

The labor to capital ratio is also very different to the U.S. The pressure to eliminate operating costs is lower in India as labor is so much cheaper, although steadily rising. The bigger concern is skills, which is why customers look for reliability. "Nondisruptive operations are more important, as there aren't the people available that can manage the systems," Goel added.

Furthermore, the market is more price sensitive than the U.S., as the price of equipment is the same in India as in the U.S., but staff are paid in rupees. Technology is therefore a larger proportion of a company's overall spending, which creates enormous pricing pressure.

That said, it's no longer sufficient to be lower cost, companies are looking for a partner to help them understand how to manage their infrastructure. "They deployed technology at such a tremendous rate, it's breaking through the streets in Bangalore, and now they are saying OK, help me control this growth," Goel said.