Samsung SSD 845DC PRO
Innovation is the key to Samsung's SSD 845DC PRO, which was the first 3-D NAND solid-state drive to hit the data center.
Bronze winner in the Storage magazine/SearchStorage.com 2014 Products of the Year Storage Systems: All-Flash Systems category.
Samsung doesn't make all-flash arrays; it makes the components that power them.
The Samsung SSD 845DC PRO is a groundbreaking product, since it is the first Vertical NAND (V-NAND) data center solid-state drive (SSD) on the market. The device uses 24-layer V-NAND (or 3-D) technology that enables up to 10 times higher endurance than conventional NAND. The 845DC PRO provides a random write performance of up to 51,000 IOPS and a sequential write speed up to 560 MBps. It supports 10 writes per day over a five-year life.
The 845DC PRO is available in 400 GB and 800 GB capacities.
3-D NAND overcomes the density limit in planar NAND devices by stacking cells vertically. The technology improves performance significantly on write times, IOPS and throughput over 2-D NAND, and the technology could play a big role in increasing enterprise adoption of flash.
The Samsung SSD 845DC PRO drives include data protection, power-loss protection and Dynamic Thermal Guard. Dynamic Thermal Guard protection regulates the temperature of SSDs to guard against overheating. When the temperature exceeds a safe threshold, the drive delays the handling of requests until the temperature drops to normal levels.
The 845DC PRO's Error Correcting Code engine algorithm detects signal discrepancies and proactively fixes them to improve SSD reliability and the integrity of data read from each NAND chip. The drive also uses a cyclic redundancy check to protect data through its entire path from the host interface to NAND flash memory. Self-Monitoring, Analysis and Reporting Technology (SMART) oversees drives and warns users of imminent failures in time to replace the failing drive before there is any data loss.
Install Navigator software can migrate all data and applications from a hard disk drive using a three-step process. Customers can also use Samsung Magician software to handle benchmarking, advanced operating system optimization, disk health status tracking and overprovisioning settings.
The 400 GB Samsung SSD 845DC PRO costs $799.99.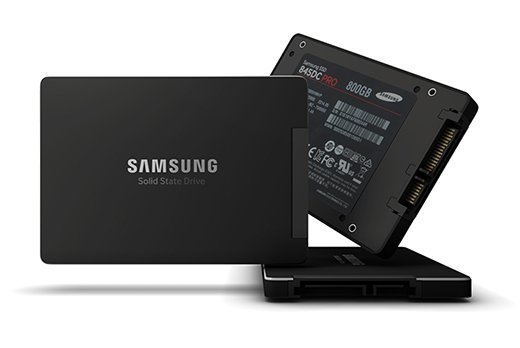 Next Steps
Samsung triple-level cell flash drives reduce latency