SAN School: Lesson 1
Do you need a SAN? Lesson #1 explores what a SAN is, the basic benefits of a SAN and which applications are best suited for a SAN.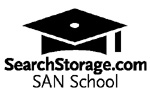 "The Storage Area Network"
Continue Reading This Article
Enjoy this article as well as all of our content, including E-Guides, news, tips and more.
Join Christopher Poelker, co-author, Storage Area Networks for Dummies, for a lesson on SAN basics. This lesson explores what a SAN is, if you need a SAN and where a SAN fits into your IT environment.
More about "Lesson 1: The Storage Area Network:"
If you're experiencing a rapid growth in data and you'd like to manage it all in the same place, then you're probably a good candidate for a SAN. Other good reasons for choosing to implement a SAN in your storage environment include more simple management of your data, including the flexibility to manage your storage environment from anywhere at any time. Implementing a SAN lets you backup your data easier since it's all on the same server. What's more, with a SAN you can store your data in a place separate from your server, which could help protect your data in the event of a disaster at your main site. All of these factors combined can help you greatly improve the ROI on your data center.
In the first chapter of SAN School, Chris Poelker explains who would benefit from implementing a SAN and why. You'll learn the details about how a SAN works to pool data together, store it in one centralized location and push block-based data across the network. Chapter one will give you a foundation to start planning for your new network and realize the SAN vision: To use multiple applications and systems in one network with many different data centers managed in one place, so your operation can be global in scope, which isn't possible with DAS.
What you'll walk away with:
** Understanding SANs
** Determining whether a SAN is right for you
** Looking at SAN layers and protocols
** Discovering which operating systems benefit from SANs
** Discovering which applications can use/require a SAN
Get the Lesson 1 worksheet.
About Christopher Poelker:
Christopher Poelker is a storage architect at Hitachi Data Systems. Prior to Hitachi, Chris was a lead storage architect/senior systems architect for Compaq Computer Inc. in New York. While at Compaq, Chris built the sales/service engagement model for Compaq StorageWorks, and trained most of the company's VAR's, Channel's and Compaq ES/PS contacts on StorageWorks. Chris' certifications include: MCSE, MCT (Microsoft Trainer), MASE (Compaq Master ASE Storage Architect), and A+ certified (PC Technician).
***TEST YOUR KNOWLEDGE OF PART 1 -- TAKE OUR QUIZ***
Once you've viewed lessons 1-4, test your skills by taking the SAN School Quiz
Back to the SAN School table of contents.
Or, for more on lesson 2, click here SAN Building Blocks