QLogic Corp. FlexSuite 2600 Series Fibre Channel Adapters
The QLogic 2600 Series Fibre Channel Adapters supports 16 Gb Fibre Channel and standards-based virtualization features such as NPIV.
The QLogic 2600 Series Fibre Channel Adapters have earned the gold cup in the networking equipment category in Storage magazine's/SearchStorage.com's 2012 Products of the Year competition. To get information on all the winners, please read our guide to the best 2012 data storage products.
QLogic Corp.'s FlexSuite 2600 Series Fibre Channel (FC) adapter won the networking equipment category in Storage magazine's/SearchStorage.com's 2012 Products of the Year competition. Only one product was presented with an award in this category this year.
As organizations upgrade their SANs to 16 Gbps Fibre Channel and 10 Gigabit Ethernet (GbE), networking products that are upgradeable to the newest technologies but preserve investments in existing infrastructure will be essential.
The sixth-generation QLogic 2600 Series FC adapter supports 16 Gbps FC throughput per port with full hardware offload, and is backwards compatible to 8 Gbps and 4 Gbps networks. More impressively, QLogic's 2600 Series is transformable to a converged network adapter (CNA) to support 10 GbE networks. With a single PCI Express (PCIe) slot, you can install a host bus adapter for your 8 Gbps or 4 Gbps FC network, and use the same PCIe 3.0 card when you upgrade to 16 Gbps FC or 10 GbE.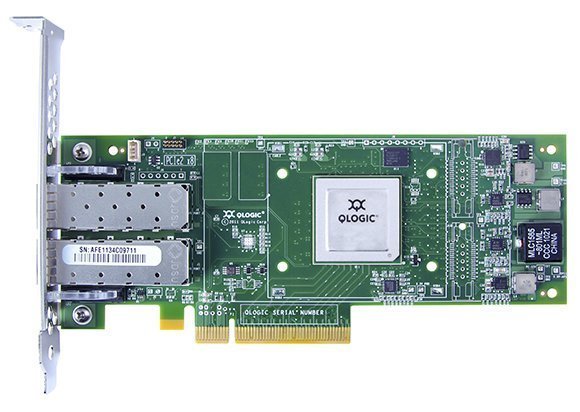 "CNA cards are approaching a strategic default, and the flexibility of this card fits an unpredictable IT future," commented one of our judges. QLogic's FlexSuite 2600 Series also received high marks for performance and functionality.
A field-programmable firmware upgrade is all that's required to transform the FC adapter to a QLogic 8300 series 10 GbE CNA. It will then support network interface cards, Fibre Channel over Ethernet (FCoE) and iSCSI traffic.
And just because it's so flexible doesn't mean it won't perform as well as fixed 16 Gbps FC adapters. The 2600 Series can provide up to 1.2 million IOPS as a full-duplex, line-rate 16 Gbps FC adapter. As a 10 GbE CNA, it supports up to 1 million FCoE IOPS.
QLogic provides the QConvergeConsole single-pane management application with the adapters. They also support application programming interfaces from most third-party management tools such as VMware Inc.'s vCenter for virtualized environments.
The dual-port FlexSuite 2672 is priced at $2,225 with a five-year warranty. A single-port model (the 2670) is also available. In dual-port configurations, each port has its own processor, memory and driver for high availability. This port-level isolation means that if one port fails, the second port continues to operate without interruption.
Navigate back to the main Enterprise Network Equipment category page.