Pure Storage Inc. FlashArray 450
Pure Storage launched the FlashArray 450 as the new flagship of its all-flash line and filled a feature gap by adding replication.
Silver winner in the Storage magazine/SearchStorage.com 2014 Products of the Year Storage Systems: All-Flash Systems category.
Pure Storage Inc. was among the first all-flash array vendors, and its new flagship FlashArray 450 includes storage management and data protection upgrades in the Purity Operating Environment 4.0.
The FA-450 can pack more than 250 TB of usable capacity into a 2U box, includes 512 GB of RAM per controller and supports 16 gigabit per second Fibre Channel connectivity.
New features in Purity 4.0 include FlashRecover replication and snapshots, FlashRecover protection policies and FlashProtect security.
Along with space-efficient local snapshots and asynchronous replication, Pure added instant recovery from anywhere, multi-site protection and consistency groups in the latest upgrade. FlashProtect includes active-active I/O handling with dual controllers and 256-bit AES encryption, as well as non-disruptive maintenance, expansion and upgrades.
The addition of replication filled an important gap in the Pure Storage platform. Now the vendor supports replication of data in a single volume, volume groups or entire arrays. It also supports one-to-many and many-to-one replication, with up to four arrays at launch.
In early 2014, Pure added Forever Flash maintenance for all of its arrays, which provided customers with free controller upgrades or allowed them to keep the original per-terabyte cost of their maintenance. Pure claims its systems have an average price range of $3 to $5 per usable gigabyte.
Pure Storage's earlier systems helped set the bar for all-flash arrays. The vendor had storage management features such as data deduplication from the start, while most other early all-flash systems concentrated on performance only. Pure also had all-flash enterprise systems on the market before the major legacy storage vendors.
Not all of its early advantages remain. Judges noted that Pure lost points for scalability and performance in a crowded all-flash market, but one judge noted that the vendor scores "high marks for being one of the first in the all-flash market and incorporating inline dedupe and compression [earlier than many competitors]."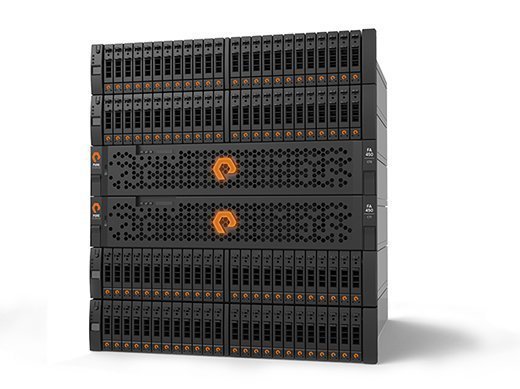 Next Steps
Pure Storage FlashArray line reaches its fourth generation