ProphetStor Data Services, Inc. Federator SDS 3.0
ProphetStor Federator SDS 3.0 software abstracts storage capacity from heterogeneous hardware to provide data migration, automation and analytics features.
Bronze winner in the Storage magazine/SearchStorage.com 2015 Products of the Year Storage Management Tools category.
In a category of tools focused on one aspect of storage management, breadth of functionality is what made ProphetStor's Federator SDS version 3.0 stand out.
Federator SDS provides data services, automation and analytics. It is an out-of-band storage controller for heterogeneous scale-up or scale-out storage environments. When installed, it automatically detects storage hardware in an environment and pools the capacity in an abstracted layer so that all the functionality can be exposed to the user. Users can then access that storage and the management and analytics functions via a GUI or an open REST-based API.
Data services offered by Federator SDS include data migration, copy management, business continuity and disaster recovery. Storage features provided by storage hardware such as thin provisioning, deduplication, compression and encryption can be surfaced for all abstracted capacity.
Version 3.0 of the Federator SDS was a significant upgrade that ProphetStor claims included features already on their roadmap as well as improvements based on customer feedback. Also called the "Catalina" release, the upgrade included the ability to virtualize storage volumes up to 16 exabytes in size. Storage tiering and data migration capability was also improved. Users can now use pre-defined or custom workload profiles to maximize the utilization of flash and caches. Another new feature of Federator 3.0 is dynamic quality of service, which has the ability to throttle throughput to guarantee performance. Support was also expanded in this release: VMware vSphere APIs for Array Integration and NFS are now compatible with Federator SDS.
ProphetStor claims "Federator SDS is a cross-system manager that was developed to break vendor lock-in and create a horizontally orchestrated storage platform."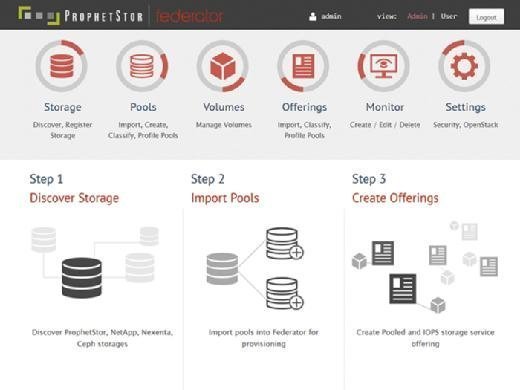 However, one judge claimed ProphetStor could have a hard time getting support from other storage vendors because it commoditizes storage control. That judge also noted the product's innovation could make up for any potential support issues and still help it move farther into the market. "The out-of-band nature and ability to federate is clever, fully functional and innovative, giving it a reasonable chance for success," he said.