PernixData FVP version 2.0
Version 2.0 of PernixData's FVP wins the 2014 Storage Products of the Year competition in the storage system software category.
Gold winner in the Storage magazine/SearchStorage.com 2014 Products of the Year Storage System Software category.
PernixData Inc. FVP pools server-based flash and RAM to speed file and block storage and boost the performance of virtual machines. The product allows any server that runs the software to access the performance-boosting resources of any other host in the cluster and replicates writes across the clustered hosts to ensure fault tolerance. Version 1.0 of the product earned Silver in last year's competition.
FVP version 2.0, which was released on Oct. 1, 2014, collected the highest average scores among the 11 storage system software finalists in the areas of innovation and performance.
The main addition in version 2.0 is the ability to cluster server RAM to accelerate reads and writes. Other new capabilities include user-defined fault domains, which allow IT administrators to define the host servers that are part of replica groups for data protection, and adaptive network compression that helps to reduce traffic between servers.
PernixData FVP software installs in VMware Inc.'s hypervisor and requires no changes to virtual machines (VMs), host servers or primary storage. After users install FVP on host servers and add a user interface plug-in to the vSphere client, they can create FVP clusters and manage and monitor at the cluster, host, VM or server-side device level.
Judges rated PernixData FVP version 2.0 second among the 11 storage system software finalists in terms of value and ease of integration. List price for the least expensive product configuration, called FVP Essentials Plus, is $7,500. FVP includes licenses for three hosts and accelerates up to 100 VMs in alignment with VMware's vSphere Essentials Plus.
The FVP Standard configuration supports deployments that are all-flash or all-RAM, and FVP Enterprise works with flash, RAM or a combination of the two. The standard and enterprise editions place no limit on the number of hosts or VMs in an FVP cluster. FVP VDI targets virtual desktop infrastructure environments, while the FVP Subscription edition is geared toward service providers.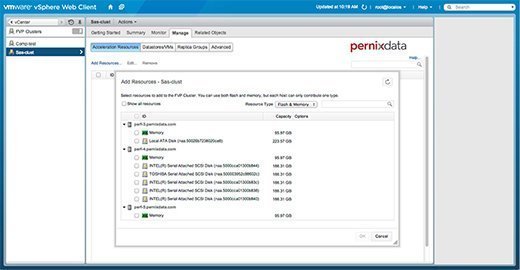 Next Steps
PernixData's FVP wins Modern Infrastructure's Bright Idea Impact Award
PernixData virtualized I/O caching software now available in four new versions