Nimbus Gemini Flash Memory Array
The Nimbus Gemini Flash Memory Array comes with a 10-year warranty for multi-level cell flash, and supports block and file storage.
The Nimbus Data Systems Inc. Gemini Flash Memory Array has been awarded the bronze medal in the enterprise storage systems category in Storage magazine's/SearchStorage.com's 2012 Products of the Year competition. Our data storage products guide for 2012 provides a listing of all the winners.
Nimbus is already three generations into its all-flash array architecture, and the Nimbus Gemini model comes with a 10-year warranty for multi-level cell (MLC) flash. That's about twice as long as the expected maximum life of most flash systems available today.
Nimbus Gemini also has a new processor and Parallel Memory Architecture that stripes I/O across a non-blocking internal switch to increase throughput and eliminate the need for over-subscription. Each flash drive has dedicated bandwidth to the controller and runs at line-rate speeds. The flash array can scale to 48 TB in a 2U device. Nimbus claims it can sustain 1,000,000 IOPS.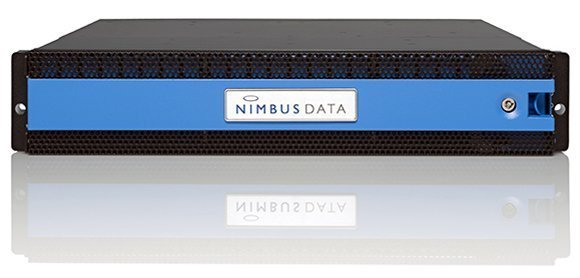 Nimbus Data Systems' Gemini can support 1 GbE/10 GbE/40 GbE iSCSI, 8 Gbps and 16 Gbps Fibre Channel, and 40 Gbps and 56 Gbps InfiniBand connections.
Our judges found that Nimbus Gemini goes beyond just the performance you'd expect from a flash array. It also supports block and file storage and has dual controllers for high availability.
"Excellent unified storage functionality in an all-flash array," one judge wrote. "It has broad interconnect support and high performance in a no-single-point-of-failure architecture."
Find out the other winners in the Enterprise Storage Systems category.