Share this item with your network:
Managing and protecting all enterprise data

Evaluate
Weigh the pros and cons of technologies, products and projects you are considering.
NAS array shoppers want speed and scalability
Shopping for a NAS array? You likely want faster, scalable performance from your network-attached storage system, but price still matters.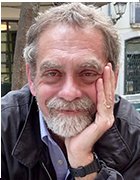 By
Network-attached storage (NAS) always seems like the kid brother to SAN arrays, relegated to less mission-critical -- and less glamorous -- chores like storing data on user shares. But with that kind of data growing at an unprecedented rate and its usefulness recognized as a fundamental part of the big data picture, NAS has gotten kind of cool.
But even if you don't think NAS is all that cool, there's little argument that it's necessary -- maybe more than ever. So shopping for a new NAS array is an important process fraught with considerations like scalability issues, performance and support for Ethernet networks faster than pokey old 1 GigE.
For our survey respondents, the number-one reason (52%) they're trolling the shopping aisles is that they need better performance than their current NAS gear is delivering. The next two top reasons for needing another NAS array illustrate that NAS isn't just for user shares anymore: 33% say they intend to support their VMs better with the new NAS array and a similar number have a specific or new app in mind to run on the new system.
And as they roll those shopping carts down the NAS array aisle, the most important factor for choosing one vendor over another is price -- as cited by a whopping 80% of respondents. To a lesser but still significant extent, product features and functionality was noted a key criteria by 60%. With features registering so much lower than price, it suggests that there might be some degree of parity among NAS array vendors when it comes to the capabilities their products deliver.
But -- make no mistake -- a system's features are definitely significant, and the most important one for our scalability-conscious survey gang is file system size (42%); ability to scale out or cluster was second (39%). Continuing the scalability theme, being able to scale performance and capacity separately was indicated by 36%.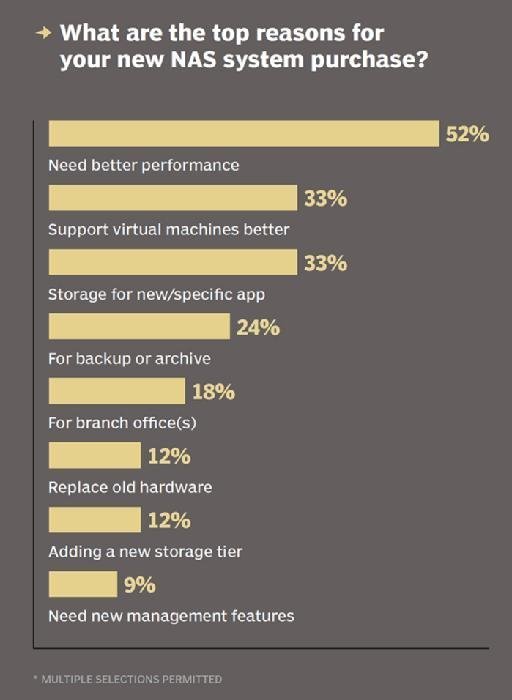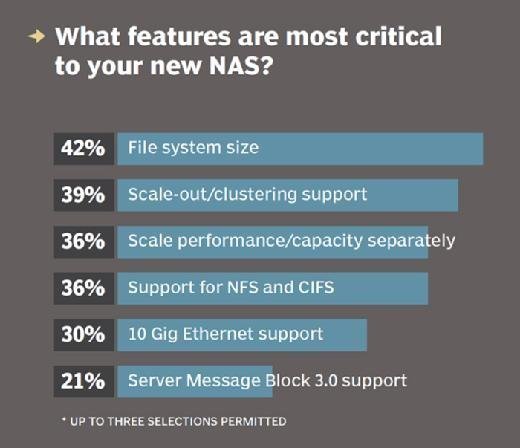 Respondents' plans for their new NAS boxes underscore the diverse applications that NAS is used for these days. Forty-nine percent will deploy it to support virtual servers, and 46% are going to run database apps on their NAS kit -- a use case typically associated with SANs. The next two most popular implementation strategies are more traditional roles for NAS arrays: file data and user shares (36%) and web or app serving (36%).
Under the hood, 10 GigE is the interface of choice for 49% of respondents, with 42% looking to cruise along at 1 Gbps. NFS is the priority protocol (70%), but 49% also need CIFS, while 46% will opt for CIFS-successor SMB 3.0.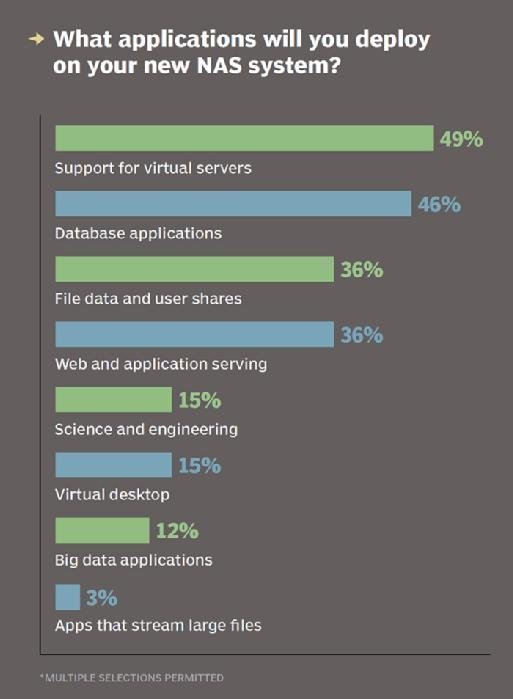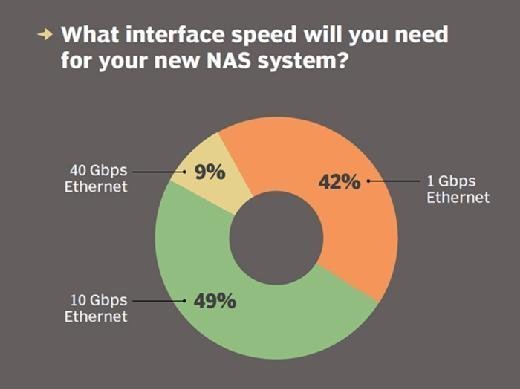 Dig Deeper on Storage management tools