Share this item with your network: BACKGROUND IMAGE: iSTOCK/GETTY IMAGES
Managing and protecting all enterprise data

iSTOCK/GETTY IMAGES
News
Stay informed about the latest enterprise technology news and product updates.
Hot data storage technologies for 2014
These six storage technologies are ready to take their place -- and have an impact -- in your data center in 2014.
By
Rich Castagna, Todd Erickson, Ed Hannan, Sonia Lelii, Dave Raffo, Carol Sliwa and Sarah Wilson
Six data storage technologies -- nex-gen solid-state, primary storage dedupe, hyper-converged storage, backup appliances, OpenStack and cloud-integrated storage -- will impact your shop.
If you've read one of our technology prognostications before, you know the drill: we don't pick pie-in-the-sky projects as our hot data storage technologies. Rather we focus on the new, and newish, storage techs that we think are poised to have an impact on your shops in the coming year.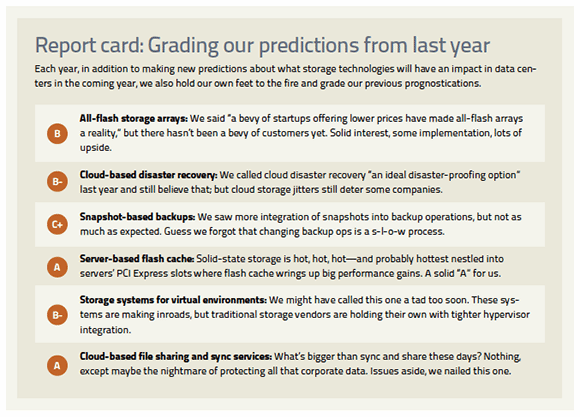 That said, some of our predictions are about storage technologies that have only recently emerged from R&D labs, but they bear so much promise that we think they will weigh in immediately. That's the nature of the storage market today: Technologies that used to take years to evolve and gain a following are topping the charts in short order these days. Case in point: solid-state storage's meteoric rise.
In fact, the ever-developing flash storage is featured in this year's predictions, with two solid-state techs -- Non-Volatile Memory Express (NVMe) and 3-D flash -- about to spring into prominence. Rounding out our 2014 predictions are the arrival (finally!) of dedupe to primary storage, hyper-converged storage-plus-everything-else systems, plug-and-play backup appliances, the rise of OpenStack storage, and hybrid technologies that blur the line between cloud and on-premises storage.
Dig Deeper on Data storage strategy