Share this item with your network: BACKGROUND IMAGE: iSTOCK/GETTY IMAGES
Managing and protecting all enterprise data

idspopd - Fotolia
Hitachi's enterprise storage arrays back on top
Eclipsing a strong field of enterprise storage array contenders, Hitachi made an impressive run by sweeping all five Quality Awards ratings categories.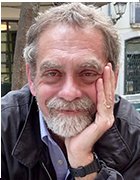 By
Eclipsing a strong field of enterprise storage arrays contenders, Hitachi Data Systems made an impressive run by...
Continue Reading This Article
Enjoy this article as well as all of our content, including E-Guides, news, tips and more.
sweeping all five Quality Awards ratings categories.
Enterprise storage arrays are the big storage iron in most IT shops, and as top-of-the-line data storage gear they're measured by higher standards of service and reliability. The results of our eighth Quality Awards survey for enterprise arrays indicate that enterprise storage vendors are doing an excellent job of meeting -- and even exceeding -- those expectations. Hitachi Data Systems Corp. prevailed among our group of five enterprise storage vendors, regaining the top spot it held for the first three Quality Awards in this category, but had since yielded to the likes of EMC Corp. and NetApp Inc. (a three-time winner).
Overall ratings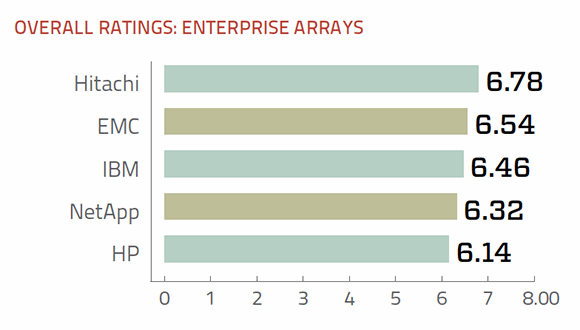 Hitachi Data Systems recouped the crown it ceded five years ago with a clean sweep of the five ratings categories to prevail over some tough competition, especially from EMC and IBM. Hitachi's overall score of 6.78 is the highest ever registered in the eight enterprise array surveys we've conducted, bettering NetApp's 6.71 from a couple of years ago. It was also only the second time the winning enterprise vendor scored top marks in all five categories, as Hitachi equaled its own feat achieved way back on the second Quality Awards for enterprise arrays survey. EMC (6.54) and IBM (6.46) provided formidable competition, dogging Hitachi in all categories and finally finishing second and third overall, respectively. NetApp (6.32) and Hewlett-Packard (HP) Co. (6.14) rounded out the field with solid scores that would've been enough to win some past contests.
Breaking down the numbers
Hitachi's scores were extremely consistent, ranging from 6.57 (initial product quality) to the group's only 7.00 category rating (product reliability).
Hitachi also set new highs in three ratings categories: sales-force competence, product reliability and technical support.
The entire group's average of 6.45 was the third highest we've seen to date.
Key stat
7.15: The highest single rating category statement score among the three 7.00-plus scores earned by Hitachi, which was the only vendor to surpass that mark.
Sales-force competence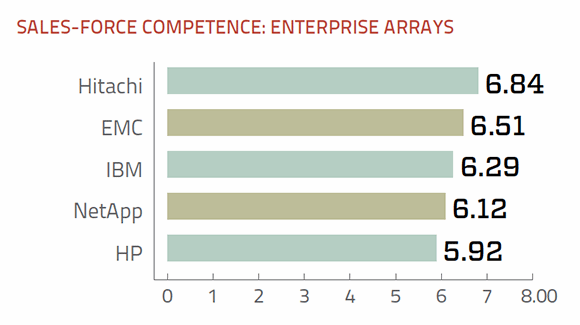 A vendor's business and technical sales teams often set the table for the overall enterprise storage array experience, and judging by solid scores across the board, all of this survey's vendors appear to be doing a good job on the sales side. Hitachi outran all competitors with top marks for all six statements in this category to register a 6.84 average with remarkably consistent ratings that ranged from 6.73 to 6.95. EMC and IBM came in second and third, and were the only other vendors to earn 6.00-plus marks for all category statements. All of our surveyed vendors seem to have some pretty smart sales reps; the top averages for the whole group were for knowledgeable sales support teams (6.46) and reps who are well-versed regarding their customers' industries (6.45).
Breaking down the numbers
Hitachi had the highest statement rating, notching a 6.95 for "My sales rep understands my business."
All vendors had scores higher than 6.00 for the statement "The vendor's sales support team is knowledgeable," led by Hitachi's 6.77.
Second-place finisher EMC earned its highest tally, a 6.75, for having reps that are well-informed about customers' industries; third-place IBM had its best showing for having a knowledgeable sales team (6.44).
Key stat
#1: Hitachi's winning score of 6.84 is the highest mark we've ever seen for the sales-force competence category for enterprise storage arrays.
Initial product quality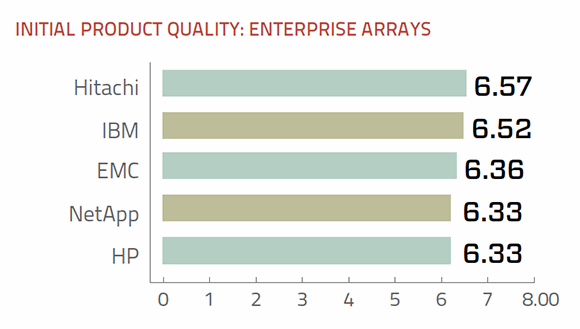 Hitachi's margin of victory was slimmest in the initial product quality category -- 6.57 to IBM's 6.52. This was the most competitive category, with all five vendors bunched up between 6.33 (NetApp and HP) and Hitachi's top mark. It's also encouraging to see how well these products fare when they're first fired up; the group's highest average statement score (6.59) was for "This product was installed without any defects." And apparently the products don't need a lot of tinkering either, as the second best average score for the group was a 6.50 for requiring an acceptable level of professional services. Hitachi and IBM split statement honors, with Hitachi leading the field on three, IBM earning the highest marks on two statements and the two vendors tying on the last one.
Breaking down the numbers
Hitachi's 6.96 for "This product was installed without any defects" was the highest mark among all vendors in this category.
IBM's top tally was a 6.60 for "The product requires very little vendor intervention."
All five vendors scored at least 6.06 on all six statements in the initial product quality category.
Key stat
6.48: Top mark, recorded by both Hitachi and IBM, for the ease with which users got their products up and running.
Product features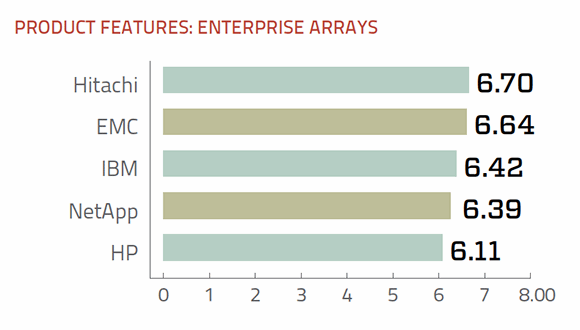 Users pay big bucks for an enterprise array expecting advanced features and sophisticated functionality, and according to the results of our surveys they're usually satisfied. The features category typically boasts some of the highest marks users bestow on these products. Hitachi prevailed again with its 6.70 score providing a slim margin over EMC's 6.64. Indeed, the two vendors split supremacy in this category, with Hitachi on top for four statements and EMC leading on three. IBM (6.42) and NetApp (6.39) also posted solid scores and weren't far back from the leaders. Overall, the group fared best for delivering features that meet users' needs (6.56), mirroring capabilities (6.52) and snapshotting (6.51).
Breaking down the numbers
Hitachi just missed 7.00 scores for capacity scaling (6.91) and interoperability with other vendors' products (6.96), which might not be so surprising as its gear is also a virtualization platform.
Mirroring features (6.79) and remote replication capabilities (6.72) earned EMC its top category ratings.
A mere 0.02 points separated Hitachi (6.79) and EMC (6.77) on the key statement "Overall, this product's features meet my needs."
Key stat
6.45: The enterprise array group's overall average rating for product features.
Product reliability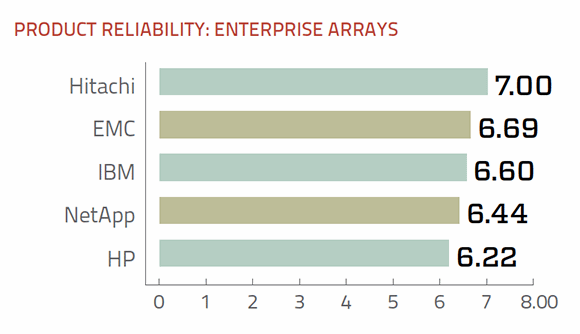 It seems a lot of storage managers are getting a good night's sleep these days, as our group of enterprise storage arrays garnered one of the highest overall average marks for reliability, highlighted by the group's average score of 6.74 for products that experience little downtime. Once again, Hitachi was at the forefront, but in a big way this time by racking up a category score of 7.00; this isn't only the highest reliability mark we've ever seen, but it's also the first time an enterprise array earned a 7.00 in any category. Hitachi exceeded 7.00 scores on two statements: limiting downtime (7.15) and meeting service-level requirements (7.11). Continuing its impressive run, Hitachi just missed 7.00s with a pair of 6.96 marks for requiring few unplanned patches and for providing comprehensive upgrade guidance.
Breaking down the numbers
Hitachi scored highest on all five statements in the product reliability rating category.
Second-place finisher EMC had its highest mark -- an impressive 6.87 -- for experiencing very little downtime.
IBM, in third place with a category average of 6.60, did best on the downtime statement (6.70) and requiring few unplanned patches (6.70).
Key stat
6.10: All five vendors received ratings of at least 6.10 for every statement in the category.
Technical support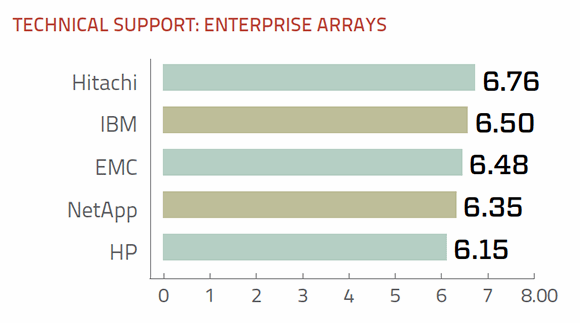 Even a blip or two in a major storage system is likely to be forgiven if a vendor responds quickly and effectively to a call for technical support. With a 7.13 for supplying support as contractually specified, Hitachi went on to lead the field on seven of the eight statements in this critical category. In fact, Hitachi's category average of 6.76 just edged out NetApp's 6.74 from a year ago to rank as the best mark ever in this category for enterprise arrays. There were good scores all around for tech support, with only one sub-6.00 score on a category statement. IBM (6.50), which fares well for tech support on many Quality Award surveys, took top honors for one statement and finished second overall in this category; with a 6.48, EMC was right behind IBM, once again filling out the top three.
Breaking down the numbers
After its 7.13 for delivering support as promised, Hitachi posted high marks for taking ownership of problems (6.93) and for having knowledgeable support personnel (6.89).
IBM's best score (6.54) was for providing adequate documentation and other support materials.
Third-place EMC was strong for delivering services as promised (6.80) and taking ownership of problems (6.66).
Key stat
6.69: The group's highest statement average was earned for delivering support as contractually specified.
Would you buy this product again?
In any good relationship, the tough times and rough spots are often eventually forgotten, and that's typically the case when we ask our survey respondents if they'd make the same system purchase today given their past experiences with the product. Resoundingly, respondents to the current survey showed their satisfaction and loyalty, with an overall average of 86% ready to sign on the dotted line again.
Products in the survey
The following products were included in the eighth Quality Awards for enterprise storage arrays survey. The number of responses for each finalist is shown in parentheses. An asterisk after the product name means it received too few responses to qualify as a finalist.
EMC Corp. Symmetrix VMAX/VMAXe or DMX-3/DMX-4 (127); Fujitsu Eternus DX8400 or DX8700*; Hewlett-Packard (HP) Co. XP Series/HP StorageWorks P9000 Series/HP 3PAR StoreServe 7000/HP 3PAR P10000 Storage Systems (90); Hitachi Data Systems USP/USP V/VSP Series (47); IBM DS8000 Series or XIV Storage System (60); NEC Corp. D8 Series*; NetApp Inc. FAS6000 Series or V6000 or E5400 Series (71); SGI 15000/16000/17000*
About the survey
The Storage magazine/SearchStorage.com Quality Awards are designed to identify and recognize products that have proven their quality and reliability in actual use. The results are derived from a survey of qualified readers who assess products in five main categories: sales-force competence, initial product quality, product features, product reliability and technical support. Our methodology incorporates statistically valid polling that eliminates market share as a factor. Our objective is to identify the most reliable products on the market regardless of vendor name, reputation or size. Products were rated on a scale of 1.00 to 8.00, where 8.00 is the best score. A total of 252 respondents provided 411 system evaluations.
About the author:
Rich Castagna is editorial director of TechTarget's Storage Media Group.
Dig Deeper on Data center storage