Get started
Bring yourself up to speed with our introductory content.
Gridstore Inc. GS-1000 Scale-out NAS Storage System
The Gridstore GS-1000 Scale-out NAS Storage System uses a Virtualized Storage Controller architecture to distribute a virtual controller to each client connecting to the storage.
Gridstore's GS-1000 earns third place in the storage systems category in Storage magazine's/SearchStorage.com's 2011 Products of the Year competition. To get more information on all our winners, read our best data storage products of 2011 guide.

The GS-1000 is the second generation of Gridstore's scale-out network-attached storage (NAS) for small- and medium-sized businesses (SMBs) and small- and medium-sized enterprises (SMEs). The system consists of 1 TB or 2 TB 1U boxes that let customers scale incrementally and grow into a large storage pool.
Gridstore uses what it calls a Virtualized Storage Controller (VSC) architecture that distributes a virtual controller to each client connecting to the storage. The virtualized controllers offload processing workloads from the server nodes over the network to the client. Gridstore breaks files into slices and writes the slices in parallel to the storage nodes so each node performs only a small part of the combined workload.
By striping data across nodes, Gridstore's RAIDg provides fault tolerance by allowing for any storage node to fail. Failed nodes are replaced by attaching new nodes, and the system can run without data loss if multiple nodes fail simultaneously.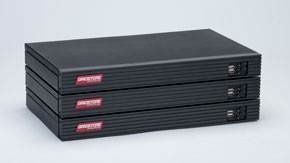 Gridstore storage can be managed from the Microsoft Management Console (MMC), allowing network administrators to manage it.
The GS-1000 received high marks from our judges in ease of use and value, which are key attributes for an SMB system. One judge called it "a nice, compact, low-TCO, scale-out SMB-to-SME NAS system" with "unique clever features such as RAIDg and non-expert implementation and management."
A Gridstore GS-1000 10 TB system has a suggested price of $5,495.
Find out the other winners in the Storage Systems category.