Share this item with your network:
Managing and protecting all enterprise data

Nomad_Soul - Fotolia
News
Stay informed about the latest enterprise technology news and product updates.
Good pay, bennies and perks boost data storage jobs
Salaries for data storage jobs remain high with new techs and new responsibilities in evolving data centers.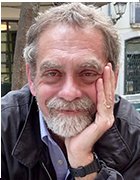 By
Storage might look like a marginalized technology these days as vendors hype clouds, containers, convergence and a bevy of other buzzwords. But IT departments know better. They know that you can have all the containers and clouds you want, but without data, you're not going to get very far.
And storage pros have gotten far. The results of our 13th annual Storage magazine Salary Survey confirm that premise: The average salary for IT pros who spend part or all of their time on data storage jobs is an impressive $97,910. That's a little more than last year's survey revealed and evidence that storage know-how is still a valuable commodity.
Our survey gathered detailed compensation information from 186 validated respondents who represented all regions of North America across a wide variety of industry verticals. On average, respondents spend about 27% of their work time on activities related to data storage jobs. Survey respondents exhibited a broad spectrum of skills and interests. While many of them were busy with the more or less routine chore of keeping their company's storage running efficiently, others were involved in tasks such as consolidations, upgrades, migrations and new implementations. Others were engaged with newer activities, such as hybrid cloud deployments, cloud backup, as well as converged and hyper-converged system implementations.
Ka-ching! The storage salary bottom line
As noted, this year's overall average salary as reported by our survey respondents was $97,910 -- slightly above last year's figure and a few bucks less than the year before. The current average, however, represented a healthy 6% increase for our respondents, who also anticipate a nearly as high 5.5% hike in 2016 -- which would push the average into the realm of six-figure salaries.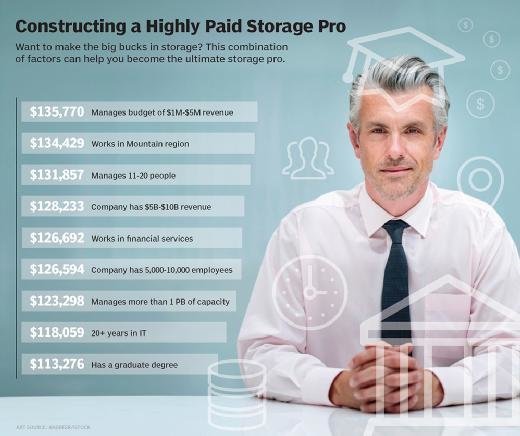 Our survey group of folks working in data storage jobs also reported that their salaries were often augmented with bonuses -- with the average bonus weighing in at $7,810 -- nearly $1,000 higher than last year's average bonus. And our group anticipates that their employers will be about 20% more generous at the end of this year as they eye potential bonuses of $9,515.
Where you live and work is always a key factor in how much you take home at the end of the week. Last year, the highest average salaries were earned in the Mid-Atlantic region. This year, the Mountain region led the way with an average annual haul of $134,429; the Mid-Atlantic trailed that Rocky Mountain high considerably, although its average of $122,638 was still higher than what it posted last year.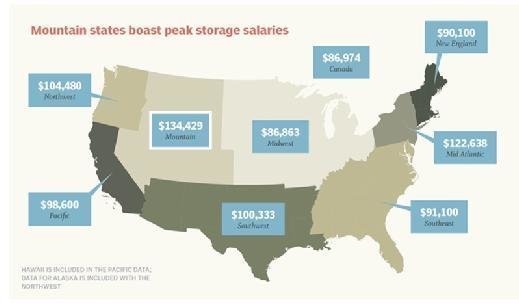 Company characteristics affect storage pros' pay
While the mantra for more pay might appear to be "location, location, location" -- a company's vital statistics will also have a bearing on salary levels for data storage jobs. The type of business is one key indicator: Respondents working in financial services registered the top average salary at $126,692, a $10K improvement over last year's figure. Manufacturing ($115,722), wholesale/retail ($104,250) and healthcare ($99,971) also proved to be lucrative industries for storage specialists.
Company size also figures into the salary equation: Generally, storage salaries rise steadily with the size of a company. For example, companies that employ more people also tend to pay higher salaries to their storage workers. The lowest average salary we saw was for storage pros at companies with fewer than 100 employees -- $82,309. And the highest, $126,594, was paid by companies with 5,001 to 10,000 employees. Interestingly, there were a couple of dips in the upward curve for companies employing 1,001 to 5,000 workers and for those with more than 10,000 on the payroll. The same holds true for company revenues: The more the company takes in, the more it's likely to pay. The highest annual average salary was $128,233 for companies with revenues ranging from $5.1 billion to $10 billion.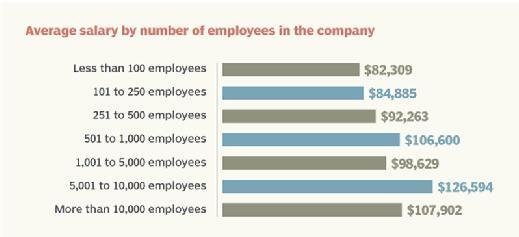 What makes the job good … and not so good
Most survey respondents don't just specialize in data storage jobs. While much of their time is actually spent on storage (27%), they're pulled in other directions as well, such as server-related work (22%) and networks (15%). That's a combination of responsibilities that's clearly suitable to the converged and hyper-converged technologies popping up in data centers.
About a third of respondents plan to continue their career pursuits in storage while the remaining two-thirds hope to use their storage chops to move into other areas of IT.
Respondents said their companies' storage capacity grew 21% year-over-year on average. How much budget a company commits to deal with growth and other storage issues correlates with salaries. While the overall average storage budget was a whopping $2.5 million, 49% said their companies' storage budgets were $500,000 or less. The average salary for those companies was $93,461, while the companies with huge storage budgets in excess of $20 million paid the most: $138,000.
Specialization is another factor. Respondents in companies with dedicated storage groups (28%) had an average salary of $98,877. But when duties are more diversified, salaries rise: The 19% who are in networking groups averaged $100,629, while systems team members (42%) were at $101,460. Along those lines, 33% said they collaborate with other IT disciplines more than before.

Experience and education can equal higher pay
Your mother was right -- getting a college diploma makes a difference. Seventy-six percent of our survey respondents have earned a bachelor's or advanced degree -- and that puts them on top of the money mountain, with college graduates averaging $93,832 annually and the masters/Ph.D. eggheads racking up $113,276. Work experience matters, too: Respondents with 20 or more years of IT experience earned an average of $118,059, while newbies with less than five years under their belts netted $56,091.
Regardless of years of service, the more you're responsible for, the more likely your salary will be higher. The highest average salary in our group was $131,857 for those who manage 11 to 20 people; oddly, that number dipped slightly for managers of 21 to 50 people ($130,250) and dropped even more for managers of bigger groups ($103,778). If you're responsible for a budget, once again, more is better: Managers of budgets greater than $10 million averaged $147,600 salaries; second highest was $135,770 for $1.1 to $5 million budgets.
The trend is much more straightforward when salaries are measured against how much storage capacity (TB) one manages. Those responsible for a petabyte or more of capacity earned an average of $123,298. At the other end of the scale, respondents who didn't have any direct capacity management responsibilities tallied an average salary of $78,500.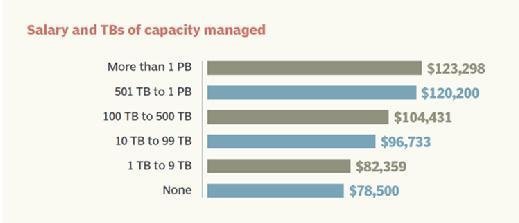 Icing on the cake -- perks and benefits augment storage salaries
Money in the bank is great, of course, but compensation isn't just dollars and cents. Tangible benefits like health insurance and retirement plans are key incentives for folks with data storage jobs, but less-tangible enhancements like flex time can also play a big part in the where-to-work decision.
For the most part, our respondents are pleased with the specific parts of their benefit plans. Forty-four percent said their health insurance coverage was "very good" or "excellent," while 22% said it was "acceptable" and only 7% said their plans were "poor." Similarly, respondents can flash a toothy grin about dental coverage -- 39% gave it a very good/excellent rating and just 8% said poor.
The word "flexible" popped up numerous times -- 17% of respondents used it when we asked what they like most about their jobs. Fifty percent said their companies' time-off policies were very good/excellent and 54% gave the same rating for flexible work hours. Somewhat fewer -- 37% -- gave the thumbs up to their company's work from home perk.
Forty-three percent rated their retirement/investment plans as very good or excellent -- which is a good thing as eight respondents listed "retirement" as their dream job. And few are counting on stock option windfalls -- only 18% had options plans.

More measures of job satisfaction
Beyond the bottom line and the benefits, storage pros have certain priorities for what constitutes good data storage jobs and a satisfying career. As noted, flexible work hours and time off go a long way toward building job satisfaction, but beating the clock is only one factor. While salary still tops the list of job choice factors, our respondents are also deeply committed to their current responsibilities and the opportunity to grow in their jobs.

Some of the more favorable aspects of their work include the opportunity to learn new technologies. One respondent said the "challenges and learning new technologies" were one the best parts of the job. Another said they were "learning new technologies day to day" and yet another noted "the challenge of keeping up with multiple technologies." On the flip side, comments such as "lack of new technologies" were listed as least-liked aspects of the job.
Teamwork and cooperation are also important and were a popular topic among the most-liked job features. Respondents gave kudos to their "co-workers, teamwork" and the "people, attitude, team." One flat-out gushed, "The people are fantastic."
Next Steps
Where data storage salaries stood in 2013
A look at salaries for data storage professionals in 2014
How data storage professionals feel about their jobs
Dig Deeper on Storage market research reports