Get started
Bring yourself up to speed with our introductory content.
Fusion-io Inc. ioTurbine
Fusion-io ioTurbine is caching software that targets virtual server environments, redirecting the I/O to enable VMs running on a VMware server to share flash storage.
Fusion-io ioTurbine has been awarded the bronze medal in the storage system software category in Storage magazine's/SearchStorage.com's 2011 Products of the Year competition. Find out about all the top picks by reading our 2011 guide to the best data storage products.

Fusion-io's ioTurbine caching software targets virtual server environments, redirecting the I/O to enable virtual machines (VMs) running on a VMware server to efficiently share flash storage.
Fusion-io's product aims to accelerate the performance of applications such as Microsoft's Exchange, SharePoint and SQL Server, increase the number of virtual machines per physical host server and ease I/O demands on external storage systems.
One judge said ioTurbine "solves a big problem with large virtualization installations." Another described the product as "solid," with no scale limitations and "nice" features. "It works best with Fusion-io PCIe flash, but it's not limited to it," he noted.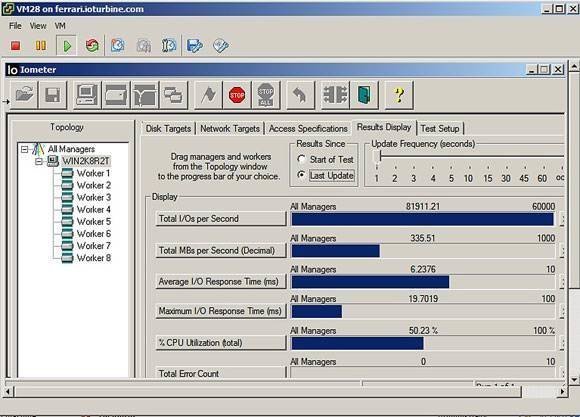 The ioTurbine software runs in the background as a component in the hypervisor and in the guest operating system of a virtualized server. Its tight coupling with the guest operating system's I/O routines enables it to redirect read requests to the server-based flash.
The product allows system administrators to control how flash storage is shared by each VM and assign priority to the virtualized applications that need it most. It can rebalance I/O and adjust the cache size as administrators create new virtual machines, shut down old VMs or migrate VMs between different hosts.
Licenses for the ioTurbine software are $3,900 per physical server.
Find out the other winners in the Storage System Software category.