News
Stay informed about the latest enterprise technology news and product updates.
Fujitsu takes the Quality Award for enterprise storage arrays
In our ninth annual Quality Awards survey for enterprise arrays, Fujitsu didn't just make the cut; it took the cake by earning top honors.
In the Storage magazine ninth annual Quality Awards survey for enterprise storage arrays, Fujitsu didn't just make the cut; it took the cake by earning top honors.
The term enterprise array may be broadly defined these days, but common wisdom says these data center mainstays share at least three prominent traits: a lot of I/O horsepower, ample capacity and a price tag that usually has more digits than a storage manager cares to count.
But even measured against those high expectations, enterprise array vendors don't disappoint their customers, as underscored by our ninth annual Quality Awards user satisfaction survey for enterprise arrays. All the usual suspects were represented and fared quite well, but this year a surprise winner emerged: Fujitsu, featuring its high-end Eternus systems.
Following Fujitsu are a bevy of more familiar players, including EMC Corp., IBM, Hitachi Data Systems, Hewlett-Packard (HP) Co. and NetApp Inc., in yet another typically tight race for rankings. Over the past few years we've seen some fairly high scores for these big iron products, and this year's survey yields similar results.
Overall rankings

Fujitsu's margin of victory over runner-up EMC (0.06) was the smallest we've seen since NetApp nipped EMC by the same margin in the fifth edition of this survey. (EMC and NetApp tied for first on the fourth survey.) Fujitsu's overall score of 6.57 was accrued by snagging the top scores in three of the five rating categories, with one of those wins earned by a mere 0.01 point. IBM and Hitachi prevailed in the remaining two categories, while EMC nipped at all the winners' heels with a consistently competitive set of scores and an overall 6.51 that was just off Fujitsu's mark.
With only 0.07 points separating them, IBM (6.48), Hitachi (6.45) and HP (6.41) were bunched tightly in spots three through five. NetApp, a winner/co-winner of four previous enterprise array survey overall crowns, rounded out the field with a 6.14.
As another indicator of the wall-to-wall quality these products represent, they all earned a score of 6.00 or higher across all rating categories. It's just the second time that has happened with enterprise storage arrays, and a good gauge of customer satisfaction.
For this survey, we had 348 responses that included a total of 602 product evaluations.
By the numbers
6.71: Fujitsu's highest category score (product features), but it placed second to Hitachi's 6.77 (product reliability).
3, 3, 3 : Third highest ever group average scores for sales-force competence, initial product quality and product features.
6.43: The overall average score for all products in the survey; excellent, but still just the fourth highest ever.
Key stat
This is the first time that Fujitsu gained enough responses and product evaluations to qualify as a finalist among enterprise arrays.
Sales-force competence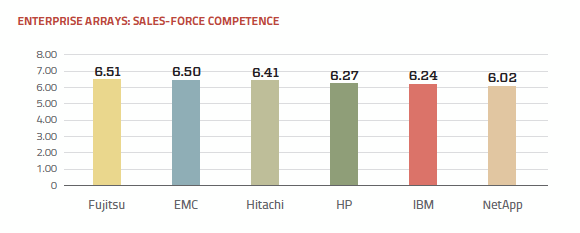 Call it the foot in the door, the first impression or whatever catchphrase best sums up the initial vendor-user experience. How well a vendor's sales force and representatives understand a potential customer's environment and business needs is likely to be one of the key make-it-or-break-it factors for whether that enterprise-class rig ever makes it into the data center.
Fujitsu edged out EMC in the sales-force competence category in a real squeaker, winning by the smallest possible margin, 6.51 to 6.50. Fujitsu prevailed on three of the six rating statements in the category, while EMC scored highest on two; the two vendors tied on a third. For all three statements that Fujitsu won, EMC placed second, and Fujitsu had the second-highest rating for one of the statements on which EMC ranked best -- further demonstrating just how closely contested this category was.
Fujitsu's winning statement scores were for having flexible sales reps, for reps that keep customers' interest foremost and for reps who are easy to negotiate with. EMC's wins came for the statements, "My sales rep is knowledgeable about my industry" and "My sales rep understands my business."
By the numbers
6.75: The highest statement score in the sales-force competence category, earned by EMC and Fujitsu for having knowledgeable sales support teams.
6.41: Hitachi's score was good for third place in this category, highlighted by an excellent 6.71 for a knowledgeable sales support team.
6+: For two statements -- reps knowledgeable about customers' industries and knowledgeable support teams -- all vendors had scores higher than 6.00.
Key stat
A slim margin of 0.02 separated this group's sales-force scores from the best ever mark.
Initial product quality

Users of IBM's enterprise storage ranked their out-of-the-box experience the best -- but only by a small margin, with IBM edging out Fujitsu 6.57 to 6.54. But that difference was even greater than the gap between Fujitsu and third-place HP, which racked up an initial product quality category average of 6.53. IBM outscored the competition on three of the six category statements, while Fujitsu, HP and Hitachi each snagged one.
IBM's strong points were ease of use (6.66), delivering good value (6.55) and having products that require little vendor intervention (6.45). Fujitsu scored 6.71 for "This product was easy to get up and running," and Hitachi's statement leader was 6.75 for "I am satisfied with the level of professional services this product requires." But the highest single statement score was HP's 6.76 for products that install without defects.
All the products scored 6.00 or higher for all rating statements in the initial product quality category, with the third best cumulative average we've seen to date. With so much emphasis these days on the immediate productivity that pre-tested, pre-configured converged systems can offer, it seems vendors are rising to the challenge with enterprise arrays that also install and get up to speed quickly.
By the numbers
6.60: The highest statement average for all products for "This product was installed without any defects."
6.57: IBM's winning category score is the third highest ever for initial product quality, tying Hitachi's mark from last year.
6.39: The group's average for the bellwether statement, "This product delivers good value for the money," which has been exceeded only twice before.
Key stat
Model of consistency: The difference between IBM's best and lowest scores for initial product quality was 0.21.
Product features

When a product meets quality and reliability expectations, even a relatively modest product feature list will be acceptable. But we know that high-end storage systems typically don't lack for features, although our survey focuses on core capabilities. As a group, these products certainly seem well-equipped to meet enterprise requirements, as respondents gave them their second highest category rating (6.50). The leader of the pack was Fujitsu once again, collecting a solid 6.71 to outdistance EMC and IBM who nearly tied at 6.61 and 6.60, respectively.
Fujitsu scored highest on four statements, doing so with the four highest scores for all products in the group, highlighted by a 6.91 for interoperability, a pair of 6.83s for replication and capacity scaling, and a 6.79 for management features that meet users' needs. EMC was the winner of mirroring features (6.78), while IBM captured two statements: the comprehensive "Overall, this product's features meet my needs" statement (6.78) and snapshot features (6.53).
HP, Hitachi and NetApp also did well in the product features category; HP scored best on the overall features statement, Hitachi's top mark was for capacity scaling and NetApp logged a 6.52 for snapshots.
By the numbers
3rd: The group's across-the-board average of 6.50 for the product features category was the third highest ever.
6.61: These products are apparently handling growing capacities very well as they earned their best average mark for capacity scalability.
6.38: Interoperability is still an iffy proposition; the group had its lowest average for this feature and four of the six products posted their lowest scores for interoperability.
Key stat
There has never been an enterprise array line that has won the overall Quality Award without also winning (or co-winning) the features category.
Product reliability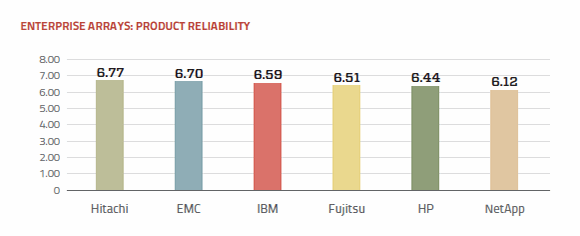 A satisfying sales process, great out-of-the-box experience and cool features won't add up to much if the array doesn't stay up and running. The five rating statements in the product reliability category measure how well products meet those expectations. There are apparently very few sleepless nights for Hitachi users, who rated their products so highly for reliability that Hitachi prevailed on four of those statements and came in second on the fifth. EMC took the fifth statement honors (a 6.85 for meeting service levels) and was second to only Hitachi on three of the others (IBM was second for providing comprehensive upgrade guidance).
Hitachi flirted with a 7.00 score but settled for an impressive 6.98 for "This product experiences very little downtime." Hitachi's other leading grades were for upgrade guidance (6.76), non-disruptive patching (6.69) and requiring few unplanned patches (6.60).
IBM (third place) and Fujitsu (fourth) also fared well in the product reliability category. IBM achieved its best mark for meeting service-level requirements (6.74) and Fujitsu's high grade (6.71) was picked up for the same statement.
By the numbers
6.65: The group's two highest averages for all products were a couple of 6.65s for meeting service-level requirements and products that have very little downtime.
6.52: The group's overall average for reliability was its highest in the survey -- that has happened in eight of the nine enterprise array surveys fielded to date.
Key stat
This is the sixth time Hitachi has scored highest for product reliability on the Quality Awards for enterprise arrays.
Technical support

We've said it many times before and it's still true: Good technical support can help a user overlook a multitude of shortcomings in a storage product. No matter how dependable the product, timely tech support is always welcome.
Fujitsu was back on top with the tech support category, scoring a 6.57 to give it a fair lead over a tightly bunched pack led by IBM and with HP, EMC and Hitachi all doing some heel nipping. Fujitsu scored highest on six of the eight statements in this category, with its best marks for knowledgeable support personnel (6.79), support issues that rarely require escalation (6.71) and having knowledgeable third-party partners (6.61).
IBM topped the group for documentation and support materials with a 6.52, while EMC had the other winning statement score for supplying support as contractually specified (6.66). Third-place HP's best showing was a 6.58 for knowledgeable support personnel, and fifth-place Hitachi's best rating came for "Vendor supplies support as contractually specified" (6.58).
By the numbers
6.54: The group's highest average score was for the statement, "Support personnel are knowledgeable."
6.14: The lowest average score for this group of enterprise arrays was for providing adequate training -- a traditional bugaboo for vendors on these surveys.
6.57: Fujitsu's winning category score was bettered only four previous times -- twice by NetApp, and once each by Hitachi and IBM.
Key stat
IBM and Hitachi have each earned the highest scores for enterprise array technical support three times. (NetApp has prevailed twice.)
Would you buy this product again?
Go figure; Fujitsu is the overall winner for user ratings in five categories, but trails most of the rest of the field on the "add-on" question, "All things considered, I would buy a [name your product] again." Of course, in this case, the difference from top to bottom is a mere 8 percentage points, and any vendor would probably be delighted with an 80-something percent satisfaction rate. Still, it's hard to explain the "buy again" numbers on many of these surveys, with familiarity seeming to be a leading factor. With that said, our hats are off to EMC, IBM and HP for finishing one-two-three on this question.
About the author:
Rich Castagna is editorial director of TechTarget's Storage Media Group.