Formation Data Systems FormationOne
Formation Data Systems' FormationOne scores in value, innovation and functionality to take silver in server-based storage in the 2016 Products of the Year competition.
Silver winner in the Storage magazine/SearchStorage.com 2016 Products of the Year Server-Based Storage category.
Startup Formation Data Systems snared the silver award with a new software-defined storage product that supports block, file and object storage.
The FormationOne software tied for first place in value and shared second place in innovation and functionality among 12 finalists in the server-based storage category, based on average scores from the competition's judges.
CEO Mark Lewis, a former CTO at EMC, founded Formation Data Systems in September 2012. FormationOne's distributed, fault-tolerant architecture underwent more than two years of customer testing before the product's general release in March 2016.
The Formation software-defined storage runs on commodity x86 servers and dynamically tiers virtual volumes across SSDs and HDDs. The product's unified connector design provides interfaces for block (iSCSI), file (NFS), object (Amazon S3) and Hadoop Distributed File System (HDFS).
"Very interesting and innovative solution, if it delivers to all the requirements it promises," one judge commented.
"Functionality is impressive," another judge wrote.
One key feature, TimeLine, provides transactional data journaling (continuous data protection) with integrated snapshots and clones, and enables customers to recover data from any point in time. FormationOne's quality of service, called PriorityOne, allocates and prioritizes I/O to specific application workloads -- within configured performance thresholds -- based on policies.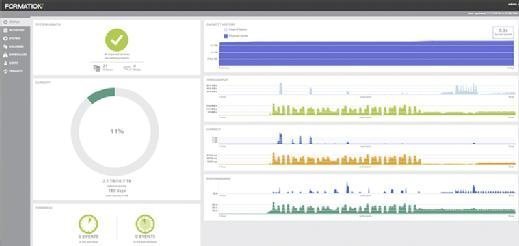 Additional enterprise storage capabilities include single-origin inline data deduplication to reduce the storage footprint and FireBreak anomaly detection analytics to spot performance problems and security issues. Virtual Storage Recapture discovers, pools and repurposes unused flash- and disk-based storage capacity in VMware virtual servers, VM-attached arrays and hyper-converged systems.
"Interesting concept to unlock trapped storage for archive use case," a judge wrote. "They should see traction, but the addressable market might be limited with newer [hyper-converged infrastructure] architectures coming on board."
FormationOne software-defined storage uses a subscription-based pricing model. The annual price of $50 per terabyte per year includes all software plus maintenance. Discounts are available for high-capacity configurations.
Customers are responsible for supplying x86 compute nodes. Formation's compatibility list includes Cisco, Dell, Hewlett Packard Enterprise, Huawei, Lenovo, Quanta and Supermicro. The FormationOne software can scale out to hundreds or potentially thousands of nodes.
Next Steps
Q&A with Formation Data CEO
data storage startups to watch
Vendors enter software-defined storage market