Get started
Bring yourself up to speed with our introductory content.
File storage capacity key to new NAS purchase
Thinking of making a new NAS purchase? Learn the requirements of your storage peers and the criteria they use to evaluate a storage vendor.
The need for more file storage capacity is the main reason for considering a new NAS purchase for more than half (55%) of our survey respondents. And those who aren't running out of room are running out of horsepower for the file storage environment, with 42% citing a need for better performance. Other key considerations are the need to replace aging systems (40%), the requirements of a specific application (38%) and deploying a new backup target (32%).
Whatever the motivation, the new NAS is likely to be pretty hefty, with respondents indicating that they planned to buy an average of 181 TB of NAS capacity. And some are even pushing well beyond that figure: nearly a third (32%) noted that their new NAS boxes will house more than 200 TB. Whatever size NAS gets installed in our respondents' shops, they're already preparing for growth at an annual average rate of 22%.
Survey respondents have pretty specific requirements in mind for their anticipated NAS acquisitions. Half (50%) noted that the ability to scale capacity and performance separately is a critical feature, while 40%rated a storage array's file system size as critical, just ahead of support for both NFS and CIFS (SMB 3.0).
Sixty-eight percent of respondents will hook up their new gear to 10 Gbps Ethernet LANs, and a handful of speed jockeys (8%) will plug their NAS into 40 Gbps Ethernet networks. But almost a quarter (24%) will have to work with somewhat pokey 1 Gig networks.
Any buying decision goes beyond just checking off boxes on a features list; it's also about the vendor offering the product. Our NAS shoppers are price conscious, with 65% stating that it's a key factor for evaluating a vendor. Among other non-product-specific criteria, tech support loomed large for 41%. And some NAS buyers are clearly frontrunners, with 22% claiming they'd consider a vendor that's a market leader.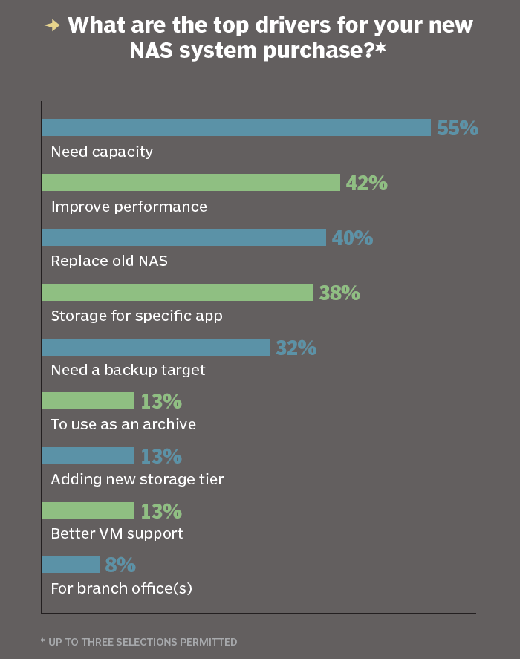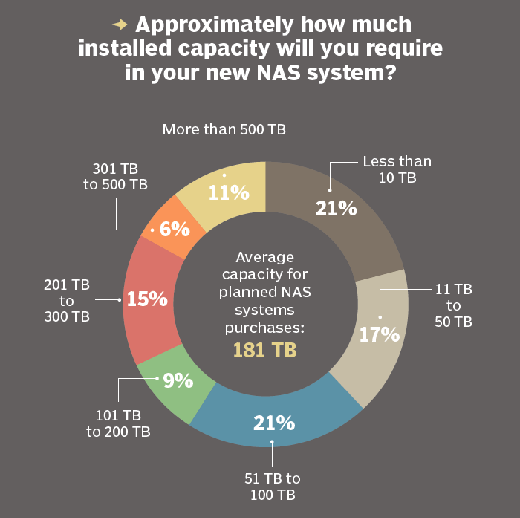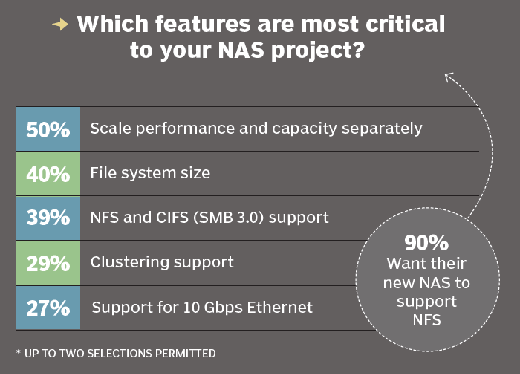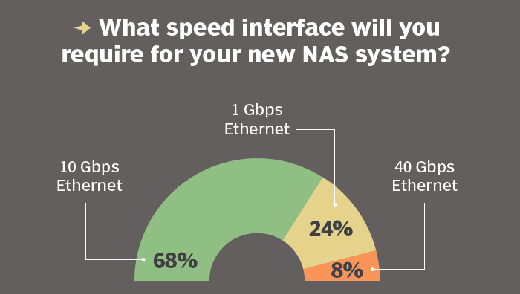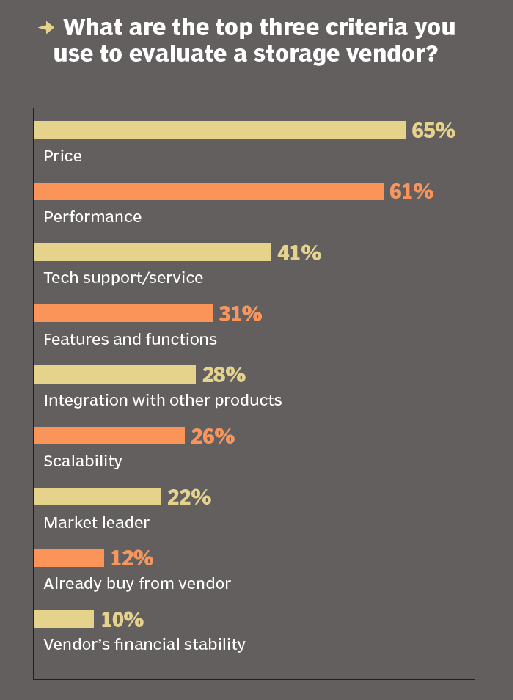 About the author:
Rich Castagna is TechTarget's VP of Editorial/Storage Media Group.