Evaluate
Weigh the pros and cons of technologies, products and projects you are considering.
Evaluating midrange systems to meet your data storage needs
Midrange systems account for nearly half of storage array purchases. With so many choices, it's important to match your needs to product capabilities.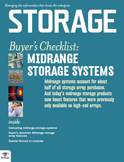 Midrange systems have been the dominant class of storage arrays for many years. Straddling low-end arrays and high-end enterprise systems, these iSCSI, Fibre Channel (FC) and network attached storage (NAS) systems range from just a few terabytes of capacity to hundreds of terabytes, with prices starting as low as $20,000 and climbing to several hundred thousands of dollars. They include many of the features, such as replication and snapshots, that were once only available on high-end enterprise products. As a result, the midrange array segment has been able to expand into the lower reaches of the high-end storage market.
"Midrange arrays are growing into the enterprise space and the high end disappears into a smaller market; in other words, we're seeing a marginalization of the real high end," said Mark Peters, a senior analyst at Enterprise Strategy Group (ESG) in Milford, Mass. Offered by both large storage vendors that also sell high-end storage systems and smaller vendors, there's a wide variety of midrange offerings that differ greatly in architecture, scalability, expandability, performance and features.
TABLE OF CONTENTS FOR BUYER'S CHECKLIST: MIDRANGE STORAGE SYSTEMS
Evaluating midrange systems: Before choosing a midrange system for your data storage environment, you'll need to learn the pros and cons of the two main types of midrange systems -- dual-controller and scale-out storage -- to find the midrange system array architecture that's right for your organization. You'll then need to determine if your new array should support block, file storage or both in the form of a NAS gateway. Disk choice is next on the to-do list. Midrange systems should support both high-performance and high-capacity drives within a single enclosure. Finally, you'll need to endure that your midrange system performs with uninterrupted availability.
Midrange storage array features: This chart explains the importance of midrange array features -- architecture, supported storage protocols, unified storage support, support for both high-performance and high-capacity disks within a single enclosure, solid-state drive (SSD) support, fully redundant system, RAID options, data protection options, thin technologies, data reduction technologies, virtualization and ease of management -- and what your options are for each one.
Special factors to consider: Tips on figuring out the bottom line when it comes to fees, studying the technical support provided by vendors and the importance of investigating product roadmaps.
Money-saving features: Find out how "thin" technologies, compression and deduplication, virtualization and simplified management/ease of use can save you money.
BIO: Jacob Norbel Gsoedl is a freelance writer and a corporate director for business systems. He can be reached at jgsoedl@yahoo.com.