Share this item with your network:
Managing and protecting all enterprise data

kovaleff - Fotolia
EMC, Dell and NetApp top NAS storage systems satisfaction survey
Our ninth annual survey collected user feedback regarding the service and reliability of NAS storage systems.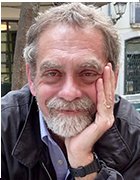 By
The bloom may be off the rose for NAS storage systems, which enjoyed a long stretch as the darlings of data storage...
Continue Reading This Article
Enjoy this article as well as all of our content, including E-Guides, news, tips and more.
shops. Over the nine years we've been fielding Quality Awards surveys to gauge user satisfaction with storage vendors' NAS products, ratings were uniformly high, and typically higher than the overall ratings of other types of storage systems. But while our most recent group of midrange and enterprise NAS products scored well, their numbers were down from previous years.
That may be fallout from the spiraling growth of file data. With many companies struggling to keep up with new capacity demands, perhaps NAS systems are just being subjected to greater scrutiny than before.
That said, there still weren't any slouches in our enterprise or midrange groups of NAS products. Among the six enterprise finalists, EMC and Dell dueled to a statistical dead heat, separated by the slimmest possible margin -- just 0.01 point.
NetApp, practically the poster child for NAS systems for years, prevailed among the five midrange finalists with a relatively comfortable distance between it and second-place EMC.
All told, 574 users completed our survey, providing a total of 608 product line evaluations.
About the survey
The Storage magazine/SearchStorage.com Quality Awards are designed to identify and recognize products that have proven their quality and reliability in actual use. The results are derived from a survey of qualified Storage/SearchStorage.com readers who assessed products in five main categories: sales-force competence, product features, initial product quality, product reliability and technical support. Products are rated on a 1.00 to 8.00 scale, where 8.00 is the most favorable score. This is the ninth edition of the Quality Awards for NAS systems; there were 574 valid responses to the survey providing 608 sets of ratings for vendors' products/product lines.
Products in the survey
These products were included in the Quality Awards for NAS survey. The number of responses for each finalist is shown in parentheses.
Enterprise NAS systems
● DataDirect Networks NAS Scaler/GRIDScaler/EXAScaler (22)
● Dell PowerVault NS-480/Compellent FS8600 (NAS)/EqualLogic FS7500/FS7600 (NAS) (43)
● EMC VNX 5000/7000/8000 NAS or Isilon X-Series (97)
● Hewlett-Packard StoreEasy 3000/5000, StorageWorks EFS Clustered Gateway or StorageWorks X5000/X9000 Storage Systems (43)
● Hitachi Essential NAS Platform 1000 Series or HNAS Platform 3000/4000 Series*
● IBM N6000/N7000, Scale Out Network Attached Storage (SONAS) or Storwize V7000 Unified (23)
● NetApp FAS6000 (with NAS interface) (53)
● Oracle ZFS Storage ZS3-4 or Oracle Sun Storage 74xx Unified Storage System (with NAS)*
● Panasas Inc. ActiveStor 14 Series/16 Series*
Midrange NAS systems
● Coraid EtherDrive ZX*
● Dell PowerVault NX Series (48)
● EMC VNXe 3000 Series NAS or Isilon S-Series (47)
● Exablox OneBlox*
● Hewlett-Packard StoreEasy 1000 Storage, StoreAll 8000/9000 or StorageWorks X300/X500/X1000/X3000 Network Storage Systems (32)
● Hitachi HUS 100 Series with NAS Option or HNAS AMS2000/1000/500/200, WMS100 with NAS Option*
● IBM N3000 or N5000 (35)
● NetApp FAS2000, FAS3000/3100 (all with NAS interface) (80)
● Nexsan NST4000/NST5000/NST6000 (with NAS interface)*
● Oracle ZFS Storage ZS3-2 or Oracle Sun Storage 71xx/72xx/73xx Unified Storage System (with NAS)*
● Overland SnapServer DX1/DX2/XSD 40/XSR 40/XSR 120/SnapScale X2/X4*
● Panasas Inc. ActiveStor 7 Series/8 Series/9 Series/11 Series/12 Series*
● Synology RackStation RS3412xs/RS3614 Seriesxs*
*Received too few responses to be included among the finalists
Overall rankings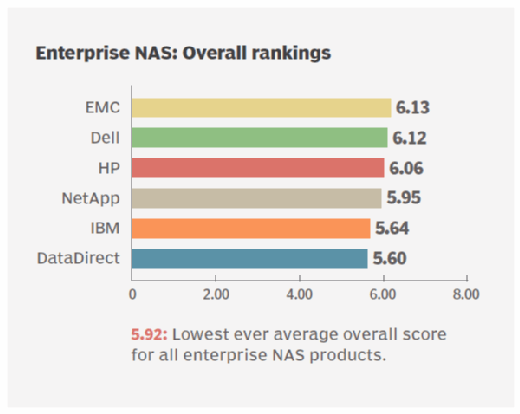 Enterprise: This is the third time in the last five years that EMC has risen to the top of the enterprise NAS field -- but this time it has very close company in Dell. The overall average scores of the two firms were so nearly identical, with EMC's 6.13 just a whisper above Dell's 6.12, that it would be appropriate to crown them co-winners. EMC built its overall score by leading the group in three of the five rating categories; Dell took honors in one category and again trailed EMC by a mere 0.01 in another. Both Dell and EMC earned 6.00-plus scores in four of five categories. With an overall rating of 6.06, Hewlett-Packard (HP) was right on the heels of the two leaders, with the top mark in one category and two second-place finishes in other categories.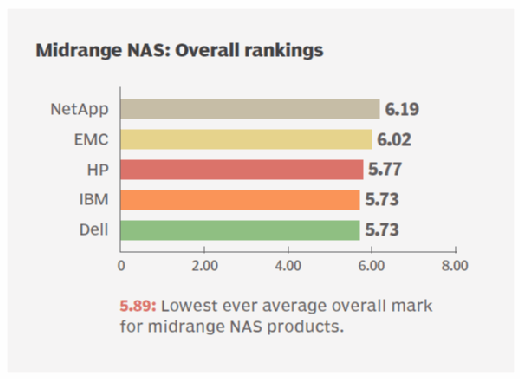 Midrange: NetApp is back in the winner's circle after a hiatus that saw four other midrange NAS storage system vendors triumph after NetApp finished on top in each of the first three surveys. NetApp's overall rating of 6.19 was the highest of any midrange or enterprise product line in the survey. The firm's winning margin doesn't reflect how dominant it was, as it earned the best grades in four of the five rating categories; one just-barely sub-6.00 score (5.94) for sales-force competence kept NetApp from posting 6.00-plus marks across the board. EMC led in the final category and scored 6.00 or better in three other categories. HP, IBM and Dell were bunched together with scores just 0.04 points apart to round out the midrange quintet. Among those three, HP was the only one to post a 6.00-plus total for any single category.
Sales-force competence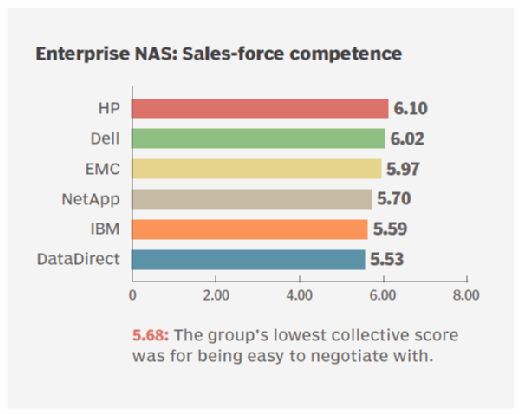 Enterprise: Sales-force competence measures how responsive vendors are to customers' needs and how much of a partnership they can build during the sales process. Unfortunately, our current group's scores in this category are among the lowest earned in any rating category. HP was a notable exception, as its 6.10 score led the group, followed by Dell (6.02) and EMC (5.97). HP scored best on three of the six rating statements, including having flexible sales reps (6.18), keeping users' interests foremost (6.09) and understanding users' businesses (6.07). The other three statements were won by three different vendors: EMC for knowledgeable sales support teams (6.57), Dell for sales reps who know customers' industries (6.28) and NetApp for reps who are easy to negotiate with (5.89).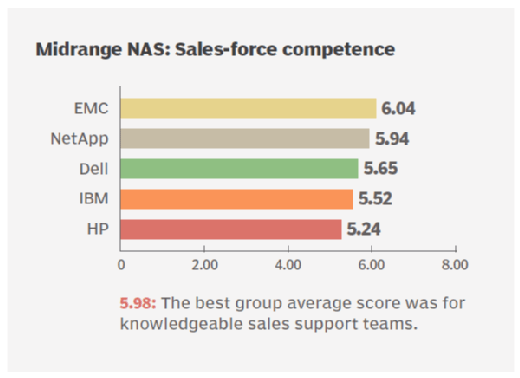 Midrange: EMC broke NetApp's category dominance by netting the best mark -- 6.04 -- for sales-force competence. EMC bested the bunch on four of the six statements, with NetApp snagging the other two. EMC's strength was for flexible sales reps (6.16), knowing about customers' industries (6.09) and businesses (5.86), and keeping customers' interests foremost (5.86). NetApp received the highest statement score (6.44) for its knowledgeable sales support teams, and it also bucked the trend by putting up a solid 5.96 for its willingness to negotiate. Dell didn't post any scores above 6.00, but was consistent on all statements, highlighted by a couple of 5.80s for the flexibility and knowledgeable support team statements. After four years of exceptional scores in this category, the midrange group was saddled with a so-so overall average of 5.68.
Initial product quality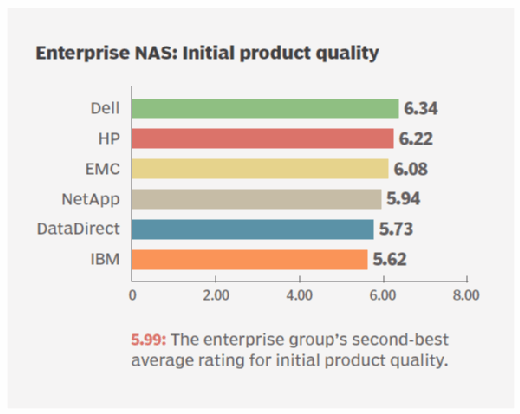 Enterprise: The enterprise NAS group fared much better at creating good first impressions, with Dell rising to the top in the initial product quality category. Only Dell and second-place HP finished with all above-6.00 scores on all rating statements, but third-place EMC did well at 6.08. Dell's high marks included a 6.71 for products that install without defects and a 6.54 for the bellwether statement "This product delivers good value for the money." HP was the group leader for products that are easy to use (6.45) and tied with Dell for products that require very little vendor intervention. EMC's statement win (6.21) came for "This product was easy to get up and running." NetApp's 5.94 category score put it within reach of the top three; its best tally -- 6.34 -- was for installing without defects.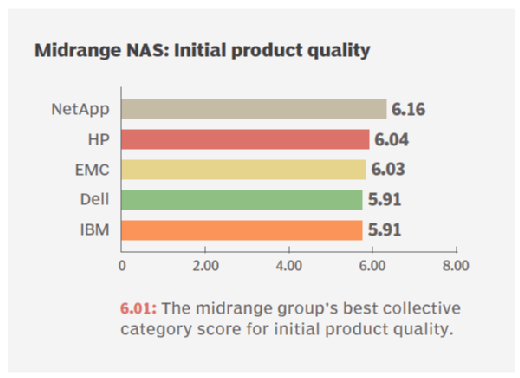 Midrange: All five midrange finalists posted solid scores for initial product quality, with NetApp (6.16) at the top and the other four closely packed with scores ranging from 6.04 for HP to a 5.91 netted by both IBM and Dell. NetApp was the only vendor to score 6.00 or higher on all six category statements, with leading scores for installing without defects (6.48) and products that are easy to get up and running (6.20). Second-place HP had a group-best 6.19 for products requiring little vendor intervention, and EMC led for ease of use (6.18) and for products that deliver good value for the money (6.23). IBM, which tied with Dell for fourth place, had the best mark in the group (6.27) for the statement "I am satisfied with the level of professional services this product requires."
Product features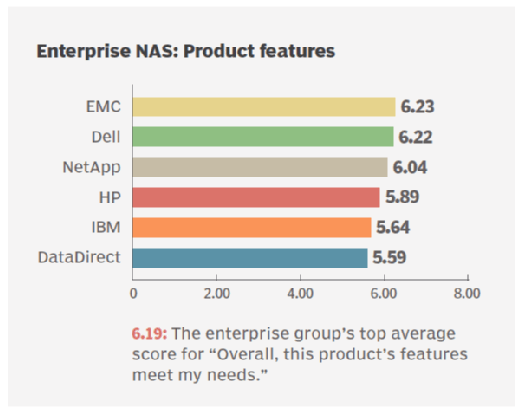 Enterprise: EMC and Dell went toe-to-toe again in the product features category, and finished in an effective dead heat at 6.23 to 6.22. EMC had the best showing on four of the seven rating statements and Dell was the top finisher on two, but Dell led the group for most statement scores above 6.00 with six. NetApp snapped up the last statement scoring laurels and rolled up a 6.04 for a third-place finish. EMC had the best single statement score -- 6.59 -- for "Overall, this product's features meet my needs," complemented by a 6.49 for its products' scalability and a 6.29 for management features. Dell's leading grades were for remote replication (6.51) and snapshotting features (6.33). NetApp's highlight was a 6.40 for "This product's mirroring features meet my needs."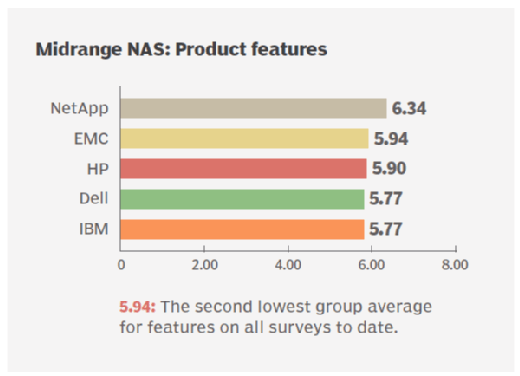 Midrange: NetApp enjoyed its widest winning margin for features, outdistancing second-place EMC 6.34 to 5.94. HP followed closely with a category score of 5.90. NetApp cruised to victory in style, capturing the highest grades on all seven category statements. Its best rating (6.53) was for snapshots, long a NetApp hallmark feature, but its second highest score was for the key statement "Overall, this product's features meet my needs." NetApp's other notable tallies were for replication (6.35), management (6.34) and capacity scaling (6.33). In the shadow of NetApp's dominating performance, EMC still notched some very healthy marks: 6.16 for capacity scaling, 6.13 for features that meet overall needs and a 6.02 for interoperability. HP's category rating of 5.90 put it in third place, earned by scoring between 5.90 and 5.94 on six of the seven rating statements.
Product reliability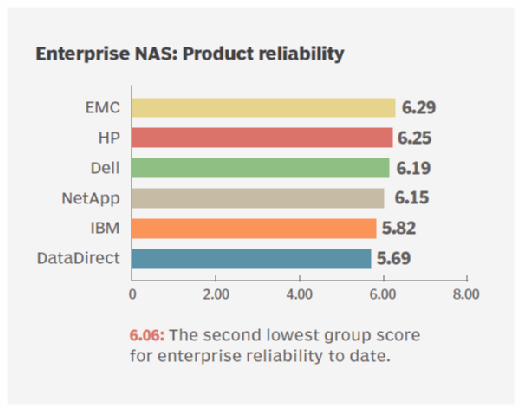 Enterprise: Product reliability was a hotly contested rating category, with EMC and HP gaining top honors on two statements apiece, Dell taking one and NetApp tying on another. When the dust settled, EMC's totals came out on top; its 6.29 nudged out HP's 6.25, with Dell (6.19) and NetApp (6.15) close behind. EMC's group best of 6.69 was earned for "This product experiences very little downtime" along with a 6.52 for meeting service-level requirements. HP's two wins were for providing comprehensive upgrade guidance (6.33, which NetApp also earned) and for requiring very few unplanned patches. Dell topped the charts with its 6.17 tally for providing patches that can be applied non-disruptively. This was the enterprise group's strongest category, with an overall average of 6.06.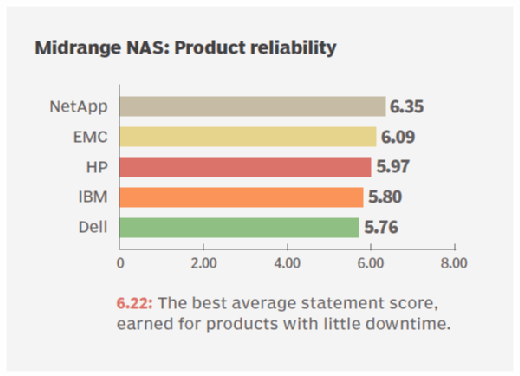 Midrange: NetApp posted yet another win for midrange NAS product reliability, albeit with a somewhat smaller margin: a 6.35 to second-place EMC's 6.09. The slightly smaller margin might be deceiving, however, as NetApp once again rolled through the category with the best scores on all five statements. NetApp's top tally was an impressive 6.60 for products that experience very little downtime; the vendor added a pair of 6.35s for meeting service-level requirements and requiring few unplanned patches. Second-place EMC missed out on posting all above-6.00 scores by one statement, but received a solid 6.24 for the downtime statement and a 6.13 for meeting service-level requirements. HP also did very well on the downtime rating (6.29) and added a couple of 6.00s for the statements on service-level requirements and unplanned patches.
Technical support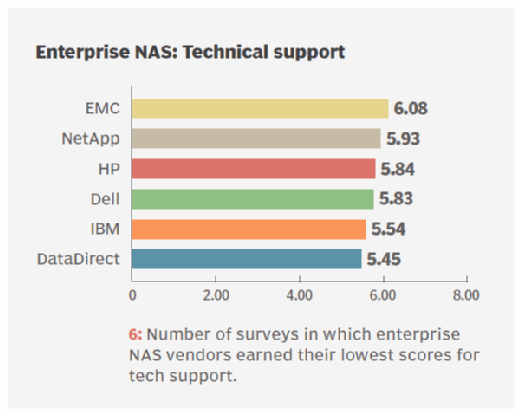 Enterprise: Technical support may ultimately determine a user's overall satisfaction with a product. That should be good news for EMC, the only vendor to tally a score over 6.00 for this critical category. EMC's leading 6.08 was built by winning six of eight statements, with second-place NetApp and fourth-place Dell each netting one. EMC's best mark -- 6.51 -- was secured for the key statement "Vendor supplies support as contractually specified." EMC's other highlights were for taking ownership of problems (6.16) and having knowledgeable third-party partners (6.06). NetApp did very well with a 6.34 for documentation and supporting materials, a statement that typically pulls down vendor scores. And Dell made its mark with a notable 6.29 for its knowledgeable support personnel.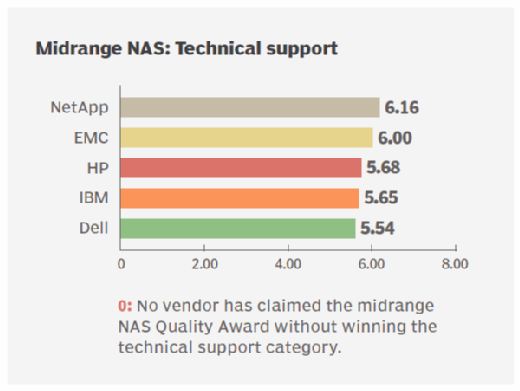 Midrange: NetApp's final category victory was for midrange NAS technical support, as its 6.16 bested EMC (6.00) and HP (5.68). IBM, traditionally strong in the tech support category, was a close fourth with a 5.65. But NetApp convincingly took top honors on five of the eight rating statements, with its best showings for delivering support as promised (6.48), knowledgeable support personnel (6.32) and knowledgeable third-party partners (6.31). EMC's statement winners were for taking ownership of problems (6.20) and providing adequate training (5.91). IBM prevailed on the final statement, notching a 5.97 for "Support issues rarely require escalation." As a group, the best average score was a 6.01 for having knowledgeable support personnel.
Would you buy this product again?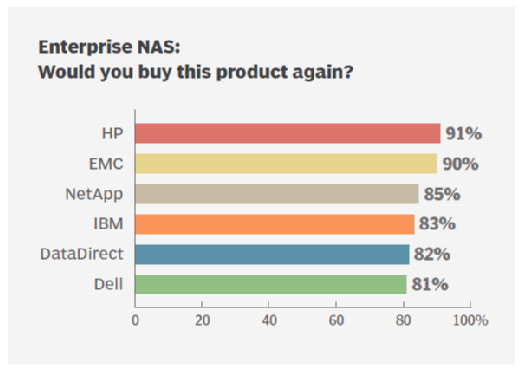 Enterprise: All our enterprise NAS systems have loyal customers, and each vendor earned at least an 81% buy again rating. HP users appear to have the strongest ties to their vendor as 91% said that given what they now know, they would buy that HP system again. And the two vendors that won the overall ratings category score -- EMC and Dell -- can also boast significant user loyalty.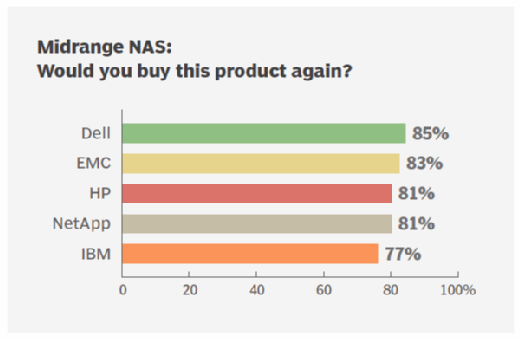 Midrange: For the midrange NAS group, customer loyalty may be a bit less fervent, but the vast majority of buyers were satisfied enough to want to come back again for more. Ratings leader NetApp tied for third with HP with 81% of their users saying they would buy the product again. At 85%, Dell once again demonstrated some staunch customer loyalty, as did EMC (83%) which finished second in the category ratings.
About the author:
Rich Castagna is TechTarget's VP of Editorial/Storage Media Group.
Dig Deeper on Storage market research reports