Disk and disk subsystems finalists 2007
Here are the finalists in the category of disk and disk subsystems for the 2007 Products of the Year competition conducted by SearchStorage.com and Storage magazine.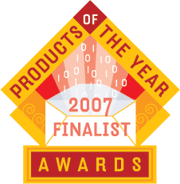 Here are the ten finalists in the disk and disk subsystems category for the 2007 Products of the Year competition. They are listed alphabetically by vendor.
American Megatrends Inc. (AMI)
StorTrends 3200i (with StorTrends iTX 2.7 software)
Intended for SMBs, this all-in-one appliance can provide block storage (iSCSI) and file storage (NAS). A rich feature set includes snapshots, synchronous and asynchronous replication, continuous data protection (CDP), Information Lifecycle Management (ILM), Wide Area Data Services (WADS) with WAN optimization. SATA and SAS drives are supported with capacities to 112 TB.
Applied Micro Circuits Corp.
3ware 9600 Series
Designed to boost data protection performance, this RAID controller runs two simultaneous parity calculations for RAID 6 (dual parity) operation. The controller also provides ample internal and external connectivity for both SAS and SATA drives.
Compellent Technologies Inc.
Storage Center SAN (version 3.6 with NAS)
This NAS system touts support for Storage Server 2003 along with a rich suite of management features, including virtualization (Virtual Disk Service Manager), single instance storage, automated tiered storage, remote replication, thin provisioning and continuous snapshots.
EMC Corp.
Celerra NS20
This versatile entry-level multi-protocol storage system connects to storage networks through NAS, iSCSI or Fibre Channel SAN. Notable features include automated volume management, snapshots, thin provisioning and high availability for important applications.
Hifn Inc.
Swarm 3000 Encrypted IP SAN Appliance
Intended for remote office/branch office (ROBO) use, this secure IP storage (iSCSI) appliance highlights high storage capacity plus encryption along with storage consolidation, centralized management, automation features. Data protection is implemented with RAID 5/6, snapshots and integrated backup.
Hitachi Data Systems (HDS)
Universal Storage Platform V
This disk array attracted our attention for its consolidation and virtualization capabilities, managing up to 332 TB of Fibre Channel or 864 TB of SATA disk internally -- managing up to 247 PB enterprise-wide. The enterprise-class virtualization layer includes this provisioning software, and can aggregate internal and external storage into a single heterogeneous pool.
Network Appliance Inc.
FAS2000 Series
A noteworthy group of storage systems intended for mid-sized and distributed enterprises touting high-end features including integrated block and file access over multiple protocols including FCP, iSCSI, NFS, and CIFS. The units also sport active-active clustering, data protection and disaster recovery capabilities. The FAS2000 family supports SATA and SAS drives.
Seagate Technology LLC
Momentus 5400 FDE.2
This 2.5-inch SATA hard drive is intended for notebooks and other small profile computing systems, but it incorporates AES encryption on the drive itself -- a particularly notable feature for mobile employees. The entire drive is protected at interface speeds, so data I/O performance is not impaired.
STEC Inc.
ZeusIOPS Solid State Drive
This is an interesting solid state disk drive (SSDD) design with high storage capacities and I/O performance. The 512 GB disk model is particularly large for a solid state offering, and touts performance up to 52,000 transactions per second for performance-sensitive applications.
Xiotech Corp.
Magnitude 3D 4000s
This new disk array combines virtualization and clustering for ease-of-use and reliability for up to 168 TB. Performance is improved by striping volumes across multiple disks in the system. The array touts improved management that offers automated storage provisioning.