Share this item with your network: BACKGROUND IMAGE: iSTOCK/GETTY IMAGES
Managing and protecting all enterprise data

iSTOCK/GETTY IMAGES
Evaluate
Weigh the pros and cons of technologies, products and projects you are considering.
Dell nips NetApp for top midrange storage array vendors honors
Dell beat out NetApp in a seesaw battle to lead another strong field in the eighth Quality Awards for midrange storage array vendors.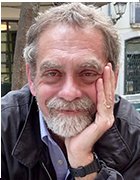 By
Dell Inc. beat out NetApp Inc. in a seesaw battle to lead another strong field of midrange storage array vendors in Storage magazine's eighth Quality Awards survey.
Over the course of eight years of annual Storage magazine/SearchStorage.com Quality Awards, users have registered their satisfaction with their midrange storage array vendors by consistently rating them highly in all evaluation categories. This year is no exception. Dell Inc. managed to edge out NetApp Inc. in a very tight competition, and all seven finalists once again racked up solid scores.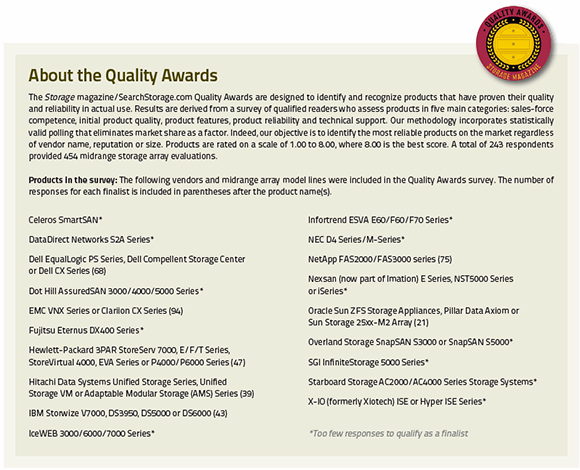 Midrange arrays are in the "sweet spot" of networked storage. They boast enough performance and capacity to handle all but the most demanding of enterprise applications, but they also offer a reasonable entry point with room to grow for smaller and midsized companies. In our annual Storage Purchasing Surveys, midrange storage arrays have figured prominently in purchasing plans, accounting for nearly half of all storage system spending. Over the years, the midrange segment has grown and the products have added high-end features previously only available on the most expensive enterprise arrays.
OVERALL RANKINGS

Dell and NetApp waged a seesaw battle through the five rating categories in our survey. Ultimately, Dell prevailed with an overall 6.80 rating based on a consistent set of scores that was good enough to place first or second in each category. But NetApp was hardly a slouch, matching Dell's feat of all first and second finishes en route to an overall score of 6.75.
NetApp took top honors in the sales-force competence, product features and product reliability rating categories; Dell led the group for initial product quality and technical support. Dell managed to overcome NetApp's three-to-two category advantage by winning its two categories by fairly substantial margins.
But there were solid performances from the other finalists, too. EMC Corp. (6.56), Hitachi Data Systems (6.46) and Hewett-Packard (HP) Co. (6.42) all demonstrated similar consistency on their paths to overall scores that were high enough to have been winners in past surveys.
Of the previous seven Quality Awards, Compellent came out on top on two, EqualLogic nabbed one and Dell scored highest on another -- so Dell's win this year isn't so surprising considering its shrewd acquisitions over the past few years.
By the numbers
Dell had the highest single category score, a 6.99 for initial product quality.
Dell "lost" three rating categories to NetApp but by a total of only 0.09 points.
The average overall score for all seven finalists was 6.40, which was the third highest ever recorded for midrange arrays.
Key stat
0.05: Dell's overall winning margin over NetApp; four of the last seven midrange Quality Awards were decided by 0.05 points or fewer.
SALES-FORCE COMPETENCE

NetApp netted the highest score in the sales-force competence rating category, edging out Dell by 0.01. Dell had the highest scores on three of the six statements in the category, Net-App was tops on two statements and EMC had the best rating on the last. But the NetApp victory was the result of consistency, as it ranked second on three of the four statements that it didn't manage to win.
Dell had the highest single statement score, a 6.97 for "The vendor's sales support team is knowledgeable." Midrange vendors should pat themselves on the back for providing such effective sales support, as there were high scores across the board for the statement, including HP's second-place 6.80 rating, followed by NetApp (6.78) and EMC (6.75).
NetApp's highest category score was earned for "My sales rep is flexible" (6.71); its other winning statement was for having reps that understand customers' businesses (6.62).
EMC nosed out NetApp (6.74 to 6.72) for having sales reps knowledgeable about their customers' industries.
Dell's other two statement-leading scores were for having reps who are easy to negotiate with (6.64) and for the statement "My sales rep keeps my interests foremost" (6.52).
By the numbers
NetApp's sales-force competence scores were very consistent, ranging from a high of 6.78 (knowledgeable sales support team) to 6.42 (reps who keep customer interests foremost).
EMC won "My sales rep is knowledgeable about my industry" with a 6.74, but its highest category score was for the knowledgeable support team statement (6.75).
All the vendors can boast of having smart sales support teams, as that statement earned the highest average across all vendors (6.51).
Key stat
6.11: The lowest across-the-board average earned on "My sales rep keeps my interests foremost."
INITIAL PRODUCT QUALITY

Easy implementation has always been a hallmark of midrange arrays, and a key reason they appeal to large and smaller businesses alike. The initial product quality rating category assesses how quickly and effectively a new midrange system can be put into service. Midrange storage array vendors have proven their implementation mettle, with this category receiving the highest average marks in seven of eight Quality Awards surveys to date.
The current set of finalists continues that legacy, led by Dell's impressive 6.99 category score. Dell rated highest on five of the category's six statements, with 7.00-plus scores for ease of use (7.04), products that require little vendor intervention (7.04), and being easy to get up and running (7.02). Dell just missed 7.00 scores for the other three statements, with ratings ranging from 6.91 to 6.98 all adding up to a remarkably consistent performance.
Second-place NetApp was hardly a slouch, with a leading 7.03 for "This product was installed without any defects," a 6.86 for products that require an acceptable level of professional services and a 6.82 for requiring little vendor intervention.
EMC wasn't off the pace by much, netting a solid 6.67 for third place, with Hitachi (6.49) and HP (6.46) neck-and-neck and just behind.
By the numbers
The highest group average for any statement was 6.67 for "This product was installed without any defects."
Dell racked up an excellent 6.97 for the key statement "This product delivers good value for the money."
But the statement earned the lowest group average (6.35) in this category.
Key stat
6.99: Dell's rating for initial product quality was the highest category rating in this edition of the Quality Awards.
PRODUCT FEATURES

A satisfying sales experience and an easy implementation are great ways to start a relationship with a midrange array, but eventually you'll settle into daily operations and the product's features will take center stage. Of course, if a product rates highly in all the other Quality Awards categories, coming up a bit short feature-wise might be overlooked. But in our surveys, midrange systems have traditionally shown strength for their feature sets.
NetApp led the field for features ratings, garnering a 6.71 that put it just ahead of Dell's 6.67 and HP's 6.61. The top statement scores were shared by more vendors in this category than any other, with NetApp leading on three statements, Dell on two, and HP and Hitachi with one each.
NetApp's win came on the strength of its group-leading scores of 6.82 for capacity scaling, 6.76 for data mirroring and 6.74 for its overall feature set. Dell's ratings included three identical 6.71 scores, but its two winners were a 6.84 for snapshot features and 6.76 for management features.
HP had the highest rating for remote replication capabilities, while Hitachi won for "This product is interoperable with other vendors' products" (6.61).
By the numbers
NetApp had the best or second-best rating for six of the seven statements in this category.
Midrange systems are known for their flexibility, which was reflected by solid scores by all vendors for scalability.
All product lines also had ratings of 6.00 or better for "This product's mirroring features meet my needs."
Key stat
6.87: The highest single statement score in the features category, which was earned by HP for remote replication.
PRODUCT RELIABILITY

NetApp registered its third category win for product reliability, once again nudging out Dell by a small margin (0.04) and with the rest of the field also earning outstanding marks. Measuring performance over time, the reliability category represents the key factors that are likely to make the difference between satisfied and disappointed users.
NetApp earned its endurance chops by putting up the top scores for three of the five category statements and coming in second on the final two by slim margins. Once again, Dell scooped up the statements that NetApp didn't win to roll up a 6.84 category mark that fell a bit short of NetApp's 6.88.
Third-place EMC received a very good category score of 6.76, built on excellent grades for experiencing very little downtime (6.93) and meeting service-level requirements (6.90).
Hitachi also fared well for reliability. Its mark for the category was 6.63, highlighted by strong scores for meeting service-level requirements (6.77) and needing few unplanned patches (6.68).
The overall average of the finalist vendors in this category had the third highest rating for product reliability we've ever seen.
By the numbers
Dell posted the highest statement mark (7.06) for "This product experiences very little downtime ..."
… while NetApp neared that mark with a 7.04 for meeting service-level requirements.
NetApp just missed a couple more 7.00-plus scores on the downtime statement (6.96) and requiring few unplanned patches (6.94).
Key stat
6.62: As a group, the highest statement scores were a pair of 6.62s for meeting service-level requirements and experiencing little downtime.
TECHNICAL SUPPORT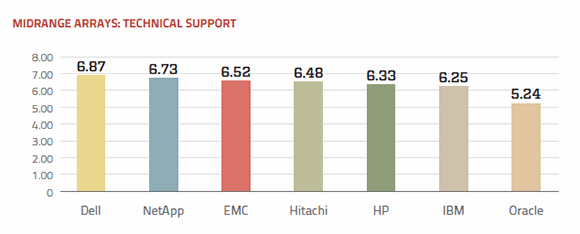 Tech support can be a great equalizer -- poor support can make users regret purchasing products that tout high performance and extensive feature lists, or make a less-than-spectacular product seem greater than the sum of its parts.
Once again, Dell and NetApp dominated the category -- particularly Dell, which rode three 7.00-plus scores on the way to snagging six of the eight category statements. NetApp wasn't far off that pace, gaining the highest marks on the remaining statements and finishing second on all the others. EMC had another sturdy showing, finishing third in a category for the fourth time.
The 7.13 posted by Dell for "Vendor supplies support as contractually specified" was the highest statement rating across all categories; Dell also had a 7.03 for having a knowledgeable support staff and a 7.00 for resolving problems in a timely manner.
NetApp led the education statements by receiving a 6.85 for "Vendor's documentation/support materials are adequate" and a 6.73 for providing adequate training.
EMC's strengths were for delivering support as promised (6.90) and having knowledgeable support personnel (6.65).
By the numbers
Dell racked up a pair of 6.89s for support issues that rarely require escalation and for taking ownership of problems.
Meeting expectations: As a group, the highest score was for supplying support as contractually specified.
Falling a bit short of expectations: The group's lowest score was earned for providing adequate training.
Key stat
6: In six of our eight midrange array Quality Awards surveys, the winning vendor also scored highest for tech support.
WOULD YOU BUY THIS PRODUCT AGAIN?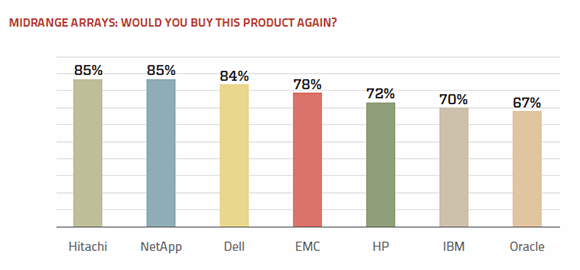 In each Quality Awards survey we close out our product evaluation sections by asking users if they'd purchase the product again considering their real-life experiences with it. Often, the responses seem at odds with the category ratings, but this time our respondents' inclinations to repeat their purchases track fairly closely with the other ratings those products earned.
The top four finishers were the leaders for the buy-again question, but in a somewhat shuffled order, with Hitachi, NetApp and Dell in a virtual three-way tie followed by EMC.
About the author:
Rich Castagna is editorial director of TechTarget's Storage Media Group.
Dig Deeper on Storage market research reports