Dell Foglight for Storage Management 4.0
Dell Foglight for Storage Management 4.0 expanded its support and capacity planning capabilities for a more complete product that extends its reach in the market in 2015.
Silver winner in the Storage magazine/SearchStorage.com 2015 Products of the Year Storage Management Tools category.
Dell Foglight for Storage Management was upgraded in April 2015 and judges agreed the added support for Hyper-V and its resource management capabilities made it a very competitive alternative in the storage management tools market.
Dell Foglight version 4.0 monitors and analyzes storage performance and availability in virtual environments. The product is installed as a virtual appliance and can be accessed through a standard Web browser. The single-pane-of-glass monitoring view spans both physical and virtual components in a data center -- a big plus for administrators of virtual environments as the two often have to be monitored separately. The monitoring tracks virtual machine performance so Dell Foglight can proactively predict the effects of changes to the environment. The tool is also able to detect over-provisioned virtual machines and other underused resources so that the capacity can be reclaimed and used more efficiently.
In version 4.0, Dell added storage capacity planning capabilities. Foglight estimates when a storage pool will exhaust all of its capacity so that administrators can plan ahead. Administrators can also choose to review reports across all storage arrays in an environment, or reports on a single array for a more granular view. According to Dell, these reports display real-time statistics as well as historical consumption charts, and long-term and short-term estimated trends to alert users of how much time they have left before specific storage pools run out of capacity.
With the addition of Hyper-V support, Foglight is now compatible with all major hypervisors: VMware, OpenStack and KVM are also included.
Judges gave Foglight for Storage Management high scores for its ease of use, ease of integration and performance, citing that "adding Hyper-V support was smart," and that the product has a "better than average root cause analysis troubleshooting tool."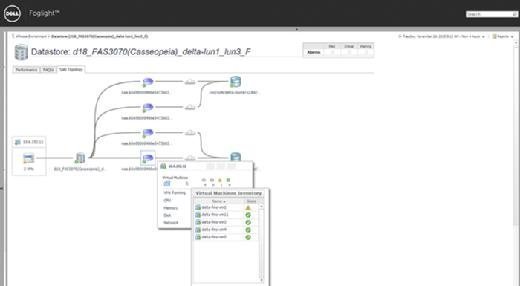 Dell acquired Foglight technology in June 2012 when it bought Quest Software for $2.4 billion. Pricing for Dell Foglight for Storage Management starts at $499 per CPU socket.