Share this item with your network: BACKGROUND IMAGE: iSTOCK/GETTY IMAGES
Managing and protecting all enterprise data

iSTOCK/GETTY IMAGES
Evaluate
Weigh the pros and cons of technologies, products and projects you are considering.
Converged systems offer turnkey storage and server bundles
Storage vendors are packaging their products with servers and networking gear to create ready-to-run converged systems. Could this be the end of best-of-breed deployments?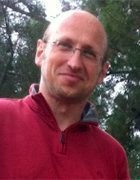 By
Storage vendors are packaging their products with servers and networking gear to create ready-to-run converged systems. Could this be the end of best-of-breed deployments?
Traditionally, to maximize performance and ensure enterprise-class capabilities, IT organizations have adopted a best-of-breed approach to selecting servers, storage, networking and other infrastructure components. But requirements to lower costs and gain greater efficiencies have resulted in consolidation of infrastructure to reduce physical hardware using techniques such as server virtualization, which enables better resource utilization and administrative benefits. While virtualization makes it easier to roll out new servers and applications, it has led to server sprawl that's not only burdening physical resources but taxing IT with additional maintenance and support chores.
Statistics from an IDC report, Converging the Datacenter Infrastructure: Why, How, So What? (May 2012), show that while server spending has stayed about the same in the past 10 years, the cost of management and administration has ballooned by several factors over the same period. The report claims IT departments now spend three-quarters of their time and resources maintaining their environment, leaving little time for value-added activities.
Converging VMs and storage
Collapsing server virtualization and storage, with both compute and storage services running on a single system, is a convergence approach touted by a different group of vendors. The idea is to set aside some percentage of the available compute resources for storage processing and leave the remaining compute cycles to virtual machines (VMs).
Simplification, lower cost and maximizing system utilization are the basic premises of the value proposition of converging VMs and storage. Limited scalability and the potential of VMs adversely impacting storage performance are some of the concerns of combining VMs and storage in a single system.
"I wouldn't be surprised to see storage vendors run virtual machines on their storage controllers in the foreseeable future," said Mark Bowker, a senior analyst at Enterprise Strategy Group.
Nutanix, Pivot3, Scale Computing and SimpliVity all offer converged virtualization and storage systems.
The best-of-breed approach of acquiring IT infrastructure is one of the causes for escalating administration and management costs. Best-of-breed usually results in mixed infrastructure components from different vendors, each with their own management tools and peculiarities, requiring continuous effort to ensure interoperability and compatibility. As a result, many IT organizations are reconsidering the best-of-breed approach and opting for more standardized hardware where a single vendor ensures compatibility and provides support for the complete system, from servers and storage to networking components. These systems are also known as converged storage systems, or simply converged systems. All major server and storage vendors offer converged systems with varying degrees of convergence and configuration flexibility.
All-in-one equals easy implementation
Converged systems are turnkey packages that include servers, storage, networking, hypervisors and management software. Some are optimized for specific workloads and applications, and can be purchased with certain applications pre-installed. Converged systems only include qualified components that are compatible with each other, and they're pre-tested before they're shipped to customers.
Rapid deployment is one of their key benefits. Since a converged system vendor or one of its channel partners takes ownership of putting together a compatible, performance-optimized offering, the tedious task of sourcing and testing individual components is no longer the responsibility of IT. Instead, IT organizations can focus on selecting a converged system from a growing list of commercially available products that meets their performance, feature, availability, scalability and cost requirements. Most converged system vendors provide an option to rack and cable the product to ensure rapid deployment. The IDC report noted that five customers who deployed VCE Vblock bundles were able to reduce deployment of the new infrastructure from five weeks to one week and cut staff time to configure, test and deploy by 75%.
Besides faster deployment, converged systems significantly reduce ongoing support and maintenance. With all components compatible and pre-tested, the likelihood of issues is greatly reduced, and as new patches and updates are applied, they're certified by the converged storage system vendor -- or one of its certified partners -- minimizing the likelihood of problems. If problems do arise, single-vendor support can help overcome issues. Converged systems take some of the burden from in-house resources as problem resolution is largely in the hands of the vendor that supports many instances of identical configurations. The standardization offered with converged systems along with the vendor's support organization lessens the need for having expensive IT specialists on staff.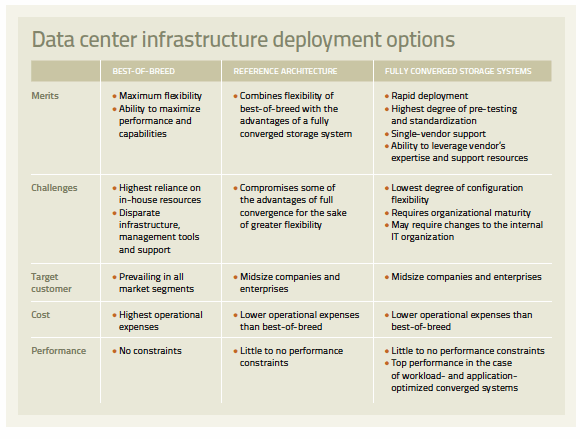 Converged storage systems not only increase the efficiency of the IT operation, but help lower data center cost, resulting in overall lower total cost of ownership.
Varying degrees of convergence
Converged storage systems come in various flavors, but their main differentiators are the degree of convergence and configuration flexibility. Available products range from highly configurable systems that allow building many different combinations from a pool of certified components, to fully converged systems, where the configuration is completely pre-defined. Contemporary converged systems can be grouped into two major categories.
Reference architecture-based systems. A vendor's reference architecture is a design guideline to build a system from pre-qualified and tested infrastructure components, usually from a mix of vendors. Since the list of qualified servers, storage, networking and software components can be long, the number of permutations of systems based on a reference architecture can be large.
Systems based on reference architectures are next to best-of-breed designs in a spectrum where fully converged systems reside at the opposite end. They provide the highest degree of flexibility and are often deployed in companies that aren't ready for the more rigid fully converged storage systems. They're usually built and sold by a vendor's channel partner that also provides the single-contact support for the system. Although systems based on reference architectures inherit many of the benefits of a fully converged system, their configuration flexibility makes them somewhat less predictable than fully converged systems.
Reference architectures are offered by all major storage and server vendors. For example, NetApp's FlexPod reference model integrates NetApp storage, Cisco Unified Computing System servers and Cisco Nexus switches into a converged, validated data center architecture.
"Because of our unified architecture, we can make extremely large and very low-end pods, managed by the same software, and they work seamlessly together," said Jim Sangster, NetApp's senior director of solutions marketing.
The EMC VSPEX reference architecture provides a list of compute, storage, networking and hypervisor options that EMC's channel partners can assemble and sell. Dell's Active System platform architecture is a reference architecture that can be customized to customers' needs. The Hewlett-Packard (HP) Converged Infrastructure Reference Architecture comprises a list of compatible options and templates, and gives best-practice guidelines for HP channel partners to build and sell converged systems.
Fully converged storage systems. Fully converged systems are integrated turnkey platforms in which servers, storage, network connectivity and software are built into a single offering that's sold and supported by one vendor. While reference architecture-based systems compromise the benefits of convergence for the sake of flexibility, fully converged storage systems maximize the benefits of convergence.
On the downside, converged storage systems may pose a challenge for larger IT organizations where server, storage and networking teams are often separate groups. "Converged systems require organizational maturity and they can be an agent to transform an IT organization from a support organization that keeps the lights on to a true enabler and business asset," said Bharat Badrinath, EMC's senior director of cloud marketing.
Fully converged storage systems can also be a good fit for midsize companies and smaller enterprises, where IT generalists prevail but specialization may be lacking. By being able to rely on the vendor's expertise and support organization, fully converged systems enable smaller companies to run complex systems they might not have been able to deploy if they had taken the best-of-breed route.
Fully converged systems are available in several forms that address different IT needs. They're available as general compute platforms to support hypervisors and a mix of different workloads. The Dell Active System, Hitachi Data Systems Unified Compute Platform (UCP) Pro for VMware, HP CloudSystem, IBM PureFlex System and the VCE Vblock systems are examples of fully converged systems in this category.
A second group of fully converged systems offers configurations for specific workloads and applications. Oracle's Exadata is a prime example of a converged system that's optimized for a specific application -- to deliver best performance and capabilities for Oracle databases. Similarly, Hitachi UCP Select for Oracle and UCP Select for SAP HANA, and the IBM PureData System for Hadoop/Analytics/Transactions are examples of application-optimized converged systems.
Trending toward convergence
The increasing complexity of IT systems and a continuous call to lower cost -- to do more with less -- are on opposing trajectories. IT organizations must adopt strategies that help align those two trends. Abandoning the best-of-breed, multivendor paradigm of the past and replacing it with a single-vendor converged system strategy is one way of aligning the opposing forces. Converged systems bring about standardization and make it easier to leverage external expertise and resources that can lead to leaner IT organizations and significantly lower operational expenses. The approach, however, requires organizational maturity and a willingness to alter traditional organizational structures.
About the author:
Jacob N. Gsoedl is a freelance writer and a corporate director for business systems.
Dig Deeper on Unified storage