Manage
Learn to apply best practices and optimize your operations.
Configuring Hyper-V storage
New storage features in Windows Server and Hyper-V make storage configuration and maintenance easier for Microsoft–based virtual environments.
New storage features make the maintenance and configuration of Hyper-V storage and Windows Server easier than ever...
Continue Reading This Article
Enjoy this article as well as all of our content, including E-Guides, news, tips and more.
for Microsoft–based virtual environments.
Microsoft Hyper-V Server offers numerous, and powerful, storage features that provide flexibility, availability and (potentially) a reduced total cost of ownership for data centers. Hyper-V Server is available in a number of different editions, both paid and free. You'll find Hyper-V 3 in the commercial version of Windows Server 2012 and in the free Hyper-V Server. No matter which edition you use -- with the exception of Client Hyper-V in Windows 8 -- all the storage features discussed below are available now.
Data center software is voracious
In Mark Andreesen's famous article "Why Software Is Eating the World" (The Wall Street Journal, August 2011), he discussed how software companies' products are disrupting traditional industries around the world. Hyper-V Server is one of those pieces of software with the ability to replace what has previously been provided by numerous dedicated pieces of custom hardware and software and, thus, "eat the datacenter." That means Windows Server 2012 Hyper-V can potentially replace numerous servers (through consolidation), network devices (with virtual switches and firewalls), and storage resources such as SANs and network-attached storage (NAS) arrays leveraging some of the storage features described later in this article.
The storage features in the latest version of Hyper-V Server, and those promised for the upcoming version of Hyper-V Server, can supercharge the storage infrastructure of your data center.
Live Storage Migration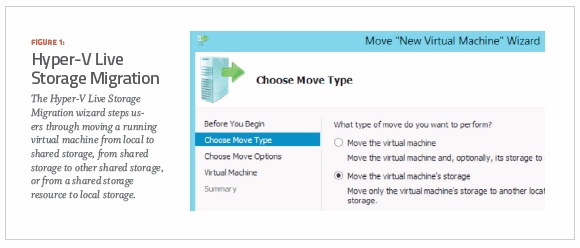 Hyper-V Live Storage Migration
The ability to move the storage data of a running physical server from one SAN to another without downtime is an advanced SAN feature. Hyper-V Server (even the free edition) includes this capability for virtual machines (VMs). With Hyper-V Live Storage Migration, you can follow a wizard's instructions to move a running VM from local storage to shared storage, from one shared storage to another, or from shared storage to local storage.
As with any technology that moves a large amount of data across a network, the time that the storage migration takes and the number of migrations you can do at once depends on the size of the data and the available network bandwidth. For example, Hyper-V Servers on a 10 Gb Ethernet network will be able to move many more VMs at a time, and faster too.
Shared nothing live migration
Initially a feature that only Hyper-V offered, shared nothing live migration lets you move a running virtual machine's memory, CPU cycles and configuration/registration from one Hyper-V Server to another with no downtime. With live migration, the VM's disk file stays in the same place. With previous editions (and competing hypervisors' previous editions), the VM was required to be on shared storage (a SAN or NAS). With Hyper-V 3, shared nothing live migration allows you to move a running VM from server to server, even if the VM is using local storage. Effectively, the VM is migrated with both a live migration and live storage migration at the same time. For small virtual infrastructures, this negates the need for costly shared storage.
Data deduplication
Per-volume data deduplication is built into Windows Server 2012 (not the free version of Hyper-V). According to statistics from Microsoft Corp., by enabling dedupe, you can achieve an 80% reduction in storage capacity utilization of VM libraries. Windows Server deduplication isn't just for Hyper-V VMs. It can be used on any data stored on NTFS volumes (it doesn't deduplicate boot drives, live VMs or live SQL databases), and offers greater than 20% storage capacity savings on user home directories and 50% savings on general file shares. This allows you to not only save on the number of disks and arrays you have to buy, but the amount of data you have to back up.
Virtual machine storage using SMB 3.0
With Window Server 2012, Microsoft supports using Windows Server SMB 3.0 file shares for storing your VMs. In other words, you can get by without costly shared storage and still use the advanced features. The Windows 2012 Server that stores the VMs could be anything from a single host to a cluster of Windows Server 2012 systems in a failover cluster that provides highly available shared storage.
Hyper-V Replica

View Hyper-V Replica status
One advanced feature offered with many storage arrays is LUN replication. While it's a nice (but usually expensive) feature, most Hyper-V administrators want more granularity. The ability to replicate virtual machines at the VM level in Hyper-V 3 (including the free edition), allowing admins to select the VM they want to replicate, is therefore a welcome feature. Shared storage isn't required (even local storage can be used) and no additional replication licenses have to be purchased. An ideal feature for small and medium-sized businesses that can't afford expensive hardware-based replication for disaster recovery (DR), today's Hyper-V Replica may grow into an enterprise-grade DR tool in time. Best of all, configuring replication of a VM (or group of VMs) is done in a few point-and-click steps.
Windows Server 2012 Storage Spaces
To take the idea of software-defined storage for the virtual infrastructure (or the entire data center) even further than just SMB 3.0 file sharing, Windows Server 2012 includes Storage Spaces. Storage Spaces is a storage abstraction layer that runs atop the NTFS file system and uses the SMB 3.0 protocol to create a pool of storage out of local disk, shared storage or local flash drives in a server. In other words, you can think of Storage Spaces as a virtual SAN that pools different types of storage across various servers into a single unified storage resource. It may or may not be used for Hyper-V. Storage Spaces is a data center-wide storage offering that Microsoft continues to improve and, at some point, may begin to offset the number of dedicated SAN arrays that are purchased.
Top seven storage enhancements to Hyper-V Server
1. Live Storage Migration moves running virtual machines' (VMs) virtual disk from one location to another.
2. Shared nothing live migration lets you move running VMs even without shared storage.
3. Data deduplication reduces storage capacity requirements, especially for VMs.
4. SMB 3.0 storage for VMs stores Hyper-V VMs on Windows Servers, and uses advanced features without shared storage.
5. Hyper-V Replica offers cost-effective data protection.
6. Storage Spaces is a new Windows Server virtual SAN offering to pool storage resources.
7. Offloaded Data Transfer can speed common VM storage operations by offloading virtual machine storage operations to the SAN.
Windows Server 2012 Hyper-V Offloaded Data Transfer
Virtualization is all about efficiency, but some things still aren't done efficiently with software within a server (like moving massive amounts of data). It's best to work with data where the data lives. For those who have SANs in their data centers, Hyper-V can use some help in manipulating VMs; otherwise, the VM data has to be moved to the server, manipulated and then put back on the SAN. Offloaded Data Transfer (ODX) is included with Hyper-V, but you can only use it if your storage array supports it. For example, it has been reported by some media that with an ODX-capable array, a new VM deployment took only two minutes using a 30 GB template. However, with a traditional array and a 1 GB Ethernet connection, the deployment took 40 minutes, and used 99% of the network bandwidth and 1% to 5% of the host CPU.
New features in Windows Server 2012 R2 Hyper-V
While it may still seem new to many in the IT world, Hyper-V 3 (included with Windows Server 2012 and released in September 2012) is about to be upgraded with Windows Server 2012 R2. Windows Server 2012 R2, announced at the Microsoft TechEd 2013 North America conference, offers numerous new features; among the storage-related features are:
Tiered Spaces, which adds tiering intelligence to Storage Spaces. Tiered Spaces knows to keep the most frequently accessed data on solid-state storage (or whatever the fastest drives in a pool are) and to move less frequently used data to the slowest spinning disks.
Live migration with compression brings compression to the live migration process, enabling Hyper-V live migrations to occur in roughly half the time. If you add RDMA controllers to a Hyper-V Server, you can reduce live migration times (comparing Windows Server 2012 to the R2 version) by as much as 70%.
Hyper-V Recovery Manager is Microsoft's follow-on to Hyper-V Replica, which has been one of the most popular features of Windows Server 2012 Hyper-V. Because of the interest in Replica, Microsoft says it will add a new centralized Hyper-V Recovery Manager application with Hyper-V R2 that allows managing replication in a single place, across multiple sites.
What this means for storage managers
Storage managers should be aware that the software takeover of all the pillars of the data center is coming thanks to faster servers and software advancements. Features included with VMware vSphere and Microsoft Hyper-V will soon be able to provide capabilities similar to what modern storage arrays provide for the virtual infrastructure. Thus, if you can get a 100% virtualized infrastructure (or close to it), these up-and-coming software-based storage offerings may be all that you need.
About the author:
David Davis is the author of the VMware vSphere and Microsoft Hyper-V video training library from www.TrainSignal.com. He has written extensively, is a vExpert, VCP, VCAP-DCA and CCIE #9369 with more than 20 years of enterprise IT experience.
Dig Deeper on Storage for virtual environments