Creativa - Fotolia
Configure and manage storage for a virtual desktop environment
The unique workloads and demands of virtual desktops require a rethinking of the supporting storage systems.
Virtual desktop infrastructure (VDI) extends the virtualization paradigm from data center infrastructure components, such as servers, storage and networking, to user desktops. VDI has been steadily gaining ground and, if not already in use to some degree, is being evaluated by many corporations. Companies are looking to VDI to address challenges related to managing desktops, ensuring compliance and lowering overall costs related to end-user computing devices.
The No. 1 success criteria of any VDI project is giving end users an experience that's equivalent to or better than using dedicated desktops and laptops, and VDI products such as Citrix XenDesktop and VMware Horizon View have reached feature parity and a level of maturity to attain that goal.
Because VDI moves hundreds or even thousands of distributed desktops and laptops into the data center, requirements related to data center infrastructure -- especially storage and the ability of IT to support it -- are key aspects of any VDI deployment. Most VDI challenges are related to infrastructure shortcomings, insufficient infrastructure management capabilities and inadequate IT staffing.
Understanding the VDI storage challenge
Adequate storage infrastructure is one of the key requirements for VDI to be successful. With all users' OS images and data residing on centralized storage, undisrupted availability and consistent storage performance are requisites of storage used for VDI. Existing storage infrastructure used by non-VDI applications is often unable to cope with VDI workloads, which are very different from the workloads of other applications. To start with, VDI is very read-intensive when desktops boot, with many boot images sharing the same blocks of physical storage, triggering a spike in read IOPS on the storage system. This pattern changes after desktops are spun up and workloads become more write-intensive caused by user chores such as emails, working in Microsoft Office and other user productivity applications. With a large number of desktops concurrently generating a wide variety of different workloads, storage systems for VDI need to be malleable and able to efficiently support a broad range of workloads.
In addition to the performance challenge, VDI makes storage management more demanding. With VDI pushing the number of clients accessing the storage system to new levels, being able to monitor, report and troubleshoot all aspects of the VDI infrastructure is essential. The ability to trace a storage or performance issue to a specific desktop is critical to identify and remediate problems quickly and efficiently.
"Aggregation of a large number of desktops causes aggravation unless you have transparency and tools to monitor, alert, report and automate," said Greg Schulz, founder and senior analyst at StorageIO in Stillwater, Minn.
Availability is a key consideration for infrastructure components used in VDI. If a traditional desktop user has a disk problem, it's a single user who's impacted; but if the storage used for VDI has an issue, hundreds or even thousands of users are affected.
Scalability is another challenge and important consideration of storage systems used for VDI. Systems that only scale up (vertically) by adding disks to scale capacity, and controllers and memory to scale performance, have scalability limits and don't usually scale as well as scale-out storage. Therefore, scale-out storage systems that are able to scale capacity and performance horizontally by adding additional nodes are the preferred storage architecture for VDI storage.
Technologies and approaches that enable storage for VDI
Rolling out VDI doesn't necessarily equate to deploying a new storage system, especially if existing arrays meet scalability and availability needs and currently provide, or can be upgraded to provide, technologies that address the aforementioned challenges. The following technologies enable storage systems to better support VDI.
NAND flash. With the number of IOPS measured in the tens of thousands and latency in microseconds, NAND flash is more than an order of magnitude faster than mechanical disks. NAND flash has become the persistent storage technology of choice to boost the number of IOPS a storage system can support and to lower latency, and it's one of the technologies that empower storage systems to deal with demanding VDI workloads. Case in point are the infamous boot storms that occur when a large number of desktops simultaneously boot from virtual machine (VM) images that reside on shared storage; by moving the VM images from mechanical disks to solid-state storage, storage systems are able to support them without being bogged down.
The ability of NAND flash on storage systems to support VDI goes far beyond the boot storm example, and storage vendors provide products that range from hybrid solid-state drives (SSDs) plus mechanical drive offerings to all-flash arrays. NAND flash is used as cache and to substitute mechanical disks. Since NAND flash can be deployed in multiple ways to boost storage performance, there are some key considerations on how to best supplement a storage system with NAND flash.
Flash as cache. NAND flash used as cache to front-end mechanical disks has several advantages. First, a NAND flash cache benefits all applications accessing the storage system. Proven caching mechanisms move data between disk drives and NAND flash without the need for complex data migration logic. A combination of NAND flash and mechanical disks results in cost-efficient but well-performing storage systems at a fraction of the cost of all-flash arrays. Many vendors now offer NAND flash options for their arrays, including EMC with VNX Fast Cache for its VNX series of arrays, and NetApp with Flash Cache for its filers.
"VNX arrays used for VDI typically ship with 3% to 5% NAND flash," said Jonathan Siegal, senior director of product marketing at EMC. "The remaining capacity is provided via large-capacity disk drives, and they are able to support up to around 1,000 desktops."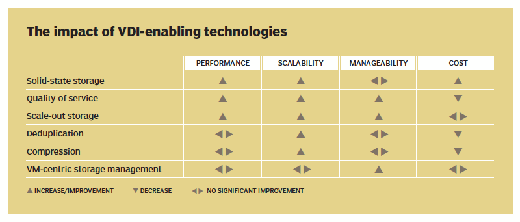 SSD drives as a substitute for mechanical disk drives. Hybrid arrays, in which SSD drives supplement mechanical disk drives, are another approach to incorporate NAND flash into storage arrays. While NAND flash used as cache needs to be designed into the storage architecture, SSD drives can be introduced by simply replacing mechanical disk drives. Contemporary hybrid arrays differ in how efficiently they support SSD drives, and how data is moved between the fast SSD and slow disk tiers. The interplay between the two tiers and the mechanism to move data back and forth can be all manual or fully automated. For instance, NetApp Flash Pool combines SSD and mechanical disk drives into a single pool and automatically keeps a copy of active data on SSD drives; Nimble Storage manages the automated interplay of SSD and mechanical disk drives through its patented Cache Accelerated Sequential Layout (CASL) architecture.
All-flash arrays. All-flash arrays deliver the highest performance (but at a high cost) and should be considered for very large VDI deployments. "Our all-flash scale-out XtremIO arrays can support thousands of VDI desktops," EMC's Siegal said. Since some all-flash arrays lack enterprise storage feature such as snapshots and thin provisioning, validating required storage features is a must when considering an all-flash array. While traditional storage vendors are more likely to offer full-featured all-flash arrays, products from smaller vendors require more scrutiny, even though some of the smaller players and startups, like SolidFire with its scale-out all-flash arrays, are at the leading edge.
Data reduction techniques. With desktop images containing a lot of the same data, VDI is well suited for data reduction technologies. Data deduplication and compression are key features to look for in a storage system used for VDI. While some vendors, such as NetApp, perform deduplication after data is written to disk, others like SolidFire, Tintri and EMC with XtremIO, deduplicate inline in real-time with little to no overhead. "Many of the new flash-based storage systems deduplicate inline. The trend clearly is toward inline deduplication rather than post-processing," said Aviv Kaufmann, a lab analyst at the Enterprise Strategy Group (ESG) in Milford, Mass.
The data reduction ratio is smaller if the VDI deployment leverages data reduction technologies in the VDI stack, such as VMware linked clones or Citrix Provisioning Services. "For XtremIO, we typically see about a 3:1 reduction for linked clone deployments and from an 8:1 to 12:1 reduction for full clone deployments, and somewhere in the middle if there is a combination," EMC's Siegal said.
Quality of service (QoS). A storage system without QoS capabilities treats all storage requests equally and effectively limits the number and types of applications a storage system can serve. Storage systems with QoS support, on the other hand, enable the isolation of VDI desktop users from other server-based applications that share the same storage cluster. As a case in point, in a June 2014 ESG lab review of SolidFire, ESG simulated a 1,000 user VDI boot storm, with VDI images sharing a database transacting at 20,000 IOPS on the same SolidFire array cluster. With QoS turned on, there was zero impact on database performance; with QoS turned off, ESG lab noted a significant drop in performance of the database volume as the heavy boot storm took priority and consumed nearly all the resources.
Storage management. Because of the sheer number of virtualized desktops concurrently accessing the storage system, storage management is a critical aspect of a storage environment used for VDI. It starts with provisioning: Storage provisioning should be an integrated part of spawning new virtual desktops from within a single management console.
Capabilities to monitor, alert and report are essential for keeping VDI storage tuned. Tools like Login VSI, which enables performance testing, sizing and performance planning for the complete VDI ecosystem, can help you stay on top of issues before they become disruptive problems. Analytics capabilities as provided by Nimble Storage's InfoSight, which continuously gathers storage system data to enable preemptive problem identification and resolution, is another example of proactive storage management.
The ability to correlate specific virtual desktops to storage components is a relevant requirement to quickly identify and resolve issues, which can be challenging in traditional storage systems that are managed at a LUN or volume level. While some storage vendors depend on reporting to correlate VMs and storage components, converged storage systems, such as those from Nutanix, SimpliVity and Tintri, address the challenge by managing storage at a VM level.
"From provisioning, snapshotting and replication to quality of service configurations that prevent one VM to grab too many resources, Tintri manages all storage aspects at a VM level," said Saradhi Sreegiriraju, vice president storage management and technical marketing at Tintri.
Last word on VDI storage
For desktop virtualization to be successful, it must benefit the business, deliver an equal or better experience to end users and not break IT. The right technology and adequate IT staffing to support the new mission-critical VDI service are essential. The odds for a VDI project to succeed increase significantly if the environment and users are well understood, and if the project is well planned. If possible, perform a proof of concept before committing to the project.
About the author:
Jacob N. Gsoedl is a freelance writer and corporate VP of IT Business Solutions. He can be reached at [email protected].